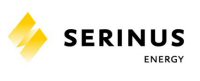 CALGARY, ALBERTA -- (Marketwired) -- 09/09/13 -- Serinus Energy Inc. (TSX: SEN)(WARSAW: SEN) ("Serinus", "SEN" or the "Company"), an international upstream oil and gas exploration and production company, advises that the Company has drilled the Lukut Updip-1 directional well ("LKU-1") to a total measured depth ("MD") of 2,137 metres, has set 4.5 inch casing at 2,120 metres after encountering high formation pressures and gas. The Company is preparing to test the well.

Drilling Operations

The LKU-1 well encountered a drilling break while drilling 6" hole starting at a depth of approximately 2,131 metres MD (1,773 metres true vertical depth subsea ("TVDss") and continuing to a depth of at 2,137 metres MD, the last 3 metres of which appears to be clean sand. Pressures rose significantly and there was material gas influx which resulted in gas being flared at surface for several hours. As a result the mud weight was subsequently increased to 17.7 pounds per gallon ("ppg") to control the calculated formation pressure of 5,366 pounds per square inch ("psi"). Due to the significantly higher than expected formation pressures and equipment limitations, the Company determined that it could no longer safely continue to drill the LKU-1 well and consequently the 4.5" casing was set to allow for the well testing program. The initial planned depth for the LKU-1 well was 2,959 metres MD and 2,410 metres TVDss.

Potential Targets

The section of the LKU-1 well below approximately 1,100 metres MD has not previously been penetrated by any wells in onshore Brunei. The Company believes that the drilling break at 2,131 metres MD corresponds to the top of a turbiditic sandstone sequence (likely the "Green Zone") that was a secondary target of the well. The deeper primary target of the well (the "Red Zone"), which the Company expected to encounter at 2,402 metres MD, has not been penetrated. The Red Zone is indicated on seismic to be a much thicker and more extensive turbiditic sandstone sequence than the Green Zone.

From 1,700 to 2,137 metres MD two sandstone intervals have been penetrated that are believed to be hydrocarbon-bearing based upon oil shows in cuttings, gas shows while drilling and/or resistivity profiles. The first of these is from 1,723 to 1,725.5 metres MD and the second from 2,131 to 2,137 metres MD.

In addition a general trend of increasing silt and/or sand content with depth starting at approximately 1,865 metres and continuing to 2,137 metres MD (a total thickness of 272 metres) was observed. The sandy/silty shale encountered over this section also appears to be hydrocarbon charged, with increasing amounts of C1 to C5 detected while drilling. Total gas readings steadily increased while drilling from a 10 metre average of 0.49% at 1,700 metres MD to a 10 metre average of 8.1% at 2,110 metres MD. Total gas readings peaked at 47% at 2136.5 metres MD within the drilling break encountered summarized above. C1 gas readings steadily increased from a 10 metre average of 3,150 parts per million ("ppm") at 1,700 metres MD to a 10 metre average of 58,000 ppm at 2,110 metres MD. C1 gas readings peaked at 332,000 ppm at 2,136.50 metres MD. Based upon the increased pressures and associated hydrocarbon shows, the thick silty shale zone is a potential target to be tested.

While the well has been unable to completely penetrate what is believed to be the Green Zone, the presence of two good quality sand reservoirs within an interpreted deep water shale package, suggests that the geological model of turbiditic sandstone targets is correct.

Testing Program

The testing program is being planned to accomodate up to three tests with the first test on the sandstone interval encountered within the zone of fast drilling below 2,131 metres MD. Subject to the results of the first test a decision will be made on whether to extend or modify the test program.

Serinus has a 90% interest in the Block L with indirect wholly-owned subsidiary Kulczyk Oil Brunei Limited having a 40% interest and indirect wholly-owned subsidiary AED SEA (operator) having a 50% interest. The remaining 10% interest is owned by a private Brunei company at arm's length to Serinus.

About Serinus Energy

Serinus is an international upstream oil and gas exploration and production company with a diversified portfolio of projects in Ukraine, Brunei, Tunisia, Romania and Syria and with a risk profile ranging from exploration in Brunei, Romania and Syria to production and development in Ukraine and Tunisia. The common shares of the Company trade under trading symbol "SEN" on both the WSE and the TSX.

In Ukraine, Serinus owns an effective 70% interest in KUB-Gas LLC. The assets of KUB-Gas LLC consist of 100% interests in five licences near to the City of Lugansk in the northeast part of Ukraine. Four of the licences are gas producing.

In Tunisia, Serinus owns a 100% working interest in the Chouech Essaida, Ech Chouech, Sanrhar and Zinnia concessions, and a 45% working interest in the Sabria concession. Four of the concessions are currently producing oil or gas.

In Brunei, Serinus owns a 90% working interest in a production sharing agreement which gives the Company the right to explore for and produce oil and natural gas from Block L, a 1,123 square kilometre area covering onshore and offshore areas in northern Brunei.

In Romania, Serinus owns an undivided 60% working interest in the onshore Satu Mare concession, a 2,949 square kilometre exploration and development block, in north western Romania.

In Syria, Serinus holds a participating interest of 50% in the Syria Block 9 production sharing contract which provides the right to explore for and, upon the satisfaction of certain conditions, to produce oil and gas from Block 9, a 10,032 square kilometre area in northwest Syria. The Company has an agreement to assign a 5% ownership interest to a third party which is subject to the approval of Syrian authorities, and which, if approved, would leave the Company with a remaining effective interest of 45% in Syria Block 9. Serinus declared force majeure, with respect to its operations in Syria, in July 2012.

The main shareholder of the Company is Kulczyk Investments S.A., an international investment house founded by Polish businessman Dr. Jan Kulczyk.

For further information, please refer to the Serinus website (www.serinusenergy.com)

Translation: This news release has been translated into Polish from the English original.

Forward-looking Statements: This release may contain forward-looking statements made as of the date of this announcement with respect to future activities of the Company or any of its subsidiaries and related to its interest in Brunei Block L and to certain wells drilled or to be drilled or seismic activities undertaken within that area that either are not or may not be historical facts. Although the Company believes that its expectations reflected in the forward-looking statements are reasonable as of the date hereof, any potential results suggested by such statements involve risk and uncertainties and no assurance can be given that actual results will be consistent with these forward-looking statements. Various factors that could impair or prevent the Company from completing the expected activities on its projects include that the Company's projects experience technical and mechanical problems, there are changes in product prices, failure to obtain regulatory approvals, the state of the national or international monetary, oil and gas, financial, political and economic markets in the jurisdictions where the Company operates and other risks not anticipated by the Company or disclosed in the Company's published material. Since forward-looking statements address future events and conditions, by their very nature, they involve inherent risks and uncertainties and actual results may vary materially from those expressed in the forward-looking statement. The Company undertakes no obligation to revise or update any forward-looking statements in this announcement to reflect events or circumstances after the date of this announcement, unless required by law.


Suite 1170, 700-4th Al Shafar Investment Nowogrodzka 18/29Avenue SW, Calgary, Building, Suite 123, 00-511 Warsaw, PolandAlberta, Canada Shaikh Zayed Road, Telephone:Telephone: Dubai, UAE +48 (22) 414 21 00+1-403-264-8877 Telephone: +971-4-339-5212


Contacts:
Serinus Energy Inc. - Canada
Norman W. Holton
Vice Chairman
+1 403 264 8877
nholton@serinusenergy.com

Serinus Energy Inc. - Poland
Jakub J. Korczak
Vice President Investor Relations & Managing Director CEE
+48 22 414 21 00
jkorczak@serinusenergy.com