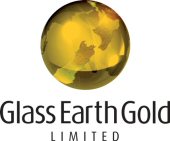 WELLINGTON, NEW ZEALAND -- (Marketwired) -- 08/29/13 -- Glass Earth Gold Limited (TSX VENTURE: GEL) (NZAX: GEL) ("Glass Earth" or the "Company") announced today that it has filed its June 30, 2013 second quarter Financial Statements and associated Management's Discussion and Analysis ("MD&A") report, pertaining to that period, with regulatory authorities.

The Company faced another highly challenging quarter marked by continuing losses from placer mining operations, decline in cash resources and distressed market conditions for gold and junior mining companies.

Considering the prevailing conditions, the Board of Directors has determined that a major strategic refocus was warranted in order to safeguard the Company's exploration assets and set the Company on the right foot for its next phase of development. It has therefore been decided to dispose of placer gold mining operations, refocus exploration activities on projects in the Hauraki region, carry out significant cost-cuttings and consider new financing opportunities.

Disposal of Placer Mining Operations

In spite of the team's continued efforts to increase productivity levels, the placer mining operations have not generated the expected profitability levels. While market sentiment for gold has modestly improved, it was felt that the market conditions would not be conducive to significant enhancement of profitability. As a result, the Company is selling its placer mining operations (all mining machinery and permits) in central Otago for approximately C$1.4M pursuant to two Sale & Purchase agreements dated 29th August 2013. The placer sale and purchase agreements are with Skevington Contractors Ltd (an arm's length party) and are subject to TSX-V approval. No finder's fee is payable.

The Directors' decision to withdraw from mining and all exploration activities in the South Island will conclude the Company's involvement in placer activities.

That sale, together with two smaller sales of placer mineral permits, will generate approximately C$1.5m, payable in cash. Of these funds, up to $910,000 will be used to retire debt associated with the purchase of placer assets in March 2012. The balance will be used to settle placer trade payables and other placer related costs.

Sole Focus on WKP and Neavesville in the Hauraki Region

The Board of Directors has determined that, given the current economic climate, the Company would review its strategic objectives and focus solely on exploration and development projects in the Hauraki Region of the North Island of New Zealand. This area is where its key hard-rock projects of WKP and Neavesville lie, as well as its Waihi West prospect, which is adjacent to the Newmont owned and operated Martha gold mine at Waihi.

Simon Henderson, President and CEO of Glass Earth Gold, commented that

"The fundamental strategy of a lean and resilient team focusing on two projects, Wharekirauponga (WKP) and Neavesville will allow the maximum opportunity to progress these advanced projects within a 2-3 year timeframe."

Staffing

With a two project focus, Management has completed a comprehensive review of the Company's cost structure and operational needs. This will result in significant reductions in operational costs to build resilience and address the depressed market conditions. Glass Earth Gold will continue to apply strong austerity measures having reduced to core staff, whilst retaining key technical and management ability to oversee the Company's assets.

Corporate Refinancing

Following a series of meetings with potential investors and partners, advised investor interest in a refinancing is expected to ensure it is capitalized appropriately for its continuing hard-rock activities at WKP and Neavesville.

FINANCIALS

Operational Activities

The Company's corporate and exploration activities for the quarter are summarized in the attached Quarterly Overview. The Company's cash position as at June 30, 2013 was $205,000 with trade payables of $753,000.

The Company faced another highly challenging quarter with continuing losses from its placer mining operations, pressured from a drop in gold prices and lower than expected productivity and grade. The wettest June ever recorded in Otago did not help. As a result, the Company reports a net mining loss for the three months ending June 30, 2013 of $506,000 vs $508,000 for the similar period in 2012.


Three months Three months Notes ended ended June 30 2013 June 30 2012 --------------- ---------------Gold Mining Revenue 1,242,000 349,000 1Mining costs (1,494,000) (792,000) 2Depreciation and amortisation (254,000) (65,000) --------------- ---------------Gross (Loss) (506,000) (508,000) 2Administrative and Personnel expenses (195,000) (414,000) 3Finance (loss)/income 20,000 (8,000)Non-cash itemsWrite-down of mineral properties (9,873,000) (6,330,000) 4Impairment of placer mining assets (970,000) - 4 -------------------------------Loss before Income Taxes (11,524,000) (7,260,000)Income tax recovery 239,000 - --------------------------------Loss after Income Taxes (11,285,000) (7,260,000) --------------------------------Notes: 1 Sales revenues of $1.24m were slightly down on Q1 sales of $1.38m, but with lower operating costs than Q1, giving very much the same operating loss. 2 Included in this figure for Q2 was a cash operating loss of $262,000 for the 3 months. Depreciation of equipment and amortisation of exploration and acquisition costs for the quarter stood at $254,000. 3 G&A expenditures down as Investor Relations expenditures reduced. 4 Write down and impairment of exploration and mining expenditures of $9,873,000 and $970,000 are discussed extensively above and in the MD&A report.
Accumulated Exploration Expenditures - Write-downs/offs
The decision to withdraw from the South Island has resulted in write downs/offs of prospects and permits in that region. The main areas of write-offs were the Sparrowhawk (Garibaldi) target and the write down of placer mining assets to net realisable values.
In the North Island, the Muirs prospect has been written-off with the permit to be handed over to the land owner (as required by the land access conditions).
Write-downs/offs totalled $2,775,000 in respect of South Island hard-rock and $4,324,000 in respect of placer activities. A further write down of $2,774,000 in respect of the Muirs prospect brought the total impairment to $9,873,000. This amount has been recorded as a loss in the Statement of Comprehensive Income.
Placer Mining
While management devoted considerable time to improving placer mining operations, its profitability continued to be disappointing. It reported a similar negative cash cost of $262,000 for the quarter. Despite a movement to 24/7 operations in early June, this coincided with the wettest June and July recorded in Otago, causing unexpected difficulties with the mining fleet and consequent equipment failures.
The Company's response was to scale back operations to a more manageable 12/5 shift operation and seek to sell the mining assets.
About Glass Earth Gold
Glass Earth Gold is one of New Zealand's most active gold exploration companies. In the North Island, exploration efforts are focused on large epithermal gold systems in the Hauraki Region, akin to the operating Martha Hill mine, (Newmont Mining).
In the Hauraki Region, Glass Earth Gold has identified and developed significant ground positions around the active Martha Hill gold mine operations at Waihi. The Newmont-Glass Earth Gold Waihi West JV (Newmont earning in) and Hauraki JV (65/35), including drilling at the WKP discovery, are being actively explored and managed by Newmont in collaboration with Glass Earth Gold.
The recent announcement that Glass Earth Gold has acquired option rights to the Neavesville gold/silver prospect (just north of WKP) will mean an increased exploration focus in the Hauraki region.
For more information on Glass Earth Gold, please visit
www.glassearthgold.com
.
To receive Company news via email, contact
info@glassearthgold.com
and mention "Glass Earth news" in the subject line.
Neither the TSX Venture Exchange nor its Regulation Services Provider (as that term is defined in the policies of the TSX Venture Exchange) nor New Zealand Exchange Limited has reviewed this release and neither accepts responsibility for the adequacy or accuracy of this release.


Contacts:
Glass Earth Gold Limited
Simon Henderson
President and Chief Executive Officer
+64 4 903 4980
info@glassearthgold.com

Glass Earth Gold Limited
Anne Robert
Manager, Investor Relations
+ 1 514 880 0184
anne.robert@glassearth.co.nz
www.glassearthgold.com