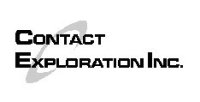 CALGARY, ALBERTA -- (Marketwired) -- 07/02/13 -- Contact Exploration Inc. ("Contact" or the "Company") (TSX VENTURE: CEX) is pleased to report that independent reserves evaluations effective March 31, 2013 have been completed by the Company's reserves evaluators in accordance with the COGE Handbook. GLJ Petroleum Consultants Ltd. ("GLJ") evaluated the Company's Stoney Creek and Hopewell properties in New Brunswick, while McDaniel and Associates Consultants Ltd. ("McDaniel") evaluated the Company's core area at Kakwa, Alberta.

During fiscal 2013, the Company more than tripled the reserves in its portfolio. The Montney discovery at Kakwa, Alberta, as announced on May 3, 2012, was successfully expanded and delineated with the drilling of the 14-30 and 3-19 wells, resulting in a reserves booking on 6 gross sections, which represents approximately one third of the Company's East Kakwa 19 section block. Reserves assigned to these 6 sections are currently restricted to the Middle Montney interval. Reserves have not yet been assigned in any of the other potential Montney intervals. Contact holds a 25% working interest at East Kakwa.

The West Kakwa assets, which consist of 11 sections (100% working interest held by Contact) located approximately 6 miles to the west of East Kakwa, were not part of the independent evaluation.

Highlights include (all numbers are reported as "net" to the Company and before tax and in many cases referenced against bookings from Contact's previous fiscal year):


-- Total Company reserves (net proved and probable) increased by 320% from 1,935 mboe to 6,235 mboe (54% oil and natural gas liquids).-- Total Company net present value (net proved and probable reserves discounted at 10%) increased by 220% from $46.8MM to $103.0MM. The Kakwa reserves account for $64.2MM of the Company's total net present value.-- Net proved reserves increased in 2013 by 390% from reserve volumes reported in 2012, from 395 mboe to 1,552 mboe. (58% oil and natural gas liquids).-- Net present value of net proved reserves (discounted at 10%) increased by 237%, from $11.8MM in 2012 to $28.0MM in 2013.-- Stoney Creek and Hopewell, New Brunswick field evaluations remained consistent from 2012, with total proved and probable reserves decreasing less than 1% (1,935 mboe to 1,921 mboe), with a net present value in 2013 of $38.9MM discounted at 10%.-- Kakwa proved plus probable reserves were assigned 135 bbl/mmcf free condensate, with an additional 12 bbl/mmcf of natural gas liquids recoveries at processing facilities.-- Kakwa proved plus probable reserves were assigned 4,315 mboe consisting of 2,507 mboe natural gas and 1,808 mboe liquids.
Additional Lands Secured
In addition to Contact's West Kakwa acreage, the Company is pleased to announce that is has acquired an additional 31 sections of 100% acreage within the Deep Basin Montney trend. These additional lands have varied rights, some including all rights from surface to basement; however, Contact's Alberta focus continues to remain on the Montney. The Company expects to release further details on these lands as additional technical evaluations are completed. Contact expects to maintain its 2013 drilling focus on East Kakwa. With the recent land acquisitions, Contact now holds 46.7 net (61 gross) sections of Montney-focused acreage within Alberta's Deep Basin.
Drilling and Completions Update
As previously reported on January 29, 2013, Contact participated in a non-operated Montney well, immediately adjacent to Contact's existing 25% working interest East Kakwa acreage. The well was successfully drilled before spring breakup and the well operator now advises that the well is expected to be completed and tested in mid-July 2013, as ground conditions have improved and will now support the required equipment. This well will evaluate the Upper Montney. Contact is responsible to pay for 23.75% of well costs to earn a 23.75% working interest in the spacing unit of the well, and a total of 2.25 gross sections, subject to a 5% non-convertible gross overriding royalty.
The next Contact-operated Kakwa well to be drilled in the East Kakwa block is scheduled to be spud within the first two weeks of July 2013. Contact will hold a 25% working interest in this well.
Production Update
The Company's first 3 operated wells in East Kakwa have continued to produce at high rates and liquids yields. The 13-17 well has been on production since December 2012, and has produced condensate yields steadily at 135 bbl/mmcf, with the well continuing to perform at 1 mmcf/d. Contact's second well, 14-30, has flowed between 2 and 4 mmcf/d in the first two months of production, with condensate yields averaging 180 bbl/mmcf. In accordance with standard operating practices, the 14-30 well has recently been shut in to record build pressures. Since shutting in the 14-30 well, the 3-19 well has been brought online at approximately 3.5 mmcf/d with a condensate yield of 166 bbl/mmcf. Contact holds a 37.5% working interest (before payout) in the 13-17 well and a 25% working interest in both the 14-30 well and 3-19 well.
The Company is also pleased to announce that its proposed 15 MM/d compressor station and condensate stabilization has received approval. The facility will be centrally located and will serve to lower gathering pipeline and wellhead flowing pressures on the East Kakwa lands. Equipment ordering has commenced with start-up still anticipated prior to the end of 2013.
About Contact Exploration Inc.
Contact Exploration Inc. is a public oil and gas company which has a long-term history of operating in Atlantic Canada and has recently demonstrated success in Alberta's liquids-rich Montney Formation tight gas play. For more information, please see the Company's website:
www.contactexp.com
.
Cautionary Statements
Information Regarding Disclosure on Oil and Gas Reserves and Operational Information
ADVISORY ON USE OF "BOEs": "BOEs" may be misleading, particularly if used in isolation. A BOE conversion ratio of six thousand cubic feet of natural gas to one barrel of oil equivalent (6 mcf: 1 bbl) is based on an energy equivalency conversion method primarily applicable at the burner tip and does not represent a value equivalency at the wellhead. Given that the value ratio based on the current price of crude oil or natural gas liquids as compared to natural gas is significantly different from the energy equivalency of 6:1, utilizing a conversion on a 6:1 basis may be misleading as an indication of value.
The estimates of reserves and future net revenue for individual properties may not reflect the same confident level as estimates of reserves and future net revenue for all properties due to the effects of aggregation.
ADVISORY ON FORWARD-LOOKING STATEMENTS: This press release contains certain forward-looking information and statements within the meaning of applicable securities laws. The use of any of the words "expect", "continue", "estimate", "may", "will", "should", "believe", "plans", "cautions" and similar expressions are intended to identify forward-looking information or statements. In particular, but without limiting the forgoing, this press release contains statements concerning the timing to complete a new non-operated well, the earning by Contact of a working interest upon paying a portion of the costs of completing the non-operated well, the timing to drill and complete a new well at the East Kakwa property and the construction of a 15 MM/d compressor station and condensate stabilization facility.
Forward-looking statements or information are based on a number of material factors, expectations or assumptions of Contact which have been used to develop such statements and information but which may prove to be incorrect. Although Contact believes that the expectations reflected in these forward-looking statements are reasonable, undue reliance should not be placed on them because Contact can give no assurance that they will prove to be correct. Since forward-looking statements address future events and conditions, by their very nature they involve inherent risks and uncertainties. In particular, in addition to other factors and assumptions which may be identified herein, no assurances can be given respecting: whether the Company's exploration and development activities respecting the Deep Basin Montney project will be successful or that material volumes of petroleum and natural gas reserves will be encountered, or if encountered can be produced on a commercial basis; the ultimate size and scope of any hydrocarbon-bearing formations at the Deep Basin Montney project; that the compressor station and condensate stabilization facility will be developed as planned and in the time anticipated; that the additional drilling operations in the Deep Basin Montney project will be successful such that further development activities in this area is warranted; that Contact's efforts to raise additional capital will be successful; that Contact will continue to conduct its operations in a manner consistent with past operations; results from drilling and development activities will be consistent with past operations; the accuracy of the estimates of Contact's reserve volumes and those volumes reported by GLJ and McDaniel in their respective evaluations; the general stability of the economic and political environment in which Contact operates; drilling results; field production rates and decline rates; the general continuance of current industry conditions; the timing and cost of pipeline, storage and facility construction and expansion and the ability of Contact to secure adequate product transportation; future commodity prices; currency, exchange and interest rates; regulatory framework regarding royalties, taxes and environmental matters in the jurisdictions in which Contact operates; and the ability of Contact to successfully market its oil and natural gas products.
Further, events or circumstances may cause actual results to differ materially from those predicted as a result of numerous known and unknown risks, uncertainties, and other factors, many of which are beyond the control of the Company, including, without limitation: changes in commodity prices; changes in the demand for or supply of the Company's products; unanticipated operating results or production declines; changes in tax or environmental laws, royalty rates or other regulatory matters; changes in development plans of Contact or by third party operators of Contact's properties, increased debt levels or debt service requirements; inaccurate estimation of Contact's oil and gas reserve and resource volumes; limited, unfavourable or a lack of access to capital markets; increased costs; a lack of adequate insurance coverage; the impact of competitors; and certain other risks detailed from time-to-time in Contact's public disclosure documents. Additional information regarding some of these risk factors may be found under "Risk Factors" in the Company's Management Discussion and Analysis prepared for the year ended March 31, 2012. The reader is cautioned not to place undue reliance on this forward-looking information. The forward-looking statements contained in this press release are made as of the date hereof and Contact undertakes no obligations to update publicly or revise any forward-looking statements or information, whether as a result of new information, future events or otherwise, unless so required by applicable securities laws.
Neither TSX Venture Exchange nor its Regulation Services Provider (as that term is defined in the policies of the TSX Venture Exchange) accepts responsibility for the adequacy or accuracy of this release.


Contacts:
Contact Exploration Inc.
Steve Harding
President and CEO
(403) 771-1091
(403) 695-3915 (FAX)
sharding@contactexp.com
www.contactexp.com