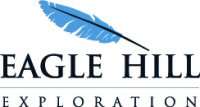 VANCOUVER, BRITISH COLUMBIA -- (Marketwired) -- 06/28/13 -- Eagle Hill Exploration Corporation (TSX VENTURE: EAG) ("Eagle Hill" or the "Company") is pleased to announce that it has entered into a binding letter agreement ("Noront Transaction") to acquire the remaining 25% ownership along with all other interests in the mineral claims of the Windfall Lake Property from Noront Resources Ltd. ("Noront"). Further, the Company has entered into financing agreements with Southern Arc Minerals Inc. ("Southern Arc") and Dundee Corporation ("Dundee") to provide a total of $12 million through two private placements of units (together with the Noront Transaction, the "Transactions").

Highlights


-- Consolidates ownership of the Windfall Lake gold deposit, a Quebec high- grade gold exploration project presently hosting 538,000 oz Au at 10.1 g/t Au in the Indicated Category and 822,000 oz Au at 8.8 g/t Au in the Inferred Category.-- Removes restrictive covenants and all future obligations to Noront with regard to the Windfall Lake Property.-- Removes a preferential payment to Noront of $11.9 million from cash flow upon commencement of production.-- Capital injection allows for a greater focus on expansion and upgrading of the current mineral resource, proceeding to development activities at the most optimal time.-- Additional board expertise through the nominees from Southern Arc and Dundee.
"We have been involved in the development of Eagle Hill's Windfall Lake Project and the surrounding gold camp for approximately 20 years and are excited to see the project getting closer to being a producer," said Ned Goodman, President and CEO of Dundee Corporation. "We are excited to continue to support Eagle Hill and believe the high grade Windfall Lake mineralization has very good potential to grow well beyond the current resource."
"We are very pleased to bring to shareholders a series of transactions that will consolidate ownership of the Windfall Lake gold deposit. We welcome a new financial and technical partner in Southern Arc, and appreciate the confidence shown by Dundee through its increased holdings. With the closing of the Transactions, we look forward to commencing drilling in September," stated P. Bradley Kitchen, CEO and President of Eagle Hill.
Additional Details
Pursuant to the Noront Transaction, Eagle Hill will acquire all of Noront's remaining interest in the Windfall Lake Property for consideration of $5 million in cash and 25 million common shares of Eagle Hill. Eagle Hill has also made a payment of $615,000 to Noront, leaving $4,385,000 to be paid upon completion of the Transactions. Noront will not retain any net smelter royalty or further rights on the property.
Concurrent with the Noront Transaction, Eagle Hill has entered into financing agreements with Southern Arc and Dundee pursuant to which Southern Arc will make an investment of $7.3 million and Dundee will increase its existing 18.8% ownership with an additional investment of $4.7 million by way of private placements (the "Private Placements") of units (the "Units") at a price of $0.075 per Unit. Upon completion of the Transactions, Southern Arc and Dundee will each hold 26.2% of Eagle Hill. Each Unit consists of one common share and one half of one common share purchase warrant. Each whole warrant ("Warrant") will entitle the holder to purchase one common share of Eagle Hill at a price of $0.10 per common share for a period of four years.
Pursuant to the financing agreements, and upon closing of the Private Placements, Eagle Hill's board of directors will be reconstituted with two directors nominated by Eagle Hill, two nominated by Southern Arc and two nominated by Dundee.
The common shares to be issued pursuant to the Noront Transaction and the Private Placements will be subject to a four-month and one-day hold period in accordance with applicable securities legislation. The Transactions are subject to Eagle Hill and Southern Arc obtaining regulatory and appropriate shareholder approval.
Haywood Securities Inc. is acting as financial advisor to Eagle Hill with regard to the Transaction.
About the Windfall Lake Deposit
The Windfall Lake Property comprises 285 contiguous claims (approximately 12,400 hectares) in the Abitibi mineralized belt of northern Quebec. This area between Val d'Or and Chibougamau is known for its gold and copper production and excellent infrastructure for exploration and mining. Historically, the Windfall Lake gold deposit has had extensive grassroots exploration work. During July 2012, the Company updated its mineral resource estimate to reflect additional drilling, the results of which are displayed in the table below. In addition to the mineral resource listed below, the Windfall Lake gold possesses excellent potential to be expanded both laterally and at depth.
---------------------------------------------------------------------------- Quantity Gold Grade Contained Gold ('000 tonnes) (g/t) (ounces)----------------------------------------------------------------------------Indicated 1,665 10.05 538,000----------------------------------------------------------------------------Inferred 2,906 8.76 822,000----------------------------------------------------------------------------
Jean-Philippe Desrochers, PhD, PGeo, is a qualified person registered in Quebec as defined by National Instrument 43-101 and has reviewed the technical information contained in this press release.
About Eagle Hill Exploration Corporation
Eagle Hill Exploration Corporation is a Canadian mineral exploration company focused on the exploration and development of gold and precious metal prospects. The Company is an advanced stage gold exploration company with its Windfall Lake high-grade gold project, located in Urban Township, Quebec, between Val-d'Or and Chibougamau. Eagle Hill seeks projects that contain or have potential to contain large resources. The Company's website at
www.eaglehillexploration.com
and public filings at
www.sedar.com
provide additional information on its properties and other information with respect to its management and operations.
Neither the TSX Venture Exchange nor its Regulation Services Provider (as that term is defined in the policies of the TSX Venture Exchange) accepts responsibility for the adequacy or accuracy of this release.
ON BEHALF OF THE BOARD,
P. Bradley Kitchen, President
FORWARD LOOKING STATEMENTS
Statements in this news release, which are not purely historical, are forward-looking statements within the meaning of applicable United States and Canadian securities laws, including any statements regarding beliefs, plans, expectations or intentions regarding the future. These statements involve risks and uncertainties which could cause actual results to differ materially from those in the forward-looking statements contained herein. Such risks and uncertainties may include, but are not limited to, the ability to obtain additional financing, title to mineral properties, the ability to manage growth, acquisitions of technology, equipment or human resources, the effect of economic and business conditions, the ability to attract and retain skilled personnel, the risks inherent in exploration and factors outside the control of the Company. These forward-looking statements are made as of the date of this news release, and the Company assumes no obligation to update the forward-looking statements or to update the reasons why actual results could differ from those projected in the forward-looking statements. Although the Company believes that the beliefs, plans, expectations and intentions contained in this news release are reasonable, there can be no assurance those beliefs, plans, expectations or intentions will prove to be accurate. Investors should consider all of the information set forth herein and should also refer to the risk factors disclosed in the Company's most recent Annual Information Form filed on SEDAR which is available at
www.sedar.com
. This news release shall not constitute an offer to sell or the solicitation of an offer to buy securities.


Contacts:
Network IR (Vancouver)
Andrew Mugridge / Benjamin Curry
604.559.5573
info@networkir.com
www.networkir.com

MI3 Communications Financieres Inc. (Montreal)
Nathalie Dion
514.904.1333
nathalie@mi3.ca
www.mi3.ca