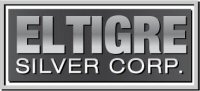 VANCOUVER, BRITISH COLUMBIA -- (Marketwired) -- 05/23/13 -- El Tigre Silver Corp. (the "Company" or "El Tigre") (TSX VENTURE: ELS)(FRANKFURT: 5RT)(OTCQX: EGRTF) is pleased to report that the final five drill hole assay results from the 2013 drilling program have been received. A total of 38 core holes were completed and 4,862 metres drilled along the 1.2 kilometre stock work zone on concessions that are part of the Company's 431 square kilometre ownership in Sonora, Mexico.

Hard Rock Consulting LLC, of Lakewood Colorado ("Hard Rock") has now been retained to complete a Prefeasibility Study of the tailings and a resource model of the El Tigre mineralized zone.

The highest silver assay that was reported in this round of samples was in Hole ET13-81 with 0.7 metres of 653 g/t Ag (19 ounces/ton Ag). The longest mineralized intercept from this round of samples was in ET13-78 with 30.35 metres of 1.28 g/t Au equiv. The Company also reports these intervals as "core length" and is not "true width" because not enough information exists at this time to determine true width.

This is the sixth and final round of assays reported by El Tigre, and it consists of five drill holes (ET13-78 to 82). Four of these holes were distributed over 300 metres of the zone and centered on the Browns Shaft area on Mula Mountain. The fifth hole (ET13-82) was drilled to test the El Tigre vein one kilometre north of the current drilling program. El Tigre believes that the property hosts a classic caldera-related, epithermal low sulphide vein system that extends 5.3 kilometres along strike. The drilling program had focused on the southern 1.2 kilometre zone that has potential for bulk mineable gold associated with the historic high grade silver and gold veins.

The following table identifies the most notable intervals in each hole. The assay summary table details all intervals for these holes.

Assay Interval Highlights:


ET13-78 with 30.35 metres of 1.28 g/t Au equivalent-29.03 g/t Ag and 0.7 g/t Au and with 27.15 metres of 0.8 g/t Au equivalent- 0.8 g/t Au and with 14.25 metres of 0.58 g/t Au equivalent-22.95 g/t Ag and 0.12 g/t AuET13-79 with 18.6 metres of 1.09 g/t Au equivalent-8.0 g/t Ag and 0.93 g/t Au and with 10.45 metres of 1.17 g/t Au equivalent-30.6 g/t Ag and 0.56 g/t Au and with 25 metres of 1.23 g/t Au equivalent-22.2 g/t Ag and 0.79 g/t AuET13-81 with 0.7 metres of 25.36 g/t Au equivalent-653 g/t Ag and 12.3 g/t Au
Assay Summary Table of mineralized intervals for Holes ET13-72 to 77:
From To Interval Ag Au Au EquivHole Num. (m) (m) (m) g/t g/t 50:1ET13-78 7.50 9.40 1.90 (ii) 0.89 0.89 21.50 51.85 30.35 29.03 0.70 1.28 55.20 82.35 27.15 (ii) 0.80 0.80 84.50 90.45 5.95 (ii) 0.31 0.31 104.15 105.35 1.20 (ii) 0.48 0.48 113.00 114.50 1.50 (ii) 0.21 0.21 121.00 122.10 1.10 (ii) 2.13 2.13 125.10 139.00 13.90 (ii) 2.17 2.17 140.00 141.80 1.80 56.60 2.13 3.26 183.00 197.25 14.25 22.95 0.12 0.58 207.40 210.70 3.30 31.00 0.36 0.98 225.50 227.00 1.50 43.50 (ii) 0.87 247.75 250.10 3.35 105.80 (ii) 2.12ET13-79 0.00 18.60 18.60 8.00 0.93 1.09 24.55 35.00 10.45 30.60 0.56 1.17 43.00 68.00 25.00 22.20 0.79 1.23Includes 43.00 46.00 3.00 65.65 2.33 3.64Includes 61.20 68.00 6.80 32.85 0.97 1.63 72.50 74.50 2.00 25.40 0.19 0.70 75.50 85.30 9.80 (ii) 0.64 0.64 100.50 103.50 3.00 (ii) 0.19 0.19 111.00 115.50 4.50 (ii) 1.04 1.04ET13-80 123.50 125.50 2.00 (ii) 0.36 0.36 127.00 128.00 1.00 45.40 1.63 2.54 163.50 164.90 1.40 (ii) 0.75 0.75 167.10 184.50 17.40 (ii) 0.91 0.91Includes 170.10 174.10 4.00 (ii) 2.24 2.24Includes 178.00 179.00 1.00 44.00 0.45 1.33ET13-81 7.00 34.00 27.00 (ii) 0.34 0.34 69.25 69.80 0.55 (ii) 0.21 0.21 72.95 83.25 10.30 62.60 1.28 2.53Includes 79.60 82.80 3.20 193.80 2.90 6.78Includes 81.60 82.30 0.70 653.00 12.30 25.36Includes 154.20 158.00 3.80 39.14 0.65 96.45 101.00 4.55 (ii) 0.24 0.24 102.50 104.00 1.50 (ii) 0.31 0.31ET13-82 42.70 47.25 4.55 8.60 0.16 0.33 54.60 71.00 16.40 8.16 0.14 0.30 85.50 106.05 20.55 39.70 (ii) 0.79Includes 86.85 94.45 7.60 81.65 (ii) 1.63Includes 86.85 88.00 1.15 148.70 (ii) 2.97Note 1: Assay cutoffs are 0.2 g/t Au and 10 g/t Ag with g/t as gram per tonne.Note 2: Drill hole direction, angle and depth.-------------------------------------Drill Hole Azimuth Angle Depth-------------------------------------ET13-78 87.5 -81.6 250.10-------------------------------------ET13-79 86.8 -81.5 140.30-------------------------------------ET13-80 86.9 -46.8 201.30-------------------------------------ET13-81 87.4 -45.9 125.05-------------------------------------ET13-82 90.7 -47.5 140.30-------------------------------------Note 3: (ii) Did not meet cut-off grade.Note 4: All intervals reported as core length in metres.Note 5: Gold Equivalent (Au Equiv) is calculated using a 50 to 1 ratio of the dollar value of Ag and Au.
El Tigre has retained Hard Rock to complete a Prefeasibility Study of the tailings recovery project and a resource model of the silver and gold mineralization found in the 1.2 kilometre, Mula Mountain and Gold Hill mineralized zone. This work can now proceed quickly with the completion of all assays from the recent drilling program in this zone. The Company anticipates that all work will be completed on the NI 43-101 technical report by about June 30, 2013.
Currently, any potential quantity and grade is conceptual in nature. There has been insufficient exploration at the El Tigre Property to define a mineral resource. It is uncertain if further exploration will result in discovery of a mineral resource.
Stuart Ross, President and CEO stated, "I am very pleased to have retained a highly qualified consulting firm with extensive experience in Mexico to complete a Prefeasibility Study on the tailings and to develop the resource model on the 1.2 kilometre mineralized zone."
Quality Control-Quality Assurance: Drilling was performed by Major Drilling de Mexico, SA de CV from Hermosillo, Sonora. The core is retrieved by El Tigre geologists and taken to the secure core storage building for measuring, logging, splitting and bagging. Standards and blanks are inserted randomly every 20 samples to ensure a high standard of quality assurance-quality control during the assaying process. Prepared samples are then transported by El Tigre geologists to Hermosillo to the Skyline Laboratories, Inc. shipment facility. From there they are transported by Skyline personnel to Tucson Arizona where they are crushed and pulped for assaying in the Skyline lab. Gold is derived from a 30 gram charge, fire assayed and determined by gravimetric methods. Silver is determined by first dissolving the sample in aqua regia followed by Atomic Absorption (AA). Over limits are determined by fire assay and gravimetric methods.
The technical content of this news release has been approved by Steven D. Craig, CPG and Vice President of Exploration for El Tigre, a Qualified Person as defined in NI 43-101.
About El Tigre Silver Corp.:
The Company, through its subsidiaries, holds the rights to 100% of nine mineral concessions, eight comprising of 431 square kilometres located in north-eastern Sonora, Mexico (the "El Tigre Property"). El Tigre also holds one additional 32 hectare claim separate from the El Tigre Property. A technical report has been prepared for the El Tigre Property and can be found on the Company's profile on SEDAR at
www.sedar.com
and on the Company's website at
www.eltigresilvercorp.com
.
Cautionary Statements:
This news release contains forward-looking statements and forward-looking information (together, "forward-looking statements") within the meaning of applicable securities laws and the United States Private Securities Litigation Reform Act of 1995. Forward-looking statements include assay results, expected drilling programs, timing for technical report and future plans. Forward-looking statements involve risks, uncertainties and other factors that could cause actual results, performance, prospects and opportunities to differ materially from those expressed or implied by such forward-looking statements. Factors that could cause actual results to differ materially from these forward-looking statements include those risks set out in the Company's public documents filed on SEDAR at
www.sedar.com
. Although the Company believes that the assumptions and factors used in preparing the forward-looking statements are reasonable, undue reliance should not be placed on these statements, which only apply as of the date of this news release, and no assurance can be given that such events will occur in the disclosed times frames or at all. Except where required by law, the Company disclaims any intention or obligation to update or revise any forward-looking statement, whether as a result of new information, future events or otherwise.
Potential - the potential quality and grade is conceptual in nature. There has been insufficient exploration at the El Tigre Silver property to define a mineral resource. It is uncertain if further exploration will result in discovery of a mineral resource.
The TSX Venture Exchange has neither approved nor disapproved of the contents of this press release. Neither the TSX Venture Exchange nor its Regulation Services Provider (as that term is defined in the policies of the TSX Venture Exchange) accepts responsibility for the adequacy or accuracy of this press release.


Contacts:
El Tigre Silver Corp.
Stuart Ross
President and CEO
(778) 980-7187
srross@eltigresilvercorp.com

El Tigre Silver Corp.
Steven Craig
VP Exploration
(775) 815-8456
scraig@eltigresilvercorp.com

El Tigre Silver Corp.
Rob Grace
Corporate Communications
(604) 639-0044
rgrace@eltigresilvercorp.com
www.eltigresilvercorp.com