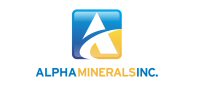 VANCOUVER, BRITISH COLUMBIA -- (Marketwired) -- 05/13/13 -- Alpha Minerals Inc. ("Alpha" or "the Company") (TSX VENTURE: AMW), and its Joint Venture partner Acme Resources Inc. (TSX VENTURE: ARI) (formerly International KRL Corp.) are pleased to announce results from a detailed study of assessment reports covering the former Cluff Lake Mining Lease of Areva and the adjacent area of the Skull Lake JV claim S-107579. The claim straddles the margin of the Carswell Impact Structure along a possible easterly extension of the Cluff Lake uranium deposits.

Four radon anomalies have been identified on the Skull Lake claim from earlier assessment reports. One of the radon anomalies is over 2 kms long and is aligned along the down ice direction from an area that was drill tested with 3 shallow holes. Drill hole CAR 38 intersected a graphitic pelitic gneiss with a narrow radioactive interval peaking at 900 counts per second (cps) at 13 meters depth on the down hole gamma log, within background counts of 30 to 60 cps. This drill hole was located close to the up ice head of the radon anomaly. There was very little additional drill testing of the other radon anomalies and further work is proposed to define drill targets related to these anomalies.

Follow-up exploration is planned for the 2013 summer season. Work will include re-sampling the radon anomalies defined by earlier surveys. This will be carried out with a search for radioactive boulders and debris from a potential source of the radon anomaly lying up-ice from the radon anomalies. The work will be executed under the supervision of the same team that built its experience around the discovery of the Patterson Lake uranium boulder field and the subsequent discovery of three zones of shallow high grade uranium mineralization up ice near that boulder field by the Alpha - Fission JV on the Patterson Lake South Project.

Regional Context

The Cluff Lake deposits produced more than 60 million pounds of uranium from multiple deposits with an average grade of approximately 0.9% U3O8. Mining from 1982 to 2005 included several open pit mines and two underground operations. These shallow mining sites were distributed close to the margin of the Ordovician or older (Meso-Proterozoic) meteor impact crater, where the rebound of the impact had lifted basement rocks from beneath the Athabasca unconformity with a huge rarefaction (a rebound force sufficient to lift this massive body of rock to the surface), from some 900 meters beneath the surface at that site, and brought it to its present position at or near today's surface. The shallow mines had a low cost for development and mining operations compared to some of the deeper active mines of the Eastern Athabasca Basin. The Shea Creek deposits are being explored 22 kms to the south of the Cluff Lake mines area.

In more recent times (15,000-10,000 years before present) the region was swept by the glaciations with a continental ice sheet that redistributed surface rocks and plucked fragments of bedrock moving it all in the down ice direction of roughly west-southwest. In looking at the distribution of radioactive boulders moved by the ice sheet, as reported in assessment reports, Alpha has defined a systematic distance of approximately 2.5 to 3.5 kilometers distance between the old mine sites (the sources) and the mapped locations of clusters of radioactive boulders, down ice from the mine sites.

The work of the predecessor companies of Areva included extensive exploration of this sector of the Carswell structure and patches of uraniferous boulders were located at this range of distance from significant radon anomalies lying on the Alpha - Acme ground immediately east of the main mining area and also along the margin of the Carswell structure.

The first work in 2013 will resample the radon areas defined by the earlier work and confirm those anomalies with current data. This will be accompanied by a search for radioactive boulders and debris from a potential up-ice source of the uranium in a similar distribution as indicated from known mineralization at the mined areas of Cluff Lake.

The Property

Alpha Minerals has an 80% interest in the 2416 hectare (5,900 acres) Skull Lake project and a 20% carried interest remains with Acme Resources Inc (ARI). The carried interest remains until Alpha shall complete a positive feasibility study, at which time Acme may elect to contribute to the capital and start up cost for putting the property into production or may fall back to a 2% gross overriding royalty for uranium and precious stones and a 2% NSR for other metals and minerals. Alpha is the Operator of the Joint Venture.

The property is accessible by road, with primary access from all-weather Highway 955 which runs north to the nearby Cluff Lake mine site and passes through the UEX-Areva Shea Creek property uranium discoveries and the Alpha Minerals Patterson Lake South project, that are currently under active exploration and development.

The technical information in this news release has been prepared in accordance with the Canadian regulatory requirements set out in National Instrument 43-101 and reviewed on behalf of Alpha Minerals Inc, by Garrett Ainsworth P.Geo., Vice President Exploration, a qualified person.

On behalf of the Board of Directors of Alpha Minerals Inc.

Ben Ainsworth, President, CEO and Director

Please refer to the Alpha Minerals Inc. website (www.alphaminerals.ca) for further and updated information.

This press release contains "forward-looking information" that is based on Alpha's current expectations, estimates, forecasts and projections. This forward-looking information includes, among other things, statements with respect to Alpha's development plans. The words "will", "anticipated", "plans" or other similar words and phrases are intended to identify forward-looking information.

Forward-looking information is subject to known and unknown risks, uncertainties and other factors that may cause Alpha's actual results, level of activity, performance or achievements to be materially different from those expressed or implied by such forward-looking information. Such factors include, but are not limited to: uncertainties related exploration and development; the ability to raise sufficient capital to fund exploration and development; changes in economic conditions or financial markets; increases in input costs; litigation, legislative, environmental and other judicial, regulatory, political and competitive developments; technological or operational difficulties or inability to obtain permits encountered in connection with exploration activities; and labour relations matters. This list is not exhaustive of the factors that may affect our forward-looking information. These and other factors should be considered carefully and readers should not place undue reliance on such forward-looking information. Alpha disclaims any intention or obligation to update or revise forward-looking information, whether as a result of new information, future events or otherwise.

Neither the TSX Venture Exchange nor its Regulation Services Provider (as that term is defined in the policies of the TSX Venture Exchange) accepts responsibility for the adequacy or accuracy of this release.