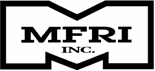 NILES, IL -- (Marketwired) -- 05/01/13 -- MFRI, Inc. (NASDAQ: MFRI) announced today sales and earnings for the fiscal year ended January 31, 2013 ("2012"). The Company's sales in 2012 were $212 million, a decrease of 9% from $233 million last year; net loss in 2012 was $18.5 million or $2.67 per diluted share, compared to net loss of $5 million or $0.72 per diluted share, in 2011. In the fourth quarter of 2012, the Company recorded a full valuation allowance on domestic deferred tax assets. This resulted in a $12.5 million non-cash charge. The Company also recorded a non-cash $1.5 million asset impairment charge, together making up $2.03 of the loss per share in 2012. Before non-cash charges described above, the net loss was $4.5 million compared to net loss of $5 million in 2011. Increased professional costs and filtration products' decrease in gross profit contributed to the increased loss. This was partially offset by piping systems' increase in gross profit. Backlog, at the end of 2012, increased by 78% over prior year.

FISCAL YEAR ENDED 1/31/2013

SALES - Net sales were $212 million in 2012, a decrease of 9% from $233.5 million in 2011. Reduced market demand for fabric filters led to a decrease of $14.6 million in filtration products. Piping systems sales decreased $7.3 million, driven by a decline in U.S. sales in the second and third quarters partially offset by an increase in sales in the Middle East. Corporate and other sales decreased by $4.6 million due to customer decisions to extend project completion dates. Industrial process cooling sales increased $5 million as order intake continued to improve.

GROSS PROFIT - Despite the decrease in sales, gross margin improved by 2 percentage points to 18% of net sales compared to 16% of net sales in 2011. Gross profit of $38.1 million in 2012 increased 5% from $36.3 million in 2011. Gross profit increased significantly in piping systems due to higher volume from the plant in the United Arab Emirates and from strong sales in industrial process cooling while filtration products gross profit decreased due to lower demand.

EXPENSES - Operating expenses increased 9.6% to $45.4 million from $41.4 million. The primary increase was a $1.5 million non-cash charge related to the fixed asset impairment of an idle facility in the filtration products business. Strategic consulting, audit and tax consulting increased a total of $1.5 million. Start-up costs for the Saudi Arabia facility amounted to $0.9 million. Industrial process cooling added staff and increased management incentive compensation expense related to improved performance.

TAXES - The Company recorded non-cash tax expenses of $10.8 million, which included the full valuation allowance of $12.5 million on the domestic deferred tax assets. A portion of this valuation allowance will be reversed in 2013 when the sale of Thermal Care's assets has been recorded.

NET LOSS - Before non-cash charges described above, the net loss was $4.5 million compared to net loss of $5 million in 2011. Increased professional costs and filtration products' decrease in gross profit contributed to the loss. This was partially offset by piping systems' increase in gross profit.

CURRENT STATUS:

BACKLOG - The Company's backlog on January 31, 2013 was $148 million, up 78% from the prior year. Additionally, since January 31, 2013, piping systems has received approximately $27 million of additional orders, which were highlighted in a February 5, 2013 press release.



% Year Backlog ($ in thousands): 1/31/13 1/31/12 Change ---------- ---------- --------- Piping Systems $ 89,508 $ 53,769 66% Filtration Products 25,834 14,473 78% Industrial Process Cooling 4,665 6,431 (27%) Other 28,176 8,539 230% ---------- ---------- --------- Total $ 148,183 $ 83,212 78% ========== ========== =========
PIPING SYSTEMS
- Piping systems has been investing in its new plant in Saudi Arabia for the last two years. In April 2012, the Company opened the new factory in Dammam, Saudi Arabia. Since November 2012, the Company has announced receipt of several orders totaling approximately $50 million primarily for two landmark projects in Saudi Arabia: the Grand Mosque in Mecca and the King Abdul-Aziz International Airport in Jeddah.
Sales volume at the Company's domestic facilities declined, reflecting the adverse effect from the continuing decrease in federal and state spending for government funded construction activity in the U.S.
FILTRATION PRODUCTS
- Reduced market demand for fabric filters led to a decrease in filtration product sales. Filtration products gained some sizeable orders for the coming 24 months, resulting in a backlog increase of 78% over the prior year period. Of the $26 million in backlog, approximately $12 million of those orders are scheduled for delivery in 2014.
INDUSTRIAL PROCESS COOLING
- This segment showed improvements in net sales of 16% over prior year and more than doubled its income from operations. On April 26, 2013, the Company announced the signing of a definitive agreement to sell the domestic assets of its subsidiary Thermal Care, Inc. to IPEG, Inc. The transaction closed on April 30, 2013. Upon closing, the Company transferred the applicable assets, liabilities and employees of the business to the buyer. In future periods, industrial process cooling will be reported as a discontinued operation.
Brad Mautner, President and CEO, said
, "The information in our 2012 annual report filing, this press release and our recent announcement of the sale of the U.S. assets of our Thermal Care business describe an important time for our Company. We have taken the strategic decision to focus our resources on our two large reportable segments: filtration products and piping systems. From an operating standpoint, we are largely a project driven company. Therefore, the dramatic 78% growth in backlog, not including the additional orders won during the first quarter this year will take time to turn into sales and profits. Fiscal 2012 was difficult operationally, as extremely weak market demand for fabric filters continued and we built backlog in piping, but did not yet realize the benefits. We expect to realize these benefits in 2013 and are working actively to size the fabric filter business to the lower demand expected in the near term. There are also programs now under way to lower manufacturing costs, improve working capital turns and control capital expenses. However, based on the recent results, accounting rules require us to record the large non-cash impairments that resulted in 75% of the reported loss per share for the year. I fully expect that we will perform in our core businesses at a level that will ultimately make use of tax benefits that have now been fully reserved.
"This year also contained some unusual expenses for audit, tax consulting and other professional services related to our strategic initiatives to drive improved operating performance in filtration and piping systems. Additionally, we invested nearly $1 million in startup costs for Saudi Arabia in 2012. It has taken two years of development and investment, but we have now transitioned from the startup phase to being fully operational. Therefore, those costs will not recur and we expect profitable revenue to begin this year. The momentum we have built is important, and we are focused on getting the most out of our opportunities this year. We also know that in order to drive ongoing profitable growth, we must explore new product initiatives, geographical expansion opportunities and alliances to further enhance our future for 2014 and beyond."
Bradley Mautner continued: "The decision to generate and redeploy capital from the sale of Thermal Care U.S. assets was not an easy one. It is a business started by the predecessor of MFRI in the 1960's, and it has generally been a steady contributor to the Company. More recently, the team led by Steve Buck did an excellent job of managing its recovery from the deep and lengthy recession that began in 2008. As we studied the various choices to support our emerging growth initiatives and larger market places, it became apparent that this was the appropriate choice for MFRI and our shareholders. We appreciate the efforts of the Thermal Care team and know they will bring a strong level of expertise and professionalism to complement IPEG's portfolio. We certainly wish them all the best going forward."
MFRI, Inc.
is a multi-line company engaged in the following businesses: pre-insulated specialty piping systems for oil and gas gathering, district heating and cooling and other applications; custom-designed industrial filtration products to remove particulates from dry gas streams; and installation of heating, ventilation and air conditioning for large buildings.
Form 10-K
for the period ended January 31, 2013 will be accessible at
http://www.sec.gov/
. For more information visit the Company's website
www.mfri.com
or contact the Company directly.
Statements and other information contained in this announcement which can be identified by the use of forward-looking terminology such as "anticipate," "may," "will," "expect," "continue," "remain," "intend," "aim," "should," "prospects," "could," " position," "future," "potential," "believes," "plans," "likely," " seems," and "probable," or the negative thereof or other variations thereon or comparable terminology, constitute "forward-looking statements" within the meaning of Section 27A of the Securities Act of 1933, as amended, and Section 21E of the Securities Exchange Act of 1934 as amended and are subject to the safe harbors created thereby. These statements should be considered as subject to the many risks and uncertainties that exist in the Company's operations and business environment. Such risks and uncertainties include, but are not limited to, economic conditions, market demand and pricing, competitive and cost factors, raw material availability and prices, global interest rates, currency exchange rates, labor relations and other risk factors.
MFRI, INC. AND SUBSIDIARIESCondensed Statements of Operations (Audited) Fiscal Year Ended($ in 000's except per share data) January 31, 2013 2012 --------- ---------Net sales: Piping Systems $ 89,664 $ 96,977 Filtration Products 79,143 93,705 Industrial Process Cooling 37,131 32,112 Corporate and Other 6,080 10,702 --------- --------- Total 212,018 233,496 --------- ---------Gross profit: Piping Systems 17,020 14,410 Filtration Products 10,474 12,466 Industrial Process Cooling 10,240 8,541 Corporate and Other 373 904 --------- --------- Total 38,107 36,321 --------- ---------(Loss) income from operations Piping Systems 3,452 1,143 Filtration Products (2,962) 614 Industrial Process Cooling 1,954 810 Corporate and Other (9,709) (7,630) --------- --------- Total (7,265) (5,063) --------- ---------Income from joint venture 1,386 1,558Interest expense - net 1,816 1,437 --------- ---------Loss before income taxes (7,695) (4,942)Income tax expense 10,790 17 --------- ---------Net loss $ (18,485) $ (4,959) --------- ---------Weighted average common shares outstanding Basic and diluted 6,922 6,878Loss per share: Basic and diluted $ (2.67) $ (0.72)
See the Company's Form 10-K for the period for notes to financial statements.