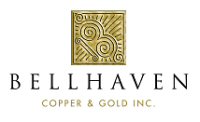 VANCOUVER, BRITISH COLUMBIA -- (Marketwired) -- 04/30/13 -- Bellhaven Copper & Gold Inc. (TSX VENTURE: BHV) ("Bellhaven" or the "Company") is pleased to announce that preparations are well underway for the upcoming drilling campaign at La Garrucha Au-(Cu) prospect. This will be the first drilling program to test the most prospective area of La Garrucha-the center of the broad magnetic anomaly-as prior drilling could only test its western fringe. With the Company's signing of the La Garrucha earn-in agreement (see news release of March 26, 2013), drilling can now commence in early May.

La Garrucha prospect is a Au-(Cu) porphyry deposit, similar to La Cantera and Middle Zone deposits where Bellhaven has discovered 2.55 Moz of gold equivalent less than a kilometer away (see news release dated July 9, 2012). Gold and copper at La Garrucha and La Cantera are coincident with strong magnetic anomalies. For maps showing the location of La Garrucha and La Cantera and the strong spatial correlation between their magnetic anomalies and gold, please use the link below:

http://media3.marketwire.com/docs/BellFigs430.pdf

Julio Benedetti, Bellhaven's CEO and Chairman, commented as follows:

"This is what we've all been waiting for-to drill the heart of the large magnetic anomaly situated over La Garrucha. We know that gold and copper deposits at La Mina and elsewhere in the Middle Cauca Belt (Colombia) show a high correlation with strong magnetic highs. I urge you to view the maps issued with this news release-the spatial relationship is rather remarkable. The magnetic anomaly over La Cantera guided us to 1.0 Moz gold and 280 Mlbs Cu (1.64 Moz AuEq). We are excited to start drilling La Garrucha soon because the size of La Garrucha's magnetic anomaly is much larger than the one over La Cantera (71,924 vs. 42,000 sq. meters)-and just as intense. Plus, we know that La Garrucha contains gold-the prior drill holes yielded increasing grade towards the magnetic anomaly with individual assays as high as 2 g/t Au where the ends of two drill holes clipped the edge of the magnetic high."

"We believe La Garrucha holds the potential to become a significant exploration success for Bellhaven. This is why we worked so hard earlier this year to conclude an earn-in agreement for this concession. Certainly if La Garrucha had not straddled the boundary of two concessions held by two different companies, it would have been the first prospect drilled at La Mina. With these issues resolved, we are pleased to commence drilling soon at La Garrucha."

Exploration Update

The Company completed two drill holes to the south of the La Garrucha target, well outside of the magnetic anomaly, under the previous mandate that the drill-holes remain entirely on Bellhaven's La Mina concession (and not cross onto the La Garrucha concession). Both holes intersected the outer, poorly mineralized Garrucha intrusion. Despite being well outside the magnetic anomaly, a short interval near the end of LME-1097 assayed 0.79 g/t Au over 3.91 meters.

A third drill hole was completed to test the Cristalina prospect, approximately 700 meters south of La Cantera, where geochemical and magnetic data suggest a buried, potentially mineralized intrusion. Breccias with intrusive fragments were encountered, but gold grades were low. The drilling program was halted to secure a new drill contract and to await clearance to begin work at La Garrucha.

Table 1 - Drill Hole Location Data from this News Release for La Mina Gold-(Copper) Project, Colombia


------------------------------------------------------------ East UTM North UTM ElevationHole Number Coordinate Coordinate (m.a.s.l.)------------------------------------------------------------LME-1097 419829.85 654415.93 1981.45------------------------------------------------------------LME-1098 419873.03 654308.13 1980.78------------------------------------------------------------LME-1099 419449.59 653513.85 1683.35--------------------------------------------------------------------------------------------------------------------------------------- Azimuth Plunge Total LengthHole Number (degrees) (degrees) (metres) Prospect---------------------------------------------------------------------------LME-1097 90 -70 360.27 La Garrucha---------------------------------------------------------------------------LME-1098 45 -65 297.18 La Garrucha---------------------------------------------------------------------------LME-1099 135 -60 295.35 Cristalina---------------------------------------------------------------------------m.a.s.l. = metres above sea level
This news release has been prepared under the supervision of Mr. Thomas J. Drown, P.Geo. Mr. Drown has more than 25 years relevant experience and is a British Colombia Professional Geoscientist. He is a senior project geologist with the Company at the La Mina Project and serves as the qualified person as defined by National Instrument 43-101.
About Bellhaven
Bellhaven Copper & Gold Inc. is a Canadian-listed (TSX VENTURE: BHV) exploration company exploring for gold and copper in Panama and Colombia. The Company's goal is to be a leader in gold and copper development in Panama and Colombia. Bellhaven focuses on discovery, acquisition, and development of high-quality resources in a safe and responsible manner for the benefit of all of its stakeholders.
The Company's flagship project is the La Mina porphyry gold-(copper) porphyry deposit in the Middle Cauca belt of Colombia. The total La Mina resource now includes 1.6 Moz gold and 419 million pounds of copper (or 2.55 Moz gold equivalent) contained in 79.9 million tonnes averaging 0.62 g/t Au, 0.24% Cu, or a gold equivalent grade of 1.0 g/t (based on a 0.30 g/t Au cutoff grade). The average grade of 1.0 g/t gold equivalent makes La Mina one of the highest grade gold-(copper) porphyry deposits in the Americas. The Company is currently seeking to develop and to grow these resources through mine development ongoing exploration on the La Mina concession. For more information regarding Bellhaven, please visit our website at
www.bellhavencg.com
.
On behalf of the board of directors,
Julio Benedetti, CEO & Chairman of the Board of Directors
BELLHAVEN COPPER & GOLD INC.
Statements in this press release, other than purely historical information, including statements relating to the Company's future plans and objectives or expected results, may include forward-looking statements. Forward-looking statements are based on numerous assumptions and are subject to all of the risks and uncertainties inherent in resource exploration and development. As a result, actual results may vary materially from those described in the forward-looking statements.


Contacts:
Bellhaven Copper & Gold Inc. - North America Contact
Mrs. Milagros "Millie" Paredes
President/Director
(971) 344-1500
mparedes@bellhavencg.com

Bellhaven Copper & Gold Inc. - Panama Contact
Mr. Julio Benedetti
CEO/Chairman
+507-226-3967
juliobenedetti@bellhavencg.com
www.bellhavencg.com