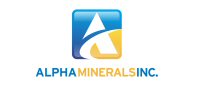 VANCOUVER, BRITISH COLUMBIA -- (Marketwire) -- 03/18/13 -- Alpha Minerals Inc. ("Alpha" or "the Company") (TSX VENTURE: AMW), and its Joint Venture partner Fission Energy Corp. are pleased to announce the discovery of a third zone of uranium mineralization and off-scale radioactivity located 780m east of the original discovery on its Patterson Lake South ("PLS") property in the Athabasca Basin, Saskatchewan.

This news release is for results from two diamond drill holes completed 780m east along trend of the R00E zone (initial discovery zone). These holes are approximately 390m east of the recently announced drill hole 38 at R390 Zone, the second zone of mineralization discovered on the property.

Holes PLS13-048 and 055 were both drilled on section L780E. PLS13-055 intersected three radioactive intervals within sheared, graphitic, chloritic, sulfide-bearing metapelitic gneiss, including two discrete narrow intervals of off-scale radioactivity.

Description of Results from the new R780E Zone

The drill target area at section L780E was designed primarily to test a radon in water anomaly with a value of 3.1 pCi/L. The radon anomaly is on trend to the E-NE from the R00E and R390E zones, and is situated at the east end of the PL-3B EM conductor and associated resistivity low corridor that is terminated by an inferred cross cutting structure.

Hole PLS13-048 is vertical, and tests the center of the radon in water anomaly. A 22.0m interval (155.0m - 177.0m) of weak to moderate radioactivity was intersected in a semipelitic gneiss, below a sequence of alternating pelitic and semipelitic gneiss. Radioactivity within this interval reached up to 2800 cps.

Hole PLS13-055 is vertical, and 15m grid south of PLS13-048. Basement rock from 55.0 to 105.5m consists of alternating sequence of semipelitic and pelitic gneiss. From 105.5m to 190.7m, basement rock is dominantly a pelitic gneiss with pronounced intervals of sulfide-bearing, chloritic graphite shear zones. The shear zone is sub- vertical, with fabrics at low angles to drill core. Within this interval there are multiple zones of anomalous radioactivity ranging in widths from 0.5m - 11.0m (see Table 1). Strong radioactivity is recorded in three intervals of sheared graphitic pelitic gneiss with millimeter-scale blebs of pitchblende:


a) 109.0m - 114.0m (5.0m) - weak to strong radioactivity up to 9000 cps b) 139.5m - 145.0m (5.5m) - weak to strong radioactivity including a 0.1m interval of off-scale (greater than 9999 cps) radioactivity c) 165.5m - 176.5m (11.0m) - weak to strong radioactivity including a 0.8m interval of off-scale (greater than 9999 cps) radioactivity
Basement rock from 190.7m to 261.2m (EOH) consists of a semipelitic gneiss.
Results at the R780E Zone expand significantly strike extent of uranium mineralization at Patterson Lake along the main target corridor of conductors associated with a resistivity low anomaly. Additional drilling is planned prior to the completion of the current winter program in order to further evaluate this new zone.
Summary of Radioactivity, R780E Zone
To view the table associated with this press release, please visit the following link:
http://media3.marketwire.com/docs/860543Table.pdf
.
Natural gamma radiation in drill core that is reported in this news release was measured in counts per second (cps) using a hand held Exploranium GR-110G total count gamma-ray scintillometer. Borehole radioactivity is measured downhole using a Mount Sopris 2GHF-1000 Triple Gamma probe. The reader is cautioned that scintillometer readings are not directly or uniformly related to uranium grades of the rock sample measured, and should be used only as a preliminary indication of the presence of radioactive materials. The degree of radioactivity within the mineralized intervals is highly variable, as is the amount of visible pitchblende mineralization. All intersections are down-hole, core interval measurements and true thickness are yet to be determined.
For clarity, it was stated in the March 13, 2013 news release that drill hole PLS13-053 in the R780E Zone had deviated slightly to a dip of -89.26 degrees to the southeast, when in fact it had deviated to a dip of -86.20 to the southeast.
Program Summary, Winter 2013
An ongoing field program is in progress. This includes approximately 8000m of core drilling to further delineate and define the mineralized region identified during the summer 2012 program. As well, a Moving Loop Time Domain Electro-Magnetic survey (MLTDEM) was completed on this trend to assist in resolving the geophysical conductors and interpretive structural information. This survey will be used to identify prospective drill targets in the immediate area of mineralization and further along strike.
All holes are planned to be radiometrically surveyed using a Mount Sopris 2GHF-1000 Triple Gamma probe, which allows for accurate measurements in high grade mineralized zones. The Triple Gamma probe is preferred in zones of high grade mineralization.
Split core samples from the mineralized section of core will be taken continuously through the mineralized intervals and submitted to SRC Geoanalytical Laboratories (an SCC ISO/IEC 17025: 2005 Accredited Facility) of Saskatoon for analysis, which includes U3O8 (wt %) and fire assay for gold. All samples sent for analysis will include a 63 element ICP-OES, uranium by fluorimetry and boron. Assay results will be released when received.
Patterson Lake South Property
The 31,000 hectare (76,000 acres) PLS project is a 50%/50% Joint Venture held by Alpha Minerals Inc (AMW) and Fission Energy (FIS). Fission is the Operator until April 1st 2014. PLS is accessible by road with primary access from all-weather Highway 955, which runs north to the former Cluff Lake mine, (greater than 60M lbs of U3O8 produced), and passes through the nearby UEX-Areva Shea Creek discoveries located 50km to the north, currently under active exploration and development. Updated maps highlighting the core and reverse circulation drilling programs planned for PLS can be found on the Company's website at
http://www.alphaminerals.ca
.
The technical information in this news release has been prepared in accordance with the Canadian regulatory requirements set out in National Instrument 43- 101 and reviewed on behalf of Alpha Minerals Inc, by Garrett Ainsworth, P.Geo., Vice President Exploration, a qualified person.
On behalf of the Board of Directors of Alpha Minerals Inc.
Ben Ainsworth, President, CEO and Director
Please refer to the Alpha Minerals Inc. website (
www.alphaminerals.ca
) for further and updated information.
This press release contains "forward-looking information" that is based on Alpha's current expectations, estimates, forecasts and projections. This forward-looking information includes, among other things, statements with respect to Alpha's development plans. The words "will", "anticipated", "plans" or other similar words and phrases are intended to identify forward-looking information.
Forward-looking information is subject to known and unknown risks, uncertainties and other factors that may cause Alpha's actual results, level of activity, performance or achievements to be materially different from those expressed or implied by such forward-looking information. Such factors include, but are not limited to: uncertainties related exploration and development; the ability to raise sufficient capital to fund exploration and development; changes in economic conditions or financial markets; increases in input costs; litigation, legislative, environmental and other judicial, regulatory, political and competitive developments; technological or operational difficulties or inability to obtain permits encountered in connection with exploration activities; and labour relations matters. This list is not exhaustive of the factors that may affect our forward-looking information. These and other factors should be considered carefully and readers should not place undue reliance on such forward-looking information. Alpha disclaims any intention or obligation to update or revise forward-looking information, whether as a result of new information, future events or otherwise.
To view the map associated with this press release, please visit the following link:
http://media3.marketwire.com/docs/860543Map.jpg
.
Neither the TSX Venture Exchange nor its Regulation Services Provider (as that term is defined in the policies of the TSX Venture Exchange) accepts responsibility for the adequacy or accuracy of this release.


Contacts:
For corporate communications please contact:
Alpha Minerals Inc. - Vancouver, BC
Robert (Bob) Meister
Phone: (604) 629-0293 or Toll Free: 1-866-629-0293
info@alphaminerals.ca
www.alphaminerals.ca