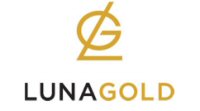 VANCOUVER, BRITISH COLUMBIA -- (Marketwire) -- 03/13/13 -- Luna Gold Corp. (TSX: LGC)(OTCQX: LGCUF)(LMA: LGC) ("Luna" or the "Company") today announced its operational and financial results for the three and twelve month periods ended December 31, 2012 ("fourth quarter" and "full year," respectively).

FOURTH QUARTER AND FULL YEAR HIGHLIGHTS

Operational and Financial Results (all financial amounts in US dollars)


-- Record gold production of 21,547 ounces in the fourth quarter and 74,269 ounces in the full year-- Average unit cash cost of production of $651 per ounce for the fourth quarter and $734 per ounce for the full year(1)-- Net income of $8.3 million for the fourth quarter and $19 million for the full year-- Earnings per share of $0.08 for the fourth quarter and $0.18 for the full year-- Operating cash flow of $8.1 million for the fourth quarter and $24.8 million for the full year
Company Developments
-- Aurizona Gold Mine ("Aurizona") Phase I expansion project approved and commenced, increasing gold production to a targeted 125,000 ounces per annum upon completion;-- Agreement reached with Sandstorm Gold Ltd. ("Sandstorm") whereby Sandstorm will contribute 17% of the required Aurizona Phase I expansion project capital expenditures, up to a maximum of $10 million-- Recept of positive initial assay results and commencement of a seven hole diamond drill program at Luna Greenfields' Touro target-- Drill programs completed with positive results at Aurizona's Piaba deposit and Boa Esperanca, Ferradura, and Conceicao near mine targets-- Graduated to the main boards of both the Toronto Stock Exchange and the Lima Stock Exchange-- Cachoeira Gold Project sold to Brazil Resources Inc. for a gain of approximately $7.1 million-- Obtained a new $30 million corporate secured revolving facility with Societe Generale and Mizuho Corporate Bank in the quarter ending March 31, 2013
For complete details on the 2012 results, please refer to the Audited 2012 Financial Statements, Management Discussion and Analysis, and the Annual Information Filing on SEDAR or the Company's website.
(1) Refer to "Non-IFRS" Financial Measures in Management's Discussion and Analysis Fourth Quarter and Year End December 31, 2012.
STRATEGIC OUTLOOK
2013 Guidance
On January 28, 2013, Luna provided its annual guidance for 2013. The Company anticipates that Aurizona will produce between 95,000 and 105,000 ounces of gold in 2013. The average cash cost associated with this annual production is expected to be between $705 and $715 per ounce. The Company also anticipates completing Phase I of Aurizona's expansion during the fourth quarter of 2013, targeting an increase in the facility's production to 125,000 ounces per annum. This expansion is currently progressing both on time and within its original budget of $49.7 million (including a contingency of $6.5 million), $7.7 million of which had been spent as of December 31, 2012. Sandstorm had contributed $1.5 million of the $7.7 million capital spend as of December 31, 2012. The Company intends to release a Preliminary Feasibility Study for Phase II of this expansion during the fourth quarter of 2013.
Gold production during the first quarter of 2013 has been negatively impacted by the drought conditions that persisted to the end of February 2013 reducing mill throughput and gold production. Fortunately, the rains started to arrive in late February and operations at Aurizona have returned to normal. Additionally, the Company embarked on a successful test hole program to identify fresh ground water sources with the first well installation underway. The drought conditions benefited the tailings dam raise, which was successfully completed to the 27 metres elevation, and which will provide extra water storage and rain collection.
As a result of the drought conditions, the Company is now targeting to produce between 15,000 and 16,000 ounces of gold during the first quarter of 2013, a reduction from its previous guidance of approximately 21,000 ounces. The Company expects to mark up this production shortfall throughout the balance of 2013. As a result, annual production guidance for the year remains at 95,000 to 105,000 ounces.
Following permit approvals, mining and plant feed of high grade laterite ore in a new area of the Piaba pit commenced during the second half of February 2013.
Exploration
On March 14, 2013, Luna intends to release the results of Aurizona's resource update.
In January, Luna announced the positive assay results generated from its initial drill program at Touro, the most promising target at the Company's 220,000 hectare Luna Greenfields property. These results have led the Company to continue drilling at Touro in an effort to define a National Instrument 43-101 compliant resource.
COMMENTARY
"2012 was a remarkable year for Luna Gold," stated John Blake, Luna's President and CEO. "It is a great achievement for our shareholders and employees to have both generated more than 74,000 ounces in production and positive cashflows for the year. At the beginning of 2012, the Company outlined an annual production target of 60,000 ounces. We succeeded in achieving both production well above this level and considerable improvements in our efficiency."
"During 2013, Luna will strive to deliver additional value continue to our shareholders by funding both Aurizona's ongoing expansion and the continued exploration of our promising Greenfields property. In combination, we believe that these two properties are capable of delivering the level of production necessary to grow our Company into Brazil's next mid-tier gold producer."
CONFERENCE CALL DETAILS
Luna will utilize its inaugural quarterly conference call to discuss both the Company's financial results and the resource update at Aurizona. This call is scheduled to take place on Thursday, March 14, 2013 at 11:00 am Eastern Standard Time.
Toll Free (North America): 866 226 1793Toronto Local and International: 416 340 2218Webcast: http://www.gowebcasting.com/4213
A replay of the call will be available until March 28, 2013. The replay may be access by dialing either 905-694-9451 (Toronto Local and International) or 800-408-3053 (Toll Free). The passcode for the replay is 1948527.
About Luna Gold Corp.
Luna is a gold production and exploration company engaged in the operation, discovery, and development of deposits and advanced stage projects in Brazil.
On behalf of the Board of Directors
LUNA GOLD CORP.
John Blake, President and CEO
Forward-Looking Statements
This release contains certain "forward looking statements" and certain "forward looking information" as defined under applicable Canadian and U.S. securities laws. Forward-looking statements can generally be identified by the use of forward-looking terminology such as "may", "will", "expect", "intend", "estimate", "anticipate", "believe", "continue", "plans" or similar terminology. Forward-looking statements include, but are not limited to, statements with respect to future gold production and/or the results of analysis on gold production. Forward-looking statements are based on forecasts of future results, estimates of amounts not yet determinable and assumptions that while believed by management to be reasonable, are inherently subject to significant business, economic and competitive uncertainties and contingencies. Forward-looking statements are subject to various risks and uncertainties concerning the specific factors identified in Luna Gold Corp.'s periodic filings with Canadian Securities Regulators. These factors include the inherent risks involved in the exploration and development of mineral properties, the uncertainties involved in interpreting drill results and other exploration data, the potential for delays in exploration or development activities, the geology, grade and continuity of mineral deposits, the possibility that future exploration, development or mining results will not be consistent with the Company's expectations, accidents, equipment breakdowns, title matters, labor disputes or other unanticipated difficulties with or interruptions in production and operations, fluctuating metal prices, unanticipated costs and expenses, uncertainties relating to the availability and costs of financing needed in the future, the inherent uncertainty of production and cost estimates and the potential for unexpected costs and expenses, commodity price fluctuations, currency fluctuations, regulatory restrictions, including environmental regulatory restrictions and liability, competition, loss of key employees, and other related risks and uncertainties. The Company undertakes no obligation to update forward-looking information except as required by applicable law. Such forward-looking information represents management's best judgment based on information currently available. No forward-looking statement can be guaranteed and actual future results may vary materially. Accordingly, readers are advised not to place undue reliance on forward-looking statements or information.


Contacts:
Luna Gold Corp.
Investor Relations
(604) 568-7993
www.lunagold.com