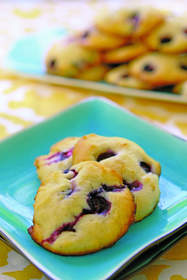 Blueberry Biscuit Cookies


MISSION, KS -- (Marketwire) -- 03/07/13 -- (Family Features) One of the best ways to get kids to eat healthier food is to let them make it themselves. And these snack recipes using Florida blueberries and strawberries are so good -- and so easy -- you may have a hard time getting the kids out of the kitchen.

"You can get really creative with strawberries and blueberries," said Justin Timineri, Executive Chef and Culinary Ambassador, Florida Department of Agriculture and Consumer Services. "They can be tossed into salads or yogurt, marinated in teriyaki sauce and served with grilled meats, or turned into delicious snacks like these."

Not only do they taste good, they're good for you. Blueberries are good for your eyes and memory, and they have antioxidants, which may prevent some types of cancer. Strawberries have vitamin C and fiber, which is good for your digestive system and helps you feel full.

To get more berry-licious recipes like these, visit http://bit.ly/floridaberries.



Blueberry Biscuit CookiesYield: 14 servingsGrown-Up Alert: Supervise younger children when using the oven.2 cups biscuit mix1 cup Florida blueberries1 cup pecans, chopped2 tablespoons low-fat milk1/2 cup honey, divided
Preheat oven to 350 degrees F.
In large mixing bowl, combine biscuit mix, blueberries, pecans and milk. Mix well and add enough honey to make mixture stiff like cookie dough.
Place dough by tablespoonful onto a greased baking sheet about 2 inches apart.
Bake until edges begin to brown, about 15 minutes.
Remove from oven and drizzle remaining honey on each cookie. Bake an additional 5 minutes and serve immediately.
Strawberry-Yogurt Freezer PopsYield: 10 servings1 pound Florida strawberries, hulled and chopped1/4 cup sugar1 lemon, juiced2 cups low-fat vanilla yogurt10 freezer pop molds and sticks
In blender or food processor add half of the strawberries, sugar and lemon juice. Purée ingredients until sugar is dissolved. Pour mixture into a small pitcher or container and add the rest of the chopped strawberries.
Fill each freezer pop mold by alternating layers of strawberry mixture and yogurt. Insert handle or stick into each freezer pop and freeze at least 5 hours. To serve, run warm water over outside of molds until pops come out easily.
If you don't have freezer pop molds, use small paper cups. Cover tops of cups with plastic wrap and poke the sticks through the plastic to keep them standing upright while in the freezer.
Strawberry Mascarpone PaniniYield: 4 servingsGrown-Up Alert: Supervise younger children when using the panini maker orgriddle.8 slices fresh bread (1/2 inch thick)1/2 cup mascarpone cheese1/2 pound Florida strawberries, hulled and sliced thin Confectioners' sugar for dusting2 tablespoons unsalted butter, melted
Heat a panini press or griddle over medium heat.
Spread a thin layer of mascarpone on top of each bread slice.
Add an even layer of strawberries to 4 bread slices. Use the other 4 slices of bread to top the sandwiches.
Brush sandwiches with butter and grill or press until golden, about 5 minutes.
Transfer panini to cutting board and dust with confectioners' sugar. Serve warm.
Berry Snack BarsYield: 20 barsGrown-Up Alert: Supervise younger children when chopping nuts and using theoven.Crust:1 cup pecans, chopped, divided3/4 cup whole-wheat flour3/4 cup all-purpose flour1/2 cup sugar1/2 teaspoon salt4 tablespoons cold unsalted butter, cut into small pieces1 large egg2 tablespoons canola oil1 teaspoon vanilla extract1/4 teaspoon almond extract Pan release cooking sprayFruit Filling:3 cups Florida strawberries, hulled and diced; divided2 1/2 cups Florida blueberries, divided1/4 cup orange juice1/2 cup sugar1/4 cup cornstarch1 teaspoon vanilla extract
For crust: Combine 3/4 cup chopped pecans, both flours, sugar and salt in food processor. Pulse together until nuts are finely ground. Add cold butter to mixture and pulse until well incorporated.
In small mixing bowl, whisk egg, oil, vanilla and almond extracts together.
With motor running on food processor, add egg mixture to pecan mixture. Continue to pulse until it begins to clump, 30 to 45 seconds.
Measure out 1/2 cup of mixture and combine in bowl with remaining 1/4 cup chopped pecans; set aside for topping.
Preheat oven to 400 degrees F. Coat 9-by-13-inch baking dish with cooking spray.
Combine 2 cups strawberries, 2 cups blueberries, orange juice, sugar and cornstarch in large saucepan. Bring to a simmer over medium heat, stirring constantly, until mixture has thickened (about 4 to 5 minutes). Stir in remaining fresh fruit and add vanilla.
Transfer crust mixture to sprayed baking dish. Spread evenly and press firmly into bottom to form crust. Evenly spread fruit filling over crust. Sprinkle top of fruit filling with reserved topping mixture.
Bake bars for 15 minutes. Reduce oven temperature to 350 degrees F and bake until crust and topping are lightly brown, 25 to 30 minutes more.
Let bars cool completely before cutting. Serve with fresh fruit.
Kids in the Kitchen
Age-Appropriate Cooking Tasks
Chefs ages 4 to 5
•Squeezing lemons and limes •Washing produce •Stirring and whisking •Pouring ingredients
Chefs ages 6 to 7
•Grating, peeling and zesting •Greasing pans •Scooping batter •Mashing and kneading
Chefs ages 8 to 9
•Slicing and chopping, with supervision •Peeling fruits and vegetables •Measuring ingredients •Breaking eggs
Chefs ages 10+
•Slicing, chopping and dicing •Baking •Boiling •Sautéing
About Family Features Editorial Syndicate

This and other food and lifestyle content can be found at
www.editors.familyfeatures.com
. Family Features is a leading provider of free food and lifestyle content for use in print and online publications. Register with no obligation to access a variety of formatted and unformatted features, accompanying photos, and automatically updating Web content solutions.
Image Available:
http://www2.marketwire.com/mw/frame_mw?attachid=2192146
Add to Digg
Bookmark with del.icio.us
Add to Newsvine


Matthew Barksdale
mbarksdale@familyfeatures.com
1-888-824-3337
http://editors.familyfeatures.com