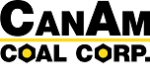 CALGARY, ALBERTA -- (Marketwire) -- 03/06/13 -- CanAm Coal Corp. (TSX VENTURE: COE)(OTCQX: COECF) ("CanAm" or the "Company") is pleased to provide an update on sales volumes, contracting and pricing for the fiscal year ending December 31, 2012.


2013 Sales Forecast---------------------------------------------------------------------------- Tons % increase2010 48,0002011 263,000 448%2012 455,000 73%----------------------------------------------------------------------------2013 700,000 to 900,000 54% - 98%----------------------------------------------------------------------------Note: CanAm consolidates its 80% ownership in Birmingham Coal & Coke (BCC),following the acquisition of an additional 30% interest effective July 1,2012. Accordingly, the table presents sales information on a consolidatedbasis and includes 100% of BCC volumes sold (or forecast to be sold) sinceJuly 1, 2012.
The Company is estimating 2013 coal sales of between 700,000 to 900,000 tons, an increase of approximately 250,000 to 450,000 tons over 2012. The significant increase is attributable to the following factors:
-- A full year impact of the Company's increased ownership position in BCC, which was effective July 1, 2012.-- Increased production from the Company's three new mines: Old Union 2, Knight and Posey Mill 2.
Realized sales for 2013 are a function of the timing associated with the completion of mine development and build out of our new mines. Old Union 2 and Knight are currently producing but not at full production yet and Posey Mill 2 is targeted to start production in April. That said, we expect to have reached full production at all mines before the end of the second quarter.
Sale contracts and customers
The Company has 2013 sales commitments for at least 750,000 tons. Accordingly, the Company's 2013 production is substantially hedged and, depending on actual production levels as discussed above, 2013 tonnage is sold at between 85 to 100%. Sales are to five key customers with 40% of sales into the power market and 60% to industrial users. All sales are into the local Alabama market with the majority of our customers' facilities within a short haul of our current mines.
In late 2012, the Company was awarded two new thermal sales contracts and shipments to these industrial customers started in January 2013. The Company is excited about these newly established relationships as they further diversify our customer base. Both of these customers operate in the local Alabama market and the Company believes it has an opportunity to grow volumes with each customer, over time.
In February 2013, the Company and its primary metallurgical coal customer mutually agreed to terminate their sales contract due to coal specification issues. The termination impacts about 4,000 tons per month of production. The Company anticipates that it will be able to market this high quality coal to other customers. A number of off take contracting opportunities are being investigated.
The majority of the Company's key contracts are in place through 2014, with the power contract expiring in 2015. Negotiations are currently underway to further extend the power contract through 2020.
Pricing
2013 pricing is unchanged for the majority of contracted volumes although certain volumes will see modest price decreases (less than than 5%). The Company's new contracts have pricing in a consistent range to its existing contracts. Accordingly, average 2013 thermal pricing is expected to be consistent with 2012.
The termination of the Company's primary metallurgical contract will likely result in lower average metallurgical coal pricing for the year. However, the impact on overall average pricing (metallurgical and thermal combined) will be modest as the contract only represented a minor portion of total forecasted 2013 sales volumes.
"We are very excited about the Company's positioning for 2013. We anticipate sales volume growth of at least 50% and, depending on when our new mines reach full production, we have the potential to as much as double production over 2012. As well, substantially all of this production is sold at premium pricing because of the high quality of our coal and the markets we serve," said Jos De Smedt, President & CEO. "With our 3 new mines now open or close to open, an excellent customer base and an almost fully contracted sales position through 2014, an updated equipment fleet and a high quality coal product, we are excited by our future prospects."
About CanAm Coal Corp.
CanAm is a coal producer and development company focused on growth through the acquisition, exploration and development of coal resources and resource-related technologies. CanAm's main activities and assets include its four operating coal mines in Alabama and the Buick Coal Project which holds significant coal resources, 188 million indicated and 103 million inferred resources, in Colorado, USA (see the technical report entitled "Limon Lignite Project, Elbert County, Colorado, USA," dated October 26, 2007 and filed on SEDAR on November 2, 2007). Other coal and related opportunities continue to be evaluated on an ongoing basis.
Forward-Looking Information and Statements
This press release contains certain forward-looking statements and forward-looking information (collectively referred to herein as "forward-looking statements") within the meaning of applicable Canadian securities laws. All statements other than statements of present or historical fact are forward-looking statements. Forward-looking statements are often, but not always, identified by the use of words such as "could", "should", "can", "anticipate", "estimate", "expect", "believe", "will", "may", "project", "budget", "plan", "sustain", "continues", "strategy", "forecast", "potential", "projects", "grow", "take advantage", "well positioned" or similar words suggesting future outcomes. In particular, this press release contains forward-looking statements relating to future production at the RAC Mining LLC ("RAC") and Birmingham Coal & Coke ("BCC") mines. This forward-looking information is based on management's estimates considering typical strip mining operations, equipment requirements and availability and typical permitting timelines.
In addition, forward-looking statements regarding the Company are based on certain key expectations and assumptions of the Company concerning anticipated financial performance, business prospects, strategies, the sufficiency of budgeted capital expenditures in carrying out planned activities, the availability and cost of services, the ability to obtain financing on acceptable terms, the actual results of exploration projects being equivalent to or better than estimated results in technical reports or prior exploration results, and future costs and expenses being based on historical costs and expenses, adjusted for inflation, all of which are subject to change based on market conditions and potential timing delays. Although management of the Company consider these assumptions to be reasonable based on information currently available to them, these assumptions may prove to be incorrect.
By their very nature, forward-looking statements involve inherent risks and uncertainties (both general and specific) and risks that forward-looking statements will not be achieved. Undue reliance should not be placed on forward-looking statements, as a number of important factors could cause the actual results to differ materially from the Company's beliefs, plans, objectives and expectations, including, among other things: general economic and market factors, including business competition, changes in government regulations or in tax laws; the early stage development of the Company and its projects; general political and social uncertainties; commodity prices; the actual results of current exploration and development or operational activities; changes in project parameters as plans continue to be refined; accidents and other risks inherent in the mining industry; lack of insurance; delay or failure to receive board or regulatory approvals; changes in legislation, including environmental legislation, affecting the Company; timing and availability of external financing on acceptable terms; conclusions of economic evaluations; and lack of qualified, skilled labour or loss of key individuals. These factors should not be considered exhaustive. Many of these risk factors are beyond the Company's control and each contributes to the possibility that the forward-looking statements will not occur or that actual results, performance or achievements may differ materially from those expressed or implied by such statements. The impact of any one risk, uncertainty or factor on a particular forward-looking statement is not determinable with certainty as these risks, uncertainties and factors are interdependent and management's future course of action depends upon the Company's assessment of all information available at that time.
Forward-looking statements in respect of the future production of the RAC and BCC mines may be considered a financial outlook. These forward-looking statements were approved by management of the Company on January 23, 2013. The purpose of this information is to provide an operational update on the company's activities and strategies and this information may not be appropriate for other purposes.
The forward-looking statements contained herein are expressly qualified in their entirety by this cautionary statement. The forward-looking statements included in this press release are made as of the date of this press release and the Company does not undertake and is not obligated to publicly update such forward-looking statements to reflect new information, subsequent events or otherwise unless so required by applicable securities laws.
Neither the TSX Venture Exchange nor its Regulation Services Provider (as that term is defined in the policies of the TSX Venture Exchange) accepts responsibility for the adequacy or accuracy of this release.


Contacts:
CanAm Corporate Office:
Jos De Smedt
President & CEO
403.262.3797 or Toll Free: 1.877.262.5888
jdesmedt@canamcoal.com

Brisco Capital Partners:
Scott Koyich
Partner
403.262.9888
scott@briscocapital.com