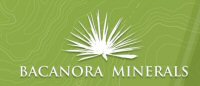 CALGARY, ALBERTA -- (Marketwire) -- 02/14/13 -- BACANORA MINERALS LTD. (the "Company" or "Bacanora") (TSX VENTURE: BCN) is pleased to announce it has executed a farm-in agreement with Rare Earth Minerals Plc ("REM"), a London Stock Exchange listed company (AIM: REM), to participate in drilling and project evaluation of the El Sauz and Fleur Lithium concessions in northern Mexico. El Sauz and Fleur are adjacent to and along strike from the La Ventana concession. The Company's latest inferred lithium resource estimate for Ventana (see Bacanora's Preliminary Economic Assessment for Ventana dated January 24, 2013 (the "PEA"), as previously disclosed in the Company's news release dated January 25, 2013) is 60 million tonnes believed to contain 930,000 tonnes of Lithium Carbonate Equivalent ("LCE") averaging 3,000 ppm Li (1.6% LCE).

About El Sauz and Fleur Concessions:

The El Sauz and Fleur concessions are 2 contiguous blocks, 3,411 hectares in area, that adjoint the La Ventana concession in Sonora, Mexico. El Sauz consists of a continuous 120+ metre thick volcano-sedimentary section exposed in an area that covers 1,200 X 400 metres in several outcrops. This section is composed of altered tuffs, white and green clays and silica layers similar in mineralization to Bacanora's Ventana lithium deposit. The section is gently dipping to the NE in the northern outcrops and to the SE in the southern portion and has a minimum stripping ratio since the clayey section is exposed on the surface.

Initial surface sampling at Sauz reported a general average of 1,000 ppm Li (with samples up to 7,220 ppm) and K average of 0.5% (min 0.26%, max 3.07%). These results were later confirmed in the PEA (which was filed on SEDAR - see Bacanora's SEDAR profile). The samples also returned values of cesium (a Rare Earth element) over 500 ppm and few samples over 10,000 ppm B (3.22% B2O3). The Fleur property consists of an unmeasured volcano-sedimentary section similar to Ventana and El Sauz. For further information on El Sauz please see Bacanora's news release dated April 17, 2012.

Highlights of the Farm-In Agreement:


-- REM has the option to acquire an initial 10% interest in the El Sauz and Fleur concessions by virtue of REM paying Bacanora an upfront cash consideration of $250,000 and spending $500,000 on exploration and drilling at El Sauz and Fleur over a 6 month period.-- REM has the option to increase its interest to 30% by virtue of an additional cash consideration of $500,000 and committing to a further $1,000,000 in expenditures on drilling and exploration at El Sauz and Fleur over 6 more months.-- REM will then have an exclusive option to negotiate terms to increase from a 30% interest in the Concession's to a maximum of 49.9%.
Paul Conroy, President and Chief Executive Officer of Bacanora, states; "We view this agreement with REM as validation of Bacanora's recent lithium exploration results. We consider both El Sauz and Fleur as very prospective lithium concessions that when included with Bacanora's Ventana concession could amount to a world class lithium project. We look forward working with REM and on conducting meaningful exploration in the very near future."
Martin Vidal, Bacanora's Vice President of Exploration and Professional Geoscientist, is the Qualified Person for this news release and has reviewed and approved its contents.
Reader Advisory
This press release shall not constitute an offer to sell or the solicitation of an offer to buy any securities nor shall there be any sale of securities in any state in the United States in which such offer, solicitation or sale would be unlawful. The securities offered will not be and have not been registered under the United States Securities Act of 1933 and may not be offered or sold in the United States absent registration or an applicable exemption from registration requirements.
Except for statements of historical fact, this news release contains certain "forward-looking information" within the meaning of applicable securities law. Forward-looking information is frequently characterized by words such as "plan", "expect", "project", "intend", "believe", "anticipate", "estimate" and other similar words, or statements that certain events or conditions "may" or "will" occur. In particular, forward-looking information in this press release includes, but is not limited to, the use of the net proceeds of the offering. Although we believe that the expectations reflected in the forward-looking information are reasonable, there can be no assurance that such expectations will prove to be correct. We cannot guarantee future results, performance or achievements. Consequently, there is no representation that the actual results achieved will be the same, in whole or in part, as those set out in the forward-looking information.
Forward-looking information is based on the opinions and estimates of management at the date the statements are made, and are subject to a variety of risks and uncertainties and other factors that could cause actual events or results to differ materially from those anticipated in the forward-looking information. Some of the risks and other factors that could cause the results to differ materially from those expressed in the forward-looking information include, but are not limited to: general economic conditions in Canada, the United States and globally; industry conditions, governmental regulation, including environmental regulation; unanticipated operating events or performance; failure to obtain industry partner and other third party consents and approvals, if and when required; the availability of capital on acceptable terms; the need to obtain required approvals from regulatory authorities; stock market volatility; competition for, among other things, capital, skilled personnel and supplies; changes in tax laws; and the other risk factors disclosed under our profile on SEDAR at
www.sedar.com
. Readers are cautioned that this list of risk factors should not be construed as exhaustive.
The forward-looking information contained in this news release is expressly qualified by this cautionary statement. We undertake no duty to update any of the forward-looking information to conform such information to actual results or to changes in our expectations except as otherwise required by applicable securities legislation. Readers are cautioned not to place undue reliance on forward-looking information.
Neither the TSX Venture Exchange nor its Regulation Services Provider (as that term is defined in the policies of the TSX Venture Exchange) accepts responsibility for the adequacy or accuracy of this release.


Contacts:
Bacanora Minerals Ltd.
Paul Conroy
President and Chief Executive Officer
(306) 649-0602
(306) 649-0601 (FAX)