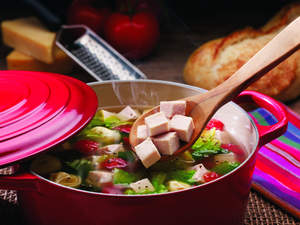 Turkey Tortellini Soup


MISSION, KS -- (Marketwire) -- 01/24/13 -- (Family Features) Almost half of American adults say they need to change their diets so they can improve overall healthfulness, according to a 2012 survey by The NPD Group. But no matter how wholesome something is, if it doesn't taste good, no one will want to eat it.

To help make sure your family has a nutrition-minded diet that still delivers on taste, stock up on delicious but guiltless ingredients such as:

•Colorful fruits and veggies - Nutritious produce brings vitamins, minerals and fiber to the table. Keep snack-ready apples, bananas, grapes, pears, berries and oranges visible and within reach, so they're easy to grab when the kids get hungry. Look for ways to add veggies to dishes, like unique soup or sandwich recipes.

•Whole grains - Whole grains have more fiber, which is important for heart and digestive health. Look for whole grain sandwich breads, pitas, pastas and pizza crusts. Experiment with side dishes using whole grains, such as brown rice, quinoa or barley.

•Herbs and spices - Watching sodium intake is also important for heart health. In addition to using lower sodium ingredients, you can boost flavor with herbs and spices. Oregano, basil, garlic, cumin, chili powder, thyme and rosemary can be used to flavor soups, meats and fish, and can be mixed into a small amount of fat-free mayonnaise to dress up sandwiches.



Fortunately, it's easy to find recipes that have great tasting, wholesome ingredients. These recipes use Sara Lee Premium turkey, chicken and ham deli meats, which you can find behind the deli counter at your grocery store. These deli meats feature the American Heart Association (AHA) Heart-Check mark*, which means they have been certified to meet the AHA guidelines for heart-healthy food as part of an overall sensible eating pattern. They also do not contain added hormones, MSG, gluten, fillers or artificial flavors or colors and serve as a good source of protein.

To get more tasty recipes that feature these sliced-to-order deli meats and others, visit www.saraleedeli.com.

*Please note that the Heart-Check Food Certification does not apply to research or recipes or information reached through links unless expressly stated. For more information, see the AHA nutrition guidelines at: heartcheckmark.org/guidelines.



Turkey Tortellini SoupYield: 4 to 6 servings6 cups low sodium chicken broth2 cups water1 package (9 ounces) fresh three cheese tortellini2 cups Sara Lee Premium Lower Sodium Oven-Roasted Turkey Breast; diced 3/4-inch cubes1 small head of escarole; cleaned and chopped3/4 cup Parmesan cheese, plus more for serving Pepper
Bring chicken stock and water to a boil in a large stockpot. Add tortellini and cook per package instructions.
Add turkey and escarole during last 2 minutes of cooking. Stir in Parmesan cheese. Season to taste with pepper.
Serve with extra Parmesan cheese and crusty Italian bread.
Kid SushiYield: 1 to 2 servings2 slices whole grain white bread1 teaspoon low-fat ranch dressing2 slices Sara Lee Premium Honey Ham2 slices Sara Lee Premium Baby Swiss Cheese, cut into 2-inch by 1/4- inch strips1 tablespoon shredded carrot2 sweet baby pickles
Trim crust from bread. Place both pieces of bread side-by-side on a work surface, with one slice overlapping the other. Press bread slices where they overlap to fuse together. Spread bread with ranch dressing.
Layer bread with ham, Swiss, and carrots.
Place two pickles horizontally and end-to-end at bread edge closest to you. Roll bread from bottom up to make tight cigar-shaped roll.
Cut roll into sushi-sized pieces approximately one inch in length.
Tuscan Turkey SandwichYield: 1 sandwich1 1/2 teaspoons fat free mayonnaise1 teaspoon prepared pesto2 slices hearty white or buttermilk bread2 to 3 slices Sara Lee Premium Lower Sodium Oven Roasted Turkey Breast2 to 3 slices vine-ripened tomato Fresh basil leaves1 slice Sara Lee Premium Provolone Cheese
Mix mayonnaise and pesto in a small bowl until light green. Spread pesto mayonnaise on one side of bread.
Add turkey, tomato, basil and provolone. Top with second slice of bread.
Oven Roasted Chicken Barbecue Pizza with PineappleYield: 4 servings1 12-inch pre-baked whole grain thin pizza crust2/3 cup barbecue sauce2 cups grated Sara Lee Premium Baby Swiss Cheese12 to 15 slices Sara Lee Premium Oven Roasted Chicken Breast, cut into strips1 8.25-ounce can pineapple chunks, drained3 scallions, thinly sliced4 tablespoons chopped cilantro1/2 teaspoon fresh ground pepper
Preheat oven to 425 degrees F.
Place pizza crust on cookie sheet. Brush a thin layer of barbecue sauce onto crust. Sprinkle half of Swiss cheese over barbecue sauce.
Layer pizza with chicken, pineapple, scallions and cilantro. Sprinkle remaining Swiss cheese on top.
Drizzle with remaining barbecue sauce, if desired. Sprinkle with pepper.
Bake pizza on middle rack of oven for 10 minutes.
About Family Features Editorial Syndicate

This and other food and lifestyle content can be found at
www.editors.familyfeatures.com
. Family Features is a leading provider of free food and lifestyle content for use in print and online publications. Register with no obligation to access a variety of formatted and unformatted features, accompanying photos, and automatically updating Web content solutions.
Image Available:
http://www2.marketwire.com/mw/frame_mw?attachid=2209335
Add to Digg
Bookmark with del.icio.us
Add to Newsvine


Matthew Barksdale
mbarksdale@familyfeatures.com
1-888-824-3337
http://editors.familyfeatures.com