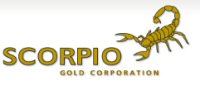 VANCOUVER, BRITISH COLUMBIA -- (Marketwire) -- 01/16/13 -- Scorpio Gold Corporation ("Scorpio Gold" or the "Company") (TSX VENTURE: SGN) today announced its preliminary operating results for the fourth quarter of 2012 ("Q4") at its 70% owned Mineral Ridge project, Nevada.

Peter J. Hawley, CEO reports; "The Company continued to ramp up operations and track positively in Q4 with the strongest quarterly performance to date at Mineral Ridge. Ore production from the Drinkwater pit remained close to static while waste removal decreased by 18% compared to third quarter 2012 ("Q3"). Ore production from the start-up Mary pit increased by 73% compared to Q3. Gold head grade processed in Q4 increased by 27%, while ounces produced increased 59% and gold ounces sold increased 25% compared to Q3.

In its first year of declared commercial production the Company produced a total of 31,852 ounces of gold. We are continuing with an aggressive growth strategy both internally and by acquisition. During Q4, the Scorpio Gold completed its acquisition of the Goldwedge gold property and milling facility located in Manhattan, Nevada, and the Pinon gold property located near Carlin, Nevada, from Royal Standard Minerals."

Key Operating Statistics


---------------------------------------------------------------------------- Q4 Q3 Q2 Q1 Total 2012----------------------------------------------------------------------------Mining operations Drinkwater pit Ore tonnes mined 161,699 156,007 160,664 122,995 601,365 Waste tonnes mined 606,047 738,890 700,523 656,770 2,702,230 --------------------------------------------------- Total mined 767,746 894,897 861,187 779,765 3,303,595 Mary pit Ore tonnes mined 15,072 8,727 3,156 - 26,955 Waste tonnes mined 340,576 282,157 244,927 280,205 1,147,865 --------------------------------------------------- Total mined 355,648 290,884 248,083 280,205 1,174,820Processing Tonnes processed 176,500 186,858 160,759 126,668 650,785 Gold head grade (g/t) 2.67 2.10 2.09 2.34 2.30 Ounces produced (1) Gold 10,598 6,663 7,394 7,197 31,852 Silver 4,688 2,900 2,930 3,174 13,693 Throughput (tonnes per day) 2,292 2,427 2,115 1,667 2,127Precious Metal Sales (ounces)(1) Gold 9,052 7,234 7,803 7,774 31,863 Silver 3,775 3,135 2,956 3,429 13,295Exploration Drilling Holes 42 35 63 51 191 Meters 6,826 5,880 6,436 5,104 24,246----------------------------------------------------------------------------
(1) Production and sales numbers for Q4 are preliminary estimates and include approximately 1,660 ounces of gold and 580 ounces of silver that were part of a sale of loaded carbon to Waterton Global Value L.P. ("Waterton"), for which final settlement is expected to occur in early February 2013. Waterton is a joint venture partner and secured creditor of the Company and has certain rights to purchase gold and silver produced by the Company.
Scorpio Gold's CEO, Peter J. Hawley, P.Geo., is a Qualified Person for the Mineral Ridge operation and has reviewed and approved the content of this release. For additional information, please see the Company's website at
www.scorpiogold.com
.
Scorpio Gold's CEO, Peter Hawley, and President, Steve Roebuck, will be attending the Vancouver Resource Investment Conference held at the Vancouver Convention Centre on January 20-21, 2013. Management looks forward to meeting its shareholders and interested parties at booth 1143.
About Mineral Ridge
The Mineral Ridge gold mining operation is located in Esmeralda County, Nevada. Scorpio Gold holds a 70% interest with joint venture partner Waterton Global Value L.P. (30%), and is entitled to receive 80% of cash flow generated. Mineral Ridge is currently in production as a conventional open pit mining and heap leach operation. The property is host to multiple gold-bearing structures, veins and bodies at exploration, development and production stages. Scorpio Gold recently acquired the Goldwedge gold property and milling facility in Manhattan, Nevada and the Pinon gold property near Carlin, Nevada. The Company is assessing its exploration plans for these properties as well as the potential for toll milling at the 500 ton per day Goldwedge plant.
ON BEHALF OF THE BOARD
SCORPIO GOLD CORPORATION
Peter J. Hawley, CEO
The Company relies on litigation protection for "forward-looking" statements. This news release contains forward-looking statements that are based on the Company's current expectations and estimates. Forward-looking statements are frequently characterized by words such as "plan", "expect", "project", "intend", "believe", "anticipate", "estimate", "suggest", "indicate" and other similar words or statements that certain events or conditions "may" or "will" occur, and include, without limitation, statements regarding the Company's plans with respect to the exploration, development and exploitation of its Mineral Ridge project and acquisition of additional properties. Such forward-looking statements involve known and unknown risks, uncertainties and other factors that could cause actual events or results to differ materially from estimated or anticipated events or results implied or expressed in such forward-looking statements, including risks such as delays related to completion of exploration programs and those risk factors outlined in the Company's Management Discussion and Analysis as filed on SEDAR. Any forward-looking statement speaks only as of the date on which it is made and, except as may be required by applicable securities laws, the Company disclaims any intent or obligation to update any forward-looking statement, whether as a result of new information, future events or results or otherwise. Forward-looking statements are not guarantees of future performance and accordingly undue reliance should not be put on such statements due to the inherent uncertainty thereof.
Neither TSX Venture Exchange nor its Regulation Services Provider (as that term is defined in the policies of the TSX Venture Exchange) accepts responsibility for the adequacy or accuracy of this release.


Contacts:
Scorpio Gold Corporation
Steve Roebuck
President
(819) 825-7618
sroebuck@scorpiogold.com
www.scorpiogold.com

Torrey Hills Capital
Jim Macdonald
Investor Relations
(858) 456-7300
jm@sdthc.com