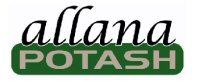 TORONTO, ONTARIO -- (Marketwire) -- 01/10/13 -- Allana Potash Corp. (TSX: AAA)(OTCQX: ALLRF) ("Allana" or the "Company") held its Annual General Meeting of Shareholders on Wednesday, January 9th, 2013 in Toronto. Following the formal portion of the meeting, the company provided a corporate update and noted several significant corporate milestones that were achieved during 2012 and presented upcoming project development targets. Senior management and the Board of Directors are extremely pleased with the Company's progress to date, and are very excited about the year ahead. The highlights are as follows:


-- The Feasibility Study (FS) is scheduled to be completed by the end of January 2013.-- Significant technical de-risking has been accomplished and the mineral resource estimate updated to 1.3 billion tonnes (M+I) @19.3 % KCl. (See Technical Report dated April 30, 2012 completed by ERCOSPLAN Ingenieurgesellschaft Geotechnik und Bergau available at www.sedar.com.)-- Substantial funds were raised (over $20 million) in a difficult market environment in early 2012. The Company continues to have a healthy cash balance of over $40 million (as at October 31, 2012).-- With the acquisition of Nova Potash (see news release dated November 1, 2012), Allana further consolidated its already substantial potash holdings in the Danakhil potash basin of Ethiopia.-- Significant progress was made on the Company's debt financing process. Formal letters of interest from several major development financial institutions were secured for over US$600 million.-- Preliminary interest has been expressed from several international financial organizations regarding construction equity financing and talks are proceeding well.-- Major hydrogeological study completed with more than adequate water resources for a 1 million tonne/yr solution mine with expansion to 2-3 million t/y now feasible (see news release dated January 7, 2013).-- Infrastructure build rapidly progressing with road, rail and port facility upgrades on target for completion before mine production commences.
Farhad Abasov, President and CEO commented, "We are extremely pleased with the accomplishments and progress that Allana Potash has made on all fronts regarding our major potash development project in Ethiopia to date. The hard work and dedication of our fully committed management and technical teams has been a major factor in our rapid progression from exploration to development and eventual production. We look forward to the first half of 2013 as a pivotal period in our evolution into a major potash producer in the region. I would like to thank all employees for their hard work and dedication as well as the Board of Directors and all shareholders for their counsel and support throughout our transition from a junior mining exploration company to eventual potash producer. We have much yet to accomplish but are on track to achieve all our goals and milestones for 2013."
A complete overview of the AGM presentation is available on our website at
www.allanapotash.com
.
About Allana Potash Corp.
Allana is a publicly traded corporation with a focus on the acquisition and development of potash assets internationally with its major focus on a previously explored potash property in Ethiopia. Allana has secured financial support from two significant strategic investors: IFC, a member of World Bank Group, and Liberty Metals and Mining, a member of Liberty Mutual Group. Allana has measured and indicated Sylvinite resources of 171.36 Million Tonnes of 30.9% KCl; inferred Sylvinite resource of 46.62 million tonnes grading 30.25% KCl; measured and indicated Kainitite resources of 701.55 million tonnes at 20.26% KCl, inferred Kainitite resource of 373.71 million tonnes of 20.35% KCl; measured and indicated Upper Carnallitite resources of 78.5 million tonnes grading 18.4% KCl, inferred Upper Carnallitite resource of 155.53 million tonnes of 16.95% KCl; measured and indicated Lower Carnallitite resources of 269.10 million tonnes of 10.86% KCl, inferred Lower Carnallitite resource of 130.7 million tonnes grading 11.7% KCl. The foregoing mineral resource estimates are as at April 27, 2012. For more information with respect to the data verification procedures undertaken and the key assumptions, parameters and risks associated with the foregoing estimates refer to Allana's Technical Report entitled "Updated Resource Report for the Danakhil Potash Deposit, Afar State/Ethiopia" dated June 13, 2012, effective April 30, 2012 filed at
www.sedar.com
. Allana has approximately 275.7 million shares outstanding. Allana trades on the Toronto Stock Exchange under the symbol "AAA".
Peter J. MacLean, Ph.D., P. Geo., Allana's Senior VP Exploration, is a Qualified Person as defined under National Instrument 43-101 and has reviewed and approved the technical information presented in this press release.
Cautionary Notes
The ability of Allana to produce one million tonnes of potash per year or to increase production beyond one million tonnes per year has not been the subject of a feasibility study and there is no certainty that the production rate or proposed expansion will be economically viable.
Except for statements of historical fact relating to the Company, certain information contained herein constitutes "forward-looking information" under Canadian securities legislation. Forward-looking information includes, but is not limited to, statements with respect to the effect of the hydrogeological survey, drilling and assay results on the Company, the estimation of mineral reserves and mineral resources; the timing and amount of estimated future exploration; the anticipated timing with respect to the preparation of the Feasibility Study; costs of exploration; capital expenditures; success of exploration activities; permitting time lines and permitting, ; government regulation of mining operations; environmental risks; unanticipated reclamation expenses; and title disputes or claims; Generally, forward-looking information can be identified by the use of forward-looking terminology such as "plans", "expects" or "does not expect", "is expected", "budget", "scheduled", "estimates", "forecasts", "intends", "anticipates" or "does not anticipate", or "believes", or variations of such words and phrases or statements that certain actions, events or results "may", "could", "would", "might" or "will be taken", "occur" or "be achieved". Forward-looking statements are based on the opinions and estimates of management as of the date such statements are made and they are subject to known and unknown risks, uncertainties and other factors that may cause the actual results, level of activity, performance or achievements of the Company to be materially different from those expressed or implied by such forward-looking statements or forward-looking information. Although management of the Company has attempted to identify important factors that could cause actual results to differ materially from those contained in forward-looking statements or forward-looking information, there may be other factors that cause results not to be as anticipated, estimated or intended. There can be no assurance that such statements will prove to be accurate, as actual results and future events could differ materially from those anticipated in such statements. Accordingly, readers should not place undue reliance on forward-looking statements and forward-looking information. The Company does not undertake to update any forward-looking statements or forward-looking information that are incorporated by reference herein, except in accordance with applicable securities laws.
To view the figure associated with this release, please visit the following link:
http://media3.marketwire.com/docs/allana_potash_fig01_jan10.pdf


Contacts:
Allana Potash Corp.
Richard Kelertas
Senior Vice President, Corporate Development
514 717 6256
rkelertas@allanapotash.com
www.allanapotash.com