New JUICE iPhone app helps users connect the dots between their daily habits and personal energy levels and serves up relevant tips from experts to inspire change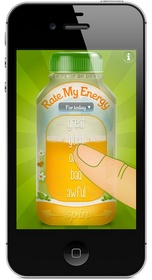 Use JUICE to discover what zaps your energy and get relevant tips from experts on simple ways you can get your zip back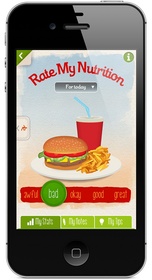 Use the JUICE iPhone app to quickly and easily record and reflect on your daily behaviors in the areas of nutrition, sleep, and exercise and track them against your daily energy level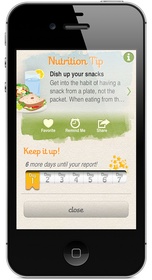 Get relevant suggestions and resources from top-tier experts that encourage you to improve choices and behaviors that are zapping your energy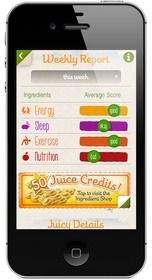 At the end of seven day, get an energy report that consolidates your input for the week against your energy levels, offering insight into the actions and trends that are negatively affecting your energy.


SEATTLE, WA -- (Marketwire) -- 11/20/12 -- Mindbloom (www.mindbloom.com) is asking for seven days with its new iPhone app, called JUICE, to help people discover what zaps their energy and offer relevant expert tips on simple ways they can get their zip back. Juice takes a fun, simple approach to helping the average person become aware of the daily habits that drain their energy, while serving up relevant suggestions and resources from top-tier experts on ways to improve those behaviors. Following the success of its Life Game, which focuses on making life improvement fun, and its popular Bloom iPhone app, which uses images and music to inspire productivity, the new JUICE app uses similar principles of behavioral science and gaming mechanics to offer those new to personal improvement a place to start.

JUICE is the first of a series of consumer mHealth apps produced by Mindbloom in collaboration with Vivacity, a national leader in providing innovative wellness solutions to engage consumers in enhancing their own health and wellness. Vivacity services range from personal health support solutions to customized wellness programs for employers. (See related release titled "Vivacity and Mindbloom Team Up to Make mHealth Fun, Simple and Effective"). Mindbloom and Vivacity have come together to deliver a series of multi-platform mobile applications that facilitate positive consumer behavior change by offering games, challenges, reminders and resources that help make the process of getting healthier fun.