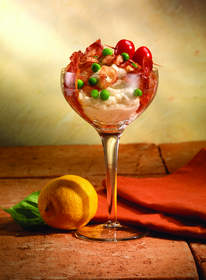 Classy Carbonara Mashtini


MISSION, KS -- (Marketwire) -- 11/15/12 -- (Family Features) For many home cooks, the choice of a main dish is simple -- but choosing all the other dishes isn't always easy. Do you serve the same side dishes you always do, or try something different? What appetizers should you make -- and can you find recipes that aren't complicated and time consuming?

If choosing holiday starters and sides is leaving you stressed, relax. These recipes will let you serve up some traditional flavors with a fun twist -- and they won't keep you trapped in the kitchen.

Put a fun -- and delicious -- spin on the holiday favorites of mashed potatoes and sweet potatoes. Bob Evans Mashtinis were created by the chefs at Bob Evans as part of the Mad About Mashed recipe collection to spice up your entertaining options this holiday. They start with Bob Evans Original Mashed Potatoes (found in your grocer's refrigerated section), so a lot of the work has already been done for you. Served up in a martini glass, they'll be the talk of the party.

-- The Sweet Tater Twist Mashtini gives you all your favorite sweet potato casserole flavors and adds a little smoky bacon and sweet maple syrup.

-- The Classy Carbonara Mashtini brings in crisp prosciutto, bright green peas, grape tomatoes and herbed cheese for an elegant mashed potato dish that's a cinch to make.

To get the full Mad About Mashtini recipe collection, visit http://mashed.bobevans.com.

For some easy, more traditional appetizers to feed a crowd, try Stuffed Mushrooms filled with spinach, Bob Evans Sausage, Italian cheese and bread crumbs. And with just two ingredients, Sausage Pinwheels couldn't be easier to make.

You'll enjoy cooking for the holidays when you choose easy starters and sides like these. Find more holiday recipes at www.bobevans.com.



Sweet Tater Twist MashtiniPrep time: 8 minutesYields: 4 Mashtinis1/2 package (12 ounces) Bob Evans Original Mashed Potatoes1/2 package (12 ounces) Bob Evans Mashed Sweet Potatoes1/4 cup mini marshmallows1/4 cup honey roasted pecans1/4 cup cooked bacon, crumbled1/4 cup maple syrup, warm
Prepare sweet potatoes by following the recommended microwave instructions on package.
Place about 1/3 cup mashed potatoes in bottom of each martini glass.
Layer about 1/3 cup (1/8 package) sweet potatoes over mashed potatoes.
Repeat layers, using about 1/3 cup mashed potatoes, then 1/3 cup sweet potatoes.
Top with 1 tablespoon each marshmallows, pecans and crumbled bacon.
Drizzle with 1 tablespoon warmed maple syrup.
Classy Carbonara MashtiniPrep time: 20 minutesYields: 4 Mashtinis1 package (24 ounces) Bob Evans Original Mashed Potatoes2 tablespoons crisped prosciutto, broken into 2-inch pieces4 tablespoons Boursin cheese1/4 cup frozen peas, heated1/2 cup crispy fried shallots8 grape tomatoes (optional)
Prepare mashed potatoes by following the recommended microwave instructions on package.
In mixing bowl, place mashed potatoes and cheese.
Using a rubber spatula, gently combine mashed potatoes and cheese. Be very careful not to over-mix.
Place 3/4 cup mashed potatoes in a martini glass.
Stand 3 pieces of crisped prosciutto into mashed potatoes around rim of martini glass so they extend from the mashed potatoes about an inch.
Sprinkle 1 tablespoon peas evenly over mashed potatoes.
Top lightly with a pinch of crispy fried shallots.
Garnish with a skewer of grape tomatoes.
Stuffed MushroomsPrep time: 20 minutesCook time: 20 minutesYields: 10 servings1 pound Bob Evans Savory Sage Sausage OR 1 pound Bob Evans Italian Sausage Roll1/2 box frozen chopped spinach, thawed and well drained (10 ounces)1/2 cup Italian bread crumbs1/4 cup shredded Italian three cheese blend, divided50 cleaned mushroom caps
Preheat oven to 375 degrees F.
In large skillet, cook and crumble sausage until brown. Remove and place in large mixing bowl.
Squeeze liquid out of spinach.
Mix into the sausage mixture: spinach, bread crumbs, and half of the cheese, blend well.
Lightly spray baking sheet with cooking spray.
Form balls with about a tablespoon of sausage mixture, and place in cleaned mushroom caps.
Top stuffed mushrooms with remaining cheese blend.
Place mushroom caps on baking sheet. Bake for 15 to 20 minutes, or until mushrooms are tender.
Sausage PinwheelsMake ahead and freeze, then pull out and bake when unexpected guests pop in.Prep time: 15 minutesCook time: 15 minutesYields: 36 servings1 pound Bob Evans Original Recipe Sausage Roll, at room temperature1 can crescent roll dough (8 ounces)
Remove crescent roll dough from can. Do not separate rolls.
On top of a piece of plastic wrap or aluminum foil, pinch triangles together, and then pinch the rectangles together to form a long rectangle that is about 18 x 14 inches, gently pulling dough as needed.
Carefully spread sausage in an even layer over dough.
Roll dough lengthwise to form a long roll.
Wrap in the plastic wrap or foil. Freeze for 15 minutes.
Preheat oven to 350 degrees F.
Using a serrated knife, cut dough into 1/2-inch-thick slices. Place on ungreased baking sheet.
Bake 15 to 20 minutes, or until sausage is cooked through.
Drain off any juices. Serve hot.
Refrigerate leftovers.
Serving suggestion: This recipe may be doubled. Pinwheels may be frozen after slicing. When ready to serve, thaw slices in refrigerator for 30 to 60 minutes and bake.
About Family Features Editorial Syndicate

This and other food and lifestyle content can be found at
www.editors.familyfeatures.com
. Family Features is a leading provider of free food and lifestyle content for use in print and online publications. Register with no obligation to access a variety of formatted and unformatted features, accompanying photos, and automatically updating Web content solutions.
Image Available:
http://www2.marketwire.com/mw/frame_mw?attachid=2132704
Add to Digg
Bookmark with del.icio.us
Add to Newsvine


Matthew Barksdale
mbarksdale@familyfeatures.com
1-888-824-3337
http://editors.familyfeatures.com