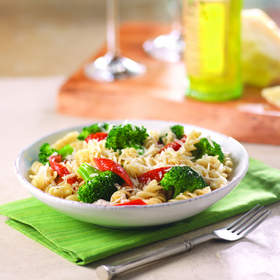 Broccoli with Fusilli and Red Pepper


MISSION, KS -- (Marketwire) -- 11/13/12 -- (Family Features) If you're looking for delicious ways to bring more nutrition to the family table, it's hard to beat broccoli. Broccoli is on most top 10 lists of superfoods, and packs a lot of nutrients in each bite.

"Easily incorporated into a variety of dishes, broccoli offers a great way for busy families to eat healthy on a daily basis," said Rachel Brandeis, registered dietitian.

For an extra nutrient boost, try these recipes made with Eat Smart Beneforté broccoli. Brandeis said, "Beneforté broccoli provides more phytonutrient glucoraphanin, which naturally strengthens your antioxidant enzyme levels to help maintain the antioxidant activity of vitamins A, C and E in your body. These vitamins protect your body from potentially damaging free radicals and environmental stresses."

Beneforté broccoli is available in the packaged produce section of grocery stores. Find out more at www.EatSmartBeneforte.com.



Broccoli Stir-FryServes: 41 teaspoon vegetable oil2 shallots, peeled and thinly sliced4 garlic cloves, peeled and thinly sliced1 cup assorted Asian mushrooms (maitake, white buna-shimeji, enoki, yellow foot, shiitake)1/2 head Napa cabbage, shredded1 1/2 cups of Eat Smart Beneforté broccoli florets1 1/2 cups snow peas1 red bell pepper, chopped Sea salt and fresh ground pepper to taste Sprouts for garnish
Heat large sauté pan with oil over medium high heat.
Cook shallots until translucent, about 2 minutes, add garlic. Cook for 1 minute.
Add mushrooms and cook until liquid dissolves, about 5 minutes.
Add cabbage, broccoli, snow peas and bell pepper; cook for 3 minutes. Top with sprouts. Serve immediately.
Broccoli with Fusilli and Red PepperServes: 6 to 81 1/2 cups of Eat Smart Beneforté broccoli florets3 teaspoons salt, divided1/2 pound fusilli pasta4 tablespoons extra virgin olive oil1 red bell pepper, seeded and sliced into long thin strips1/2 teaspoon garlic powder1 lemon zest1/8 teaspoon red pepper flakes1/2 teaspoon freshly ground black pepper2 1/2 tablespoons freshly squeezed lemon juice Freshly grated Parmesan (optional)
Cook broccoli for 3 minutes in a large pot of boiling water with 1 teaspoon salt. Remove from water with slotted spoon. Place in large bowl and set aside.
In same water, cook pasta according to package directions, about 10 minutes. Drain well and add to broccoli.
While pasta is cooking, in small sauté pan, heat oil and cook sliced red pepper, garlic and lemon zest over medium-low heat for 3 minutes.
Off heat, add 2 teaspoons salt, red pepper flakes, pepper and lemon juice. Mix and pour this over broccoli and pasta. Toss well.
Season to taste, sprinkle with cheese (if using), and serve.
For added protein, shred 1/2 of a cooked store-bought roasted chicken, then toss with pasta and serve.
Roasted BroccoliServes: 41 1/2 cups of Eat Smart Beneforté broccoli florets3 garlic cloves, peeled and thinly sliced2 tablespoons olive oil Salt and pepper to taste1 tablespoon lemon juice1 teaspoon lemon zest3 tablespoons grated Parmesan3 tablespoons toasted pine nuts1 teaspoon chopped basil (optional)
Preheat oven to 425 degrees F.
In large bowl, toss broccoli with garlic, olive oil, salt and pepper.
Place broccoli in a single layer on baking sheet. Roast for 15 to 20 minutes, turning once during cooking, until crisp-tender.
Remove broccoli immediately to serving bowl and toss with lemon juice and zest, Parmesan, pine nuts and basil. Adjust seasoning to taste and serve hot.
Broccoli and Fresh Tomato PizzaYield: 1 pizza (serves 6 to 8)1 whole wheat 12-inch ready-to-bake pizza crust4 tablespoons olive oil4 cloves garlic, minced2/3 cup shredded mozzarella-provolone cheese blend, or 1/3 cup shredded mozzarella and 1/3 cup shredded provolone1/4 cup shredded sharp cheddar cheese1 cup of Eat Smart Beneforté broccoli florets (raw and quartered)2 Roma tomatoes, chopped coarse
Preheat oven to 450 degrees F. Place pizza crust on cookie sheet.
Pour olive oil into small pan; heat and add garlic. Stir for 3 minutes. Remove from heat and transfer to small cup to cool. Pour garlic olive oil mixture over crust, distributing evenly.
Sprinkle mozzarella-provolone blend evenly over crust. Sprinkle cheddar cheese evenly over top of mozzarella-provolone blend.
Place broccoli on top of cheese; distribute evenly. Place tomatoes on top of pizza; distribute evenly.
Bake for 10 minutes. Remove from oven; let sit for 2 minutes before slicing and serving.
Note: Cooking decreases the glucoraphanin content of Beneforté broccoli as it does for all broccoli. The best way to get the health benefits from any broccoli is to eat it raw or lightly steamed.
Relative percentage of glucoraphanin per serving of cruciferous vegetables, including broccoli:
Cauliflower 1%*
Kale 1%*
Brussels Sprouts 13%*
Cabbage 24%*
Broccoli 100%*
Beneforté Broccoli 270%**
*Journal of the Science of Food and Agriculture 85:681 (2005) -- relationship of the climate and genotype to seasonal variation in the glucosinolate-myrosinasa system.
**Average glucoraphanin content in Beneforté® broccoli relative to market standard broccoli varieties assessed over 3 years in 23 locations.
About Family Features Editorial Syndicate

This and other food and lifestyle content can be found at
www.editors.familyfeatures.com
. Family Features is a leading provider of free food and lifestyle content for use in print and online publications. Register with no obligation to access a variety of formatted and unformatted features, accompanying photos, and automatically updating Web content solutions.
Image Available:
http://www2.marketwire.com/mw/frame_mw?attachid=2150573
Add to Digg
Bookmark with del.icio.us
Add to Newsvine


Matthew Barksdale
mbarksdale@familyfeatures.com
1-888-824-3337
http://editors.familyfeatures.com