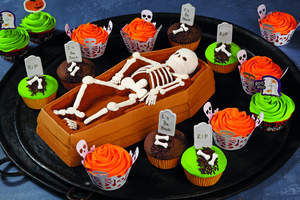 Back From the Grave Cake and Spooky Pop Cupcakes


MISSION, KS -- (Marketwire) -- 10/25/12 -- (Family Features) Be the ghostess with the mostess this Halloween, and throw a wickedly wonderful celebration. The entertaining experts from the Wilton Test Kitchen know all the tricks and offer plenty of treats for hosting a bone-chilling blast that will have friends and family shrieking with delight.

Start by scaring up some fun with an array of graveyard goodies. Tombstone and monster-shaped sandwich cookies paired with ghostly graveyard cookies set an eerie scene. Add fang-tastic monster-faced popcorn balls, and a parade of monster pretzels -- a breeze to make using a Halloween Candy Kit. Pour melted candy into monster molds, insert pretzel rods and refrigerate until set. They are the perfect hand-held treats for kids and look great on display.

There's no bones about it, a spooktacular skeleton cake will make for a boo-tiful Halloween centerpiece. Using a skeleton casket pan makes this impressive dessert -- filled with fall flavors like cinnamon and apples -- easy to achieve. Simply decorate with icing and watch as your skeleton comes back from the grave.

For added fright, surround the coffin with Spooky Pop Cupcakes -- swirled with brightly-colored icing and things that go bump in the night. Just be sure to pair sweets with a be"witch"ing beverage and you'll be caught in a web of friends all evening long.

All of these and other terrifyingly-terrific project ideas, supplies and more are available at www.wilton.com.



Back From the Grave CakeMakes about 12 servings2-3/4 cups all-purpose flour2 teaspoons baking powder1-1/2 teaspoons ground cinnamon1/4 teaspoon salt1 cup (2 sticks) butter, softened1-1/4 cups granulated sugar3 eggs2 teaspoons vanilla extract3/4 cups sweetened applesauce1-1/4 cups diced Granny Smith apple (about 1 medium apple)1 can (16 ounces) White Decorator Icing
Preheat oven to 325 degrees F. Prepare 3D Skeleton Casket pan with vegetable pan spray.
In medium bowl, combine flour, baking powder, cinnamon and salt; set aside. In large bowl, beat butter and sugar with electric mixer until light and fluffy. Add eggs, one at a time, and vanilla; mix well. Alternately add flour mixture and applesauce to butter mixture. Spread about 1/2 of cake batter so that it reaches the first horizontal line inside the pan. Sprinkle diced apples evenly over batter. Top with remaining batter, smoothing out the top.
Bake 58 to 62 minutes, or until toothpick inserted in center of cake comes out clean. Cool 15 minutes; remove from pan and cool completely on cooling grid.
Decorate cooled cake with tip 5 and decorator icing.
Spooky Pop CupcakesEach cupcake serves 1 Graveyard Cupcake Decorating Set, Spooky Pop Cupcake Combo Pack or solid color baking cups Favorite cupcake recipe or mix1 can (16 ounces) White Decorator Icing Orange, Green or other desired Icing Color1 can (16 ounces) Chocolate Decorator Icing
Preheat oven to 350 degrees F. Line cavities of standard muffin pan with baking cups.
Bake your favorite cupcakes in prepared pan. Cool completely. Place some cupcakes in Skeleton Cupcake Wraps. Tint white decorator icing with icing color. Use a spatula to ice smooth or pipe tip 1M icing swirls on cupcake top. Insert icing decorations or pix from decorating set and combo pack.
Popcorn Ball MonstersEach serves 11 jar (about 7 ounces) marshmallow crème Violet and Orange Icing colors4 cups popped popcorn, divided White Candy Melts Candy, melted following package instructions Large Candy Eyeballs Animal and People Faces Sprinkle Sets, candy corn, Jumbo Confetti Sprinkles Green and Black Candy Strings
Spray Dimensions Multi-Cavity Mini Pumpkin Pan cavities with vegetable pan spray.
In large microwave-safe bowl, microwave marshmallow crème 1 minute at 50% power. Remove bowl from microwave and divide marshmallow crème in half; stir icing color into each half (tint slightly darker than how you want your finished treat to look). Stir 2 cups popped popcorn into each marshmallow mixture mixing until evenly coated. Press popcorn treat mixture in bottom cavities only of pumpkin pan to 1 1/2 in. deep; reserve some unmolded popcorn. Let set; unmold.
Attach 2 popcorn ball halves together on one edge, using unmolded popcorn to prop opposite edge open. Using melted candy, attach Candy Eyeballs and sprinkles and candy corn teeth, and Jumbo Confetti nose. Attach candy strings for hair.
Monsters on Parade PretzelsEach pretzel serves 1Halloween Candy Kit for PretzelsPretzel RodsMelt Candy Melts candy following package instructions. Mold pretzelsfollowing package instructions. Refrigerate until set, about 15 minutes.Remove from mold.Peanut Butter 3D Sandwich CookiesMakes about 1 dozen sandwich cookies3/4 cup solid vegetable shortening1/4 cup creamy peanut butter1/2 cup firmly-packed light brown sugar1/3 cup granulated sugar1 egg1/2 teaspoon pure vanilla extract1-1/2 cups all-purpose flour Buttercream Icing Kelly Green, Orange Icing Color
Preheat oven to 325 degrees F. Spray 3D Sandwich Pan with vegetable pan spray.
In large bowl, beat shortening and peanut butter with electric mixer until light and fluffy. Add brown sugar and granulated sugar; mix well. Add egg and vanilla, mixing until smooth. Add flour; mix well. Press dough into pan cavities, filling 2/3 full.
Bake 10 to 12 minutes or until lightly browned. Remove from pan to cooling grid; cool completely.
Meanwhile, tint portions of icing green and orange. To assemble cookies, spread icing on half of the cookies; sandwich with second cookie. Pipe details with icing.
Ghostly Graveyard Cookies
Each cookie serves 1
Roll-out cookie dough (recipe available at
www.wilton.com
)
Buttercream Icing (recipe available at
www.wilton.com
)
Leaf Green, Black and Brown Icing Colors
Prepare and roll out cookie dough following recipe instructions. Cut cookies using the Graveyard Cookie Cutter Set. Bake and cool.
Using icing colors, tint buttercream. Ice all cookies using a spatula. Pipe the outline of the tree with tip #22 brown buttercream icing. Tint coconut flakes green using icing color; sprinkle over base cookie. Attach all cookies to base cookies with icing.
About Family Features Editorial Syndicate

This and other food and lifestyle content can be found at
www.editors.familyfeatures.com
. Family Features is a leading provider of free food and lifestyle content for use in print and online publications. Register with no obligation to access a variety of formatted and unformatted features, accompanying photos, and automatically updating Web content solutions.
Image Available:
http://www2.marketwire.com/mw/frame_mw?attachid=2067926
Add to Digg
Bookmark with del.icio.us
Add to Newsvine


Matthew Barksdale
mbarksdale@familyfeatures.com
1-888-824-3337
http://editors.familyfeatures.com