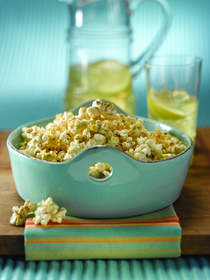 Photo courtesy of Popcorn Board


MISSION, KS -- (Marketwire) -- 05/17/12 -- (Family Features) Sweet, savory, crunchy or salty -- whatever your snack cravings are, it's possible to satisfy them with something that's actually good for you. Popcorn is a versatile treat that you can feel good about eating.

These recipes let you enjoy popcorn several tasty ways: stove-popped with a satisfying, cheesy flavor; air-popped with a sweet and sour lemon glaze; baked into a power-packed sweet cookie; and mixed into a cranberry-almond muffin. Four delicious ways to pop up a healthier snack.

For more recipes the whole family will enjoy, visit www.popcorn.org.

Good and Good for You
--Air-popped popcorn has only 31 calories per cup; oil-popped popcorn has only 55 calories per cup.
--Popcorn is a whole grain, making it a smart snack choice.
--Popcorn contains fiber, which your body needs every day.
--Popcorn is naturally low in fat and calories.
--Popcorn is ideal for between-meal snacking since it satisfies and doesn't spoil your appetite.
--3 cups of popped popcorn equal one serving from the grain group.

Cheesy Popcorn
Yield: 10 cups



2 tablespoons garlic flavored oil or vegetable oil1/2 cup popcorn kernels1 tablespoon melted butter, optional2 tablespoons nutritional yeast (found at health food stores, it adds a cheese-like flavor without the calories or fat)1 teaspoon curry powder, optional
In large, heavy-bottomed pot (with a lid), place oil and about 3 popcorn kernels.
Heat over medium-high heat until a kernel pops. Add remaining popcorn; cover.
Once corn begins to pop, shake pot constantly over heat.
When popping slows, remove pot from heat and transfer popcorn to a serving bowl.
Pour butter over popcorn, if desired, and toss.
Sprinkle yeast and curry powder, if desired, over popcorn and toss to distribute evenly.
Serve immediately or store in an air-tight container.
Cranberry Almond Popcorn Muffins
Yield: 12 muffins
5 cups popped popcorn1 1/2 cups flour1/4 cup sugar1 tablespoon baking powder1/2 teaspoon salt1/2 cup dried sweetened cranberries1 cup milk1 egg2 tablespoons vegetable oil1/2 teaspoon almond extract1/4 cup sugar mixed with 1 teaspoon cinnamon1/2 cup sliced almonds
Preheat oven to 400°F.
Spray a 12-cup muffin pan with cooking spray or line with paper liners; set aside.
Blend popcorn in blender or food processor until finely ground. Pour ground popcorn into large mixing bowl.
Add flour, sugar, baking powder, salt and cranberries and stir until blended; set aside.
Beat milk, egg, oil and almond extract together and pour over dry ingredients; stir just until combined.
Spoon batter into muffin cups, filling each about half full.
Divide almonds among muffin tops and sprinkle with cinnamon sugar. Bake 15 to 18 minutes or until tops are lightly browned; serve warm with butter.
Power Packed Popcorn Cookies
Yield: 4 dozen cookies
1/4 cup whole wheat or all-purpose flour2 teaspoons baking powder1/2 teaspoon baking soda1/2 teaspoon salt1 stick (1/2 cup) butter, softened1 cup brown sugar, firmly packed1 egg1 teaspoon vanilla extract1 cup toasted wheat germ1/2 cup oatmeal1/2 cup flaked coconut3 cups popped popcorn1 cup raisins, dried cranberries or other dried fruit, chopped1/2 cup sunflower seeds or chopped nuts, optional
Preheat oven to 350ºF.
Lightly spray baking sheets with cooking spray and set aside.
In small bowl, stir together flour, baking powder, soda and salt; set aside.
Cream butter and sugar together and add egg and vanilla; mix well.
Stir in flour mixture, wheat germ and oatmeal until well blended.
Add coconut, popcorn, raisins and sunflower seeds, if desired, and mix until well blended.
Drop by rounded teaspoons onto baking sheet, with 2 inches between cookies to allow for spreading.
Bake 7 to 8 minutes or until edges are lightly browned.
Allow to cool on pan 5 minutes before removing to racks to cool completely.
Glazed Lemon and Poppy Seed Popcorn
Yield: 4 quarts
4 quarts unbuttered and unsalted popcorn1 egg white1/4 cup sugar1/4 teaspoon salt1/4 teaspoon lemon extract2 teaspoons lemon zest1 teaspoon poppy seeds
Preheat oven to 300°F.
Line large, rimmed baking sheet with parchment paper (or foil sprayed with cooking spray). Spread popcorn onto prepared baking sheet.
In small bowl, whisk together egg white, sugar, salt and lemon extract until foamy. Pour over popcorn and toss to coat evenly. Sprinkle with poppy seeds; mix.
Bake 20 minutes, stirring once midway through baking time. Cool completely before storing in an airtight container.
Note: The use of egg white helps the flavors adhere to the popcorn, without adding fat through the more traditional use of oils.
About Family Features Editorial Syndicate

This and other food and lifestyle content can be found at
www.editors.familyfeatures.com
. Family Features is a leading provider of free food and lifestyle content for use in print and online publications. Register with no obligation to access a variety of formatted and unformatted features, accompanying photos, and automatically updating Web content solutions.
Image Available:
http://www2.marketwire.com/mw/frame_mw?attachid=1986532
Add to Digg
Bookmark with del.icio.us
Add to Newsvine


Wendy MacDonald
wmacdonald@familyfeatures.com
1-888-824-3337 ext. 235
http://editors.familyfeatures.com