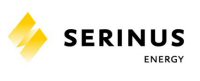 CALGARY, ALBERTA -- (Marketwired) -- 09/09/13 -- Serinus Energy Inc. (TSX: SEN)(WARSAW: SEN) ("Serinus", "SEN" or the "Company"), an international upstream oil and gas exploration and production company, advises that the Company has drilled the Lukut Updip-1 directional well ("LKU-1") to a total measured depth ("MD") of 2,137 metres, has set 4.5 inch casing at 2,120 metres after encountering high formation pressures and gas. The Company is preparing to test the well.

Drilling Operations

The LKU-1 well encountered a drilling break while drilling 6" hole starting at a depth of approximately 2,131 metres MD (1,773 metres true vertical depth subsea ("TVDss") and continuing to a depth of at 2,137 metres MD, the last 3 metres of which appears to be clean sand. Pressures rose significantly and there was material gas influx which resulted in gas being flared at surface for several hours. As a result the mud weight was subsequently increased to 17.7 pounds per gallon ("ppg") to control the calculated formation pressure of 5,366 pounds per square inch ("psi"). Due to the significantly higher than expected formation pressures and equipment limitations, the Company determined that it could no longer safely continue to drill the LKU-1 well and consequently the 4.5" casing was set to allow for the well testing program. The initial planned depth for the LKU-1 well was 2,959 metres MD and 2,410 metres TVDss.

Potential Targets

The section of the LKU-1 well below approximately 1,100 metres MD has not previously been penetrated by any wells in onshore Brunei. The Company believes that the drilling break at 2,131 metres MD corresponds to the top of a turbiditic sandstone sequence (likely the "Green Zone") that was a secondary target of the well. The deeper primary target of the well (the "Red Zone"), which the Company expected to encounter at 2,402 metres MD, has not been penetrated. The Red Zone is indicated on seismic to be a much thicker and more extensive turbiditic sandstone sequence than the Green Zone.

From 1,700 to 2,137 metres MD two sandstone intervals have been penetrated that are believed to be hydrocarbon-bearing based upon oil shows in cuttings, gas shows while drilling and/or resistivity profiles. The first of these is from 1,723 to 1,725.5 metres MD and the second from 2,131 to 2,137 metres MD.

In addition a general trend of increasing silt and/or sand content with depth starting at approximately 1,865 metres and continuing to 2,137 metres MD (a total thickness of 272 metres) was observed. The sandy/silty shale encountered over this section also appears to be hydrocarbon charged, with increasing amounts of C1 to C5 detected while drilling. Total gas readings steadily increased while drilling from a 10 metre average of 0.49% at 1,700 metres MD to a 10 metre average of 8.1% at 2,110 metres MD. Total gas readings peaked at 47% at 2136.5 metres MD within the drilling break encountered summarized above. C1 gas readings steadily increased from a 10 metre average of 3,150 parts per million ("ppm") at 1,700 metres MD to a 10 metre average of 58,000 ppm at 2,110 metres MD. C1 gas readings peaked at 332,000 ppm at 2,136.50 metres MD. Based upon the increased pressures and associated hydrocarbon shows, the thick silty shale zone is a potential target to be tested.