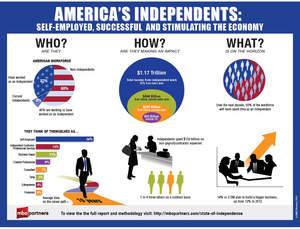 MBO Partners 3rd Annual State of Independence in America Reveals Self-Employment Trends



HERNDON, VA -- (Marketwired) -- 09/09/13 -- MBO Partners, recognized as the largest and most experienced provider supporting the $250 billion-and-growing independent contracting and consulting sector in America, today issued its third annual State of Independence in America workforce study. As the U.S. economy continues to struggle to gain momentum, the study shows the independent workforce is America's hidden economic engine. The growing headcount of Americans working more than half-time as individual self-employed contributors reached 17.7 million, up 10% from the base year of 2011, generating nearly $1.2 trillion in total income -- and growing 20% annually. Independents have not only created a sustainable path of work for themselves, but have also created opportunities for other independents. Over the past year, 26% of independent workers spent a total of $96 billion hiring the equivalent of 2.3 million full time workers via contract hiring.

"Our 2013 State of Independence report offers the most exciting data yet," said Gene Zaino, CEO of MBO Partners. "This year's report shows the tremendous economic impact of independent workers, and validates that independence is more than a viable career path; it's a job creation engine. It's not long until we see the reality that I predicted some years ago -- a workforce split 50/50 between fixed and contingent workers. In such a world, workers and companies alike need advice and support, and MBO is committed to being their guide."

The 2013 State of Independence report definitively confirms that independents are growing, and growing stronger with increased buying power and economic impact. Key insights from the report include:

Out of the shadows and into the mainstream. Independence is not a blip in the jobs economy, but a structural shift. The 2013 MBO Partners Independent Workforce Index, a measure created to track the sector, shows an 8.2% growth since the base year in 2011. Further, the independent workforce is expected to grow to 24 million strong by 2018.

Independence for all. Four out of ten adult Americans are either currently working or have worked as an independent at one time during their careers. In the next decade, a 50/50 workforce, where 50% of private sector workers will have spent time as independent workers, is a reality to work toward.

Who needs a stimulus package? Independent workers make a clear and positive impact on the U.S. economy, generating close to $1.2 trillion in total income in 2013. They also spend over $150 billion, an average of about $8,500 per year per solo worker, on non-payroll/contractor expenses. Nearly 10 million households receive at least half of their income from independents.