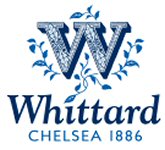 LONDON, UNITED KINGDOM -- (Marketwired) -- 09/30/13 -- Editors Note: There are two photos associated with this Press Release.

Whittard of Chelsea, purveyors of the finest tea, coffee and hot chocolate, have crafted a new and exciting range of teabags with larger leaves.

The Tea

Whittard of Chelsea have been blending tea since 1886 when Walter Whittard founded the first shop on London's Fleet Street. Since the beginning, Whittard have strived to stand at the forefront of tea innovation.

Whittard's latest development, large leaf teabags, combines the delight of loose leaf tea with the convenience of teabags.

Many of the most popular Whittard blends can now be enjoyed in this way including traditional black teas and delicate green teas. In addition, there are some new and unusual fruity blends such as Kir Royale and Baked Apple in the range.

The Innovation

Whittard of Chelsea has used a sheer biodegradable mesh teabag for the first time. The teabag is in a pyramid shape that allows the larger leaves greater space to unfurl and infuse in the boiling water.

This innovative process offers the refined taste of loose-leaf tea with the convenience of a teabag, Perfect for enjoying at home, at work or on holiday.

Uniquely, the Whittard Taste Guarantee also gives customers the freedom to try new products safe in the knowledge they will always be offered an exchange or refund, if they buy something they don't enjoy.

Notes to editors:


1. Electronic images available on request via press@whittard.co.uk2. Whittard of Chelsea sources the finest teas and coffees from around the world and with 125 years of experience, our people are specialists and proud of the products we deliver. We offer a wide range of teas, coffees, hot chocolates, instant teas and tea gifts, as well as tableware and equipment. Our mission is to surprise and delight our customers with our passion for the very best tea, coffee and related gifts.
To view the photos associated with this press release, please visit the following links:
http://www.marketwire.com/library/20130927-BakedApple.jpg
http://www.marketwire.com/library/20130927-KirRoyale.jpg


Contacts:
Whittard of Chelsea. Tea and Coffee Passion, Since 1886.
+44 (0) 1993 893715
press@whittard.co.uk