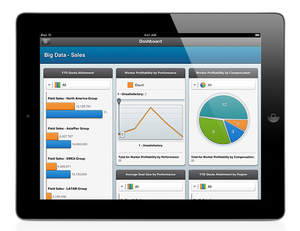 Workday Big Data Analytics unifies multiple sizes, sources, and structures of non-Workday data with Workday data to equip HR and finance organizations with insights to make better business decisions.
Ten pre-built analytic templates are available in Workday Big Data Analytics that enable customers to easily unify Workday data with non-Workday data and quickly create dynamic reports and dashboards.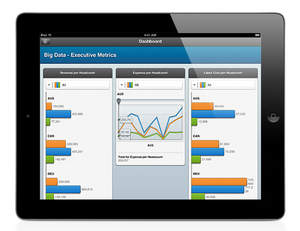 Workday Big Data Analytics empowers business leaders with comprehensive insight into workforce and financial metrics they can access on tablet, smartphone, and desktop.
Notebooks on iPad(R) empower decision-makers to organize, label, and swipe through worker profiles and top-line reports on the go.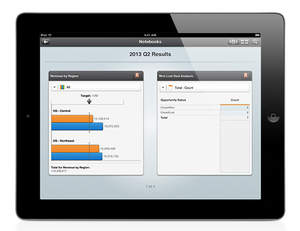 Notebooks on iPad(R) enable executives to drill down into individual profiles and reports or view all items at once in a dynamic dashboard.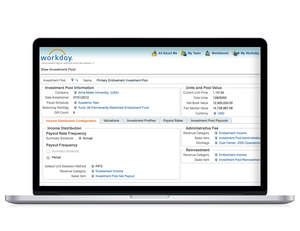 Endowment Accounting in Workday 20 provides higher education institutions with a single system for complete insight and management of crucial endowment funds.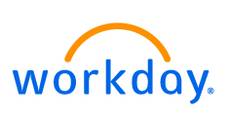 PLEASANTON, CA -- (Marketwired) -- 09/10/13 -- Workday, Inc. (NYSE: WDAY), a leader in enterprise cloud applications for human resources and finance, today announced the availability of Workday Big Data Analytics. Designed in partnership with customers, Workday Big Data Analytics redefines how organizations unify multiple sources, sizes, and structures of data with Workday data to deliver insights business leaders need for critical workforce and financial decisions.

Workday Big Data Analytics is delivered as part of the company's latest update, Workday 20, which includes more than 200 new features, approximately 80 of which are customer-driven. In addition to Workday Big Data Analytics, highlights of Workday 20 include the availability of Notebooks on iPad®, and Endowment Accounting.

More Comprehensive Insight into HR and Financials with Workday Big Data Analytics
For many organizations, gaining insight into workforce and financial information has been contingent on whether IT can piece together data spread across multiple sources and systems. As a result, HR and financial decision-makers were often left with disjointed visibility into business problems, which prompted Workday to design and deliver Workday Big Data Analytics tailored to their needs.

Unified with Workday's full suite of applications in the cloud, Workday Big Data Analytics is an end-to-end analytics system that equips business leaders in HR and finance with insights previously seen as too difficult or time consuming to obtain. With a simple, intuitive user interface that matches the Workday experience customers have come to expect, users can quickly combine Workday data with non-Workday data of any source, size, or structure. To add depth to reports and dashboards accessible on a tablet, smartphone, or desktop, customers can either augment existing analytics in Workday or leverage pre-built analytic templates designed for the most requested HR and financial insights.

Built in collaboration with approximately 20 customers including McKee Foods and Spectrum Brands, ten pre-built analytic templates are available today in Workday Big Data Analytics including:

Five templates for HR:

•Market Compensation Comparison helps determine compensation to attract and retain top talent by comparing customer payroll data with market averages from external benchmark studies and surveys. •Global Payroll Cost Analysis offers insight into geographic investments by merging payroll-related data such as base pay and benefits with financial data such as overhead costs. •Headcount Analysis provides a complete picture of staffing to revise budgets and pinpoint risks in workforce planning by combining staffing data in Workday with data from external recruiting solutions. •Retention Risk and Impact Analysis calculates an employee's retention risk score and impact if lost by combining compensation and performance data in Workday with customer relationship management (CRM) data. •High Performer Analysis profiles high performers by analyzing characteristics of an employee's history in Workday, such as training completed, previous work experience, education, and hiring source to define areas of focus for recruitment and development of low-performing employees.

Five templates for Finance:

•Competitive Benchmark compares organizational performance versus competition by combining Workday data such as operating margin, revenue, and return on invested capital (ROIC) with public data from competitors' financial statement filings. •Sales Performance provides insight into sales revenue attainment over time by region, organization, or personnel to aid decision makers in identifying strengths and areas of improvement. •Revenue Pulse analyzes regional revenue performance over time by combining financial data in Workday with regional market data such as such as labor costs, interest rates, and economic growth. •Customer Profitability 360 provides a complete view of the factors impacting customer profitability by measuring financial metrics in Workday such as revenue versus cost, and external operational metrics such as support cases filed or customer satisfaction levels. •Supplier Sentiment Analysis informs supplier negotiations by keeping a pulse on market perception of suppliers over time with a sentiment scorecard calculated from publicly available social media data.

In addition to Workday-delivered templates, Workday partners including Deloitte Consulting LLP ("Deloitte") and IBM Global Business Services are committed to delivering new templates including:

•Manager Effectiveness from Deloitte will assess manager performance by comparing factors such as sales numbers from a CRM system, productivity metrics from a helpdesk system, as well as customer and employee satisfaction data from survey tools. •Attrition Reporting from IBM Global Business Services will help mitigate employee turnover due to compensation by comparing worker and location profiles in Workday with salary benchmark and survey data in IBM Kenexa.

Contextual Tools to Manage the Business with Notebooks on iPad
Driven by the latest engagement trends in consumer technology, Workday 20 marks the availability of Notebooks, a complete business management tool for decision-makers to organize, label, and swipe through collections of worker profiles and top-line reports on their iPad. Reflective of data that is changed anytime, anywhere in Workday's unified suite of applications, Notebooks empowers executives with real-time insights they can trust.

With a single source of HR and financial information when they need it most, executives can:

•Customize Notebooks in context of activities such as board meetings, ops reviews, and regional visits. •Drill-down into individual profiles and reports or view all items at once in a dynamic dashboard. •Bookmark a worker profile or tag a top-line report to quickly find high-priority information. •Access on iPad with support for additional devices and operating systems planned for future releases.

Enhanced Functionality for Higher Education in Workday Financial Management
Colleges and universities have relied on disjointed systems and paper trails to integrate accounting of endowed gifts with backend financials. With increased economic pressure on higher education institutions to manage this issue, Workday 20 offers Endowment Accounting. As an enhancement to Workday Financial Management, this is the only solution in the market that provides higher education institutions with a single system for complete insight and management of these crucial funds.

With Endowment Accounting, customers can expect to:

•Lower total cost of ownership (TCO) by replacing disparate systems and third-party solutions with one system to integrate endowment accounting with backend financial management. •Reduce time administrators spend processing complex financial reports. •Connect endowment funding to overall university financials for adherence to compliance standards of higher education boards as well as local, state, and national government bodies. •Prepare leadership to better respond to campus revenue and spending inquiries.

Comments on the News
"Workday Big Data Analytics helps customers answer their critical business questions by combining employee and financial data in Workday with operational data and a growing body of external data," said Dan Beck, vice president of product management, financials and analytics, Workday. "Releasing Workday Big Data Analytics as part of Workday 20 illustrates the pace at which we can deliver new innovations by partnering deeply with our customers. Workday Big Data Analytics in the Workday cloud empowers our customers with greater visibility into information they need to drive greater value for their business."

"Workday Big Data Analytics will enable our HR team to deliver workforce insights tailored to the business problems our executives face today with a system that can scale to tackle future challenges -- and any source, size, or structure of data that comes with them," said Stacey Neu, vice president of human resources, Spectrum Brands. "Pre-built templates in Workday Big Data Analytics will drastically reduce the time we spend piecing together workforce and financial data from cost centers globally. With Workday's unified system, we can move data to real-time metrics our leaders can trust."

"McKee Foods has already seen tremendous value utilizing existing analytics embedded in Workday, so the opportunity to drive even more insight across multiple internal and external data sources is very inviting," said Mark Newsome, director of corporate human resources, McKee Foods. "With Workday Big Data Analytics, we hope to build comprehensive workforce metrics that unify HR, financial, and external data sources so HR managers and company leaders can better define and measure the relationship between our talent and business success."

About Workday
Workday is a leading provider of enterprise cloud applications for human resources and finance. Founded in 2005, Workday delivers human capital management, financial management, and analytics applications designed for the world's largest organizations. Hundreds of companies, ranging from medium-sized businesses to Fortune 50 enterprises, have selected Workday.

Forward-Looking Statements
This press release contains forward-looking statements including, among other things, our expectations for future templates and performance. The words "believe," "may," "will," "anticipate," "intend," "expect," and similar expressions are intended to identify forward-looking statements. These forward-looking statements are subject to risks, uncertainties, and assumptions. Risks include, but are not limited to, those described our filings with the Securities and Exchange Commission (SEC), which could cause actual results to vary from expectations. Workday assumes no obligation to, and does not currently intend to, update any such forward-looking statements after the date of this release.

Any unreleased services, features, or functions referenced in this document, our website or other press releases or public statements that are not currently available are subject to change at Workday's discretion and may not be delivered as planned or at all. Customers who purchase Workday, Inc. services should make their purchase decisions based upon services, features and functions that are currently available.

© 2013. Workday, Inc. All rights reserved. Workday and the Workday logo are registered trademarks of Workday, Inc.

iPad is a registered trademark of Apple Inc.

All other brand and product names are trademarks or registered trademarks of their respective holders.



Image Available: http://www2.marketwire.com/mw/frame_mw?attachid=2400587
Image Available: http://www2.marketwire.com/mw/frame_mw?attachid=2400590
Image Available: http://www2.marketwire.com/mw/frame_mw?attachid=2400592
Image Available: http://www2.marketwire.com/mw/frame_mw?attachid=2400594
Image Available: http://www2.marketwire.com/mw/frame_mw?attachid=2400596
Image Available: http://www2.marketwire.com/mw/frame_mw?attachid=2400599




Media Contact Information
Jeff Shadid
Workday
(405) 834-7777
Jeff.Shadid@Workday.com