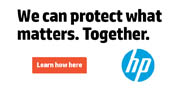 RYE BROOK, NY -- (Marketwired) -- 09/10/13 -- ImageWare Systems, Inc. (OTCQB: IWSY) and Deutsche Telecom (OTCQX: DTEGY)

HP Enterprise Services

Mr. Steve Lazerowich, Director, Cybersecurity Solutioning, HP Enterprise Services, U.S. Public Sector, told us, "Today, there is simply no way to provide 100% protection. As events have recently shown, it's not just the bad guys on the outside trying to gain access to your information; organizations must also be mindful of the insider threat. The best approach is defense in depth, or in other words, a multi-layered approach to protecting systems. It starts at the outer most perimeter with firewalls and network intrusion prevention systems. Systems need to be segregated on separate network segments so that a failure in one area does not expose all systems. Servers also need their own end point protection including host intrusion detection, malware protection, data encryption and white listing technology."

For the complete interview with Steve Lazerowich, please click here. (http://www.securitysolutionswatch.com/Interviews/in_Boardroom_HP_Lazerowich.html)

Please download HP's White Paper "Building Security In"
http://www.securitysolutionswatch.com/forms/HP_lazerowich/form.php

For more information: Cybersecurity for U.S. Public Sector (http://www8.hp.com/us/en/industries/public-sector.html?compURI=1087497#.UVx9sJMZauI)

*****

ImageWare Systems

ImageWare Systems, Inc. (OTCQB: IWSY) (ImageWare), a leader in cloud-based, multi-modal biometric identity management solutions, has been awarded a $2.2 million contract by the U.S. Department of Veteran Affairs (VA) to expand its personal identity verification (PIV) credentialing capabilities.

Under the terms of the agreement, ImageWare will deliver software licenses during the third quarter of 2013, whereby the company will receive approximately $1.5 million in revenue. Additionally, ImageWare will receive service revenue valued at approximately $650,000 that will be recognized proportionally over the next year.