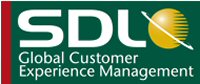 MAIDENHEAD, UNITED KINGDOM -- (Marketwired) -- 09/10/13 -- SDL (LSE: SDL), a leader in Global Customer Experience Management, is pleased to announce that SDL Trados Studio 2014 will be released this autumn. This release focuses on enhancements to the user experience, integrations and speed to improve the translation process and enhance capabilities for users.

Translators and translation providers continue to be squeezed for high quality translations, in less time and at lower costs. Market research firm Common Sense Advisory reports that the average per-word rate for translation for the 30 most commonly used languages on the web fell 34.71% in the 2 years from 2010 to 2012.(1) To remain competitive in this changing market, translators must leverage powerful tools and resources to improve project turnaround times and support their customers in delivering a global customer experience.

To support translators in an evolving business environment, SDL Trados Studio 2014 delivers on several highly sought after capabilities:


-- A new approach to Alignment to improve reuse of translation where translation memories had not been created-- Enhanced user experience through an updated user interface to provide quick access to tools and options, making it effortless to find features, enhancing user productivity-- Significant performance updates, particularly around opening, saving, preparing and analyzing files-- Tight integration with translation management solutions, making it a central component of enterprise translation deployments, also enhancing user productivity
"SDL Trados Studio 2014 reaffirms SDL's commitment to empowering the translation supply chain with technological advances," says Massimo Ghislandi, Vice President of Translation Productivity. "This release reinforces SDL's leadership position as the provider of the most powerful, easy-to-use and sophisticated translation environment in the world, with a near ubiquitous adoption within the localization supply chain."
Translation teams will also experience additional gains when using
SDL Trados Studio 2014
together with the new SDL Studio GroupShare 2014 for collaboration. For translation teams that share linguistic assets, SDL Studio GroupShare 2014 delivers faster performance with an optimized connection between the products. With this release, Project Managers can now assign translation tasks and documents to specific translators as part of simple project workflow, which includes automated notification for team members. Organizing translation projects in this way significantly reduces the manual processes of managing localization across multiple locations.
About SDL
SDL enables global businesses to enrich their customers' experience through the entire customer journey. SDL's technology and services help brands to predict what their customers want and engage with them across multiple languages, cultures, channels and devices.
SDL has over 1,500 enterprise customers, 400 partners and a global infrastructure of 70 offices in 38 countries. 42 out of the top 50 brands work with SDL. For more information, visit
www.sdl.com
.
(1) 'Trends in Translation Pricing', Common Sense Advisory, November 2012


Contacts:
SDL Corporate Headquarters
Vicky Ryce
+44 7792 662213
vryce@sdl.com

SDL North America
Jessica Hohn-Cabana
+1 508-353-3454
jcabana@sdl.com
www.sdl.com