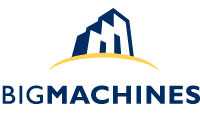 CHICAGO, IL -- (Marketwired) -- 09/10/13 -- BigMachines, the undisputed global leader in product configuration, pricing and quoting, proposal generation and B2B ecommerce, will host its annual BigIdeas cloud CPQ conference for B2B sales and technology professionals, October 6th- 8th 2013 at the Cosmopolitan of Las Vegas. BigIdeas 2013 brings together sales, technology, and business leaders from the most innovative companies for three days of thought leadership keynotes, CPQ best practices breakout sessions, and training focused on delivering unmatched revenue results through their investment in BigMachines.

"BigMachines' commitment to modernize the selling experience for the world's best companies continues," said David Bonnette, CEO, BigMachines. "We invest more in our product than all of our competitors combined. The category-defining product investments announced at BigIdeas will further establish BigMachines as the de facto choice for companies interested in generating significant incremental results from their selling teams and processes. Once again, BigIdeas 2013 will bring together a diverse set of companies who will showcase the results they are realizing with BigMachines."

Attendees will see first-hand how BigMachines' customers are able to drive material results across their organizations. As a demonstration of those results, BigMachines' customers have increased market share by 3% in their first year using BigMachines, shortened sales cycles from 3 days to 8 minutes using a mobile tablet solution, increased product penetration by 18%, and achieved 100% adoption of BigMachines across their internal and channel sales organization.

In addition to learning how companies are delivering unprecedented revenue growth first-hand, attendees will network with cloud computing industry leaders and learn how to better leverage BigMachines to optimize, accelerate, and retain more revenue from any mobile device, virtually anywhere in the world. Additional highlights of the conference include the Idea Expo, where BigMachines' certified product, services, and admin experts will showcase BigMachines' latest product innovations alongside the industry's most active ecosystem, including the world's leading implementation and technology companies.

Join Marquee sponsor, PwC, and Platinum sponsors, Salesforce.com, Pierce Washington, and EDL Consulting Services, at BigIdeas 2013 and learn more about the conference on the event site.

To join the Revenue Revolution conversation, follow the hashtag #BigIdeas13.

Connect with BigMachines!

•Join our Team: www.bigmachines.com/careers.php •Follow us on Twitter: www.twitter.com/BigMachines •Like us on Facebook: www.facebook.com/BigMachines •Connect with us on LinkedIn: www.linkedin.com/company/bigmachines •Check out our Blog: http://blogs.bigmachines.com

About BigMachines
BigMachines, the global leader in Configuration, Pricing, and Quoting solutions, focuses on Results and Customer Success by enabling businesses to quickly configure products and services, create 100% accurate sales quotes, proposals and contracts, and integrate with CRM, ERP and other business systems. Whether a company sells silicon chips or potato chips, sells direct, through reseller channels, or online to customers, BigMachines showcases the latest SaaS CPQ innovation and solutions to improve business processes. For more information, visit www.bigmachines.com.