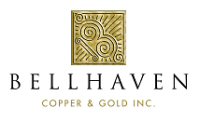 VANCOUVER, BRITISH COLUMBIA -- (Marketwired) -- 09/10/13 -- Bellhaven Copper & Gold Inc. (TSX VENTURE: BHV) ("Bellhaven" or the "Company") is pleased to announce that LME-1106, the latest drill hole completed at the La Garrucha porphyry gold-(copper) prospect at La Mina, Colombia, delivered another 200-metres-plus intercept averaging over one gram per tonne (g/t) gold. Drill-holes LME-1104 and LME-1105 also delivered substantial intercepts. Highlights include:


LME-1104:      71 m @ 1.02 g/t Au and 0.14% Cu (1.24 g/t gold equivalent)               107 m @ 0.56 g/t Au and 0.11% Cu (0.72 g/t gold equivalent)LME-1105:      145 m @ 0.51 g/t Au and 0.15% Cu (0.73 g/t gold equivalent)LME-1106:      271 m @ 1.03 g/t Au and 0.13% Cu (1.23 g/t gold equivalent)
The three holes above were collared along Section L, approximately 50 m to the southeast of Section M where all but one of four drill holes produced long intervals containing over 1 g/t gold (see press releases dated June 5th, June 27th, and July 10th). The gold-(copper) zone on Section L starts at surface and extends downward for a minimum of 425 m (from 1950 m to 1525 m above sea level).
See Tables 1 and 2 below for a complete list of the multiple intercepts contained in the three drill holes. For figures showing a plan map and cross section highlighting the new drill holes announced in this press release, please use the following link:
http://media3.marketwire.com/docs/897080.pdf
.
Julio Benedetti, Bellhaven's CEO and Chairman, commented as follows:
"We have now completed the first phase of drilling at La Garrucha where four of the six holes collared on two sections delivered long intercepts containing over one gram per tonne gold. The continuity of mineralization between the two sections is very good, providing a high degree of predictability to the deposit. The mineralization remains open to the southeast and to the northwest as well as at depth. There is still a lot of drilling to do before we define the outer limits of the deposit."
"So far we have drilled approximately 3060 metres and spent over $1 million at La Garrucha. We believe these expenditures should satisfy the first-year requirements of the option agreement announced on March 26 of this year. At this time we are now preparing the supporting documentation for these expenditures so that we can present them to our partner in the weeks ahead. At the same time, we look forward to reviewing with our partner the geological results of the drilling campaign and planning the next round of drilling."
In accordance with National Instrument 43-101, it is noted that the potential quality and grade at La Garrucha is conceptual in nature, that there has been insufficient exploration to define a mineral resource, and that it is uncertain if further exploration will result in a target being delineated as a mineral resource.
Discussion of Drilling Results
LME-1104, -1105, and -1106 were drilled on Section L from there different platforms (see Figs 3 and 4). Drill-hole LME-1104 cut three intercepts, with the primary intercept (71 m averaging 1.02 g/t Au, 0.14% Cu) hosted in the G4 porphyry, the most important host rock at La Garrucha. An additional intercept occurred higher up the hole in the hangingwall and another intercept over 100-m long was cut in the footwall (see Table 1). Drill-hole LME-1105 established that the gold-(copper) zone starts at surface, providing evidence for little stripping to be required should mining later commence at La Garrucha. The long, 271-m intercept averaging 1.02 g/t Au and 0.13% Cu of LME-1106 establishes strong continuity between the principal intercepts of the prior two holes. LME-1106 ended in mineralization as the final samples assayed above the 0.4 g/t gold equivalent cut-off grade. The zone therefore remains open at depth as well as along strike to the southeast and the northwest.
Table 1. New Drill-Hole Results for La Garrucha Gold-(Copper) Prospect, La         Mina, Colombia----------------------------------------------------------------------------              From      To Intercept     Au    Cu     Ag   AuEqDrill Hole      (m)     (m)       (m)  (g/t)   (%)  (g/t)  (g/t)    Prospect----------------------------------------------------------------------------LME-1104    236.50  268.00     31.50   0.44  0.11    2.8   0.60  La Garrucha----------------------------------------------------------------------------and         355.00  426.00     71.00   1.02  0.14    3.1   1.24  La Garrucha----------------------------------------------------------------------------and         185.65  592.25    106.60   0.56  0.11    4.2   0.72  La Garrucha----------------------------------------------------------------------------LME-1105      0.00  145.00    145.00   0.51  0.15    6.0   0.73  La Garrucha----------------------------------------------------------------------------and         168.60  200.25     31.65   0.38  0.04    5.2   0.44  La Garrucha----------------------------------------------------------------------------LME-1106     38.10   50.29     12.19   0.43  0.07    9.6   0.54  La Garrucha----------------------------------------------------------------------------and         171.00  441.96    270.96   1.03  0.13    3.0   1.23  La Garrucha----------------------------------------------------------------------------Intercepts calculated using a 0.40 g/t AuEq cut-off grade. AuEq = goldequivalent (g/t). For information on calculation of AuEq grades, please seeForward-Looking Statements below. Gold and copper grades capped at 5 g/t Auand 2% Cu, respectively. Intercepts reported as down-hole lengths and maynot represent true thicknesses.Table 2. Drill-Hole Data for La Mina Gold-(Copper) Project, Colombia----------------------------------------------------------------------------                                         Azimuth  Plunge   TotalHole       East UTM  North UTM Elevation    (deg-   (deg- LengthNumber   Coordinate Coordinate  (m.a.s.l.)  rees)   rees)(metres)   Prospect----------------------------------------------------------------------------LME-1104 420,194.53 654,811.87   2004.27     225     -55  614.17 La Garrucha----------------------------------------------------------------------------LME-1105 420,004.19 654,621.40   1954.82     225     -68  285.59 La Garrucha----------------------------------------------------------------------------LME-1106 419,899.86 654,517.15   1983.00     045     -55  441.96 La Garrucha----------------------------------------------------------------------------