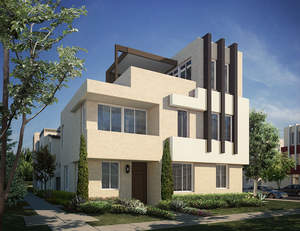 The Terraces will present modern architecture within a private gated setting.



HAWTHORNE, CA -- (Marketwired) -- 08/09/13 -- William Lyon Homes is preparing for the highly anticipated fall debut of The Terraces at ThreeSixty, a groundbreaking collection of single-family homes that will showcase the clean, efficient designs of classic modern architecture unlike anything currently offered in the South Bay area. This rare South Bay address is destined to capture the imagination of homebuyers who value modern designs that feature natural light, private exterior spaces and open airy living interiors. Now is a great time to get dialed in to this innovative new neighborhood by visiting www.lyonhomes.com/the-terraces to join the interest list and be among the first to receive updates on pricing, events and phase openings.

"There is a legacy of modern architecture and iconic buildings in the South Bay, an area that has a long history of aviation technology and engineering, and The Terraces has been refreshingly designed to offer private exterior spaces and two-car side-by-side attached garages along with secondary bedrooms and third level bonus rooms that many homebuyers in this area desire," said Lesley Pennington, Vice President of Sales for William Lyon Homes. "These homes have been innovatively planned to embrace the Art Deco and Classical Modern Schindler and Gill architectural themes reminiscent of the forerunners of modern architecture. Designs will incorporate artistic elements such as transom glass windows and flat roofs, along with an abundance of windows and French sliders affording the ideal transition from inside to outside living."

When The Terraces opens the models fall 2013, it will unveil a residential collection that builds on the legacy of classic modern design in the South Bay. Now is the time to learn more about this unprecedented opportunity by registering one's interest to stay connected as this neighborhood unfolds in one of the area's fastest-selling new communities.

The Terraces at ThreeSixty will showcase five floorplan designs that will range from approximately 1,695 to 2,463 square feet, with 2 to 4 bedrooms, 2.5 to 3.5 bathrooms and 2-car attached side-by-side direct access garages. Homebuyers will also enjoy comfortable secondary bedrooms, the convenience of second-level laundry rooms, flexible bonus rooms and optional third-level private terraces. Private yards will also give residents their own personal space to dine outdoors with family and friends, play with their children or simply relax. Prices are anticipated to start from the mid $700,000's.