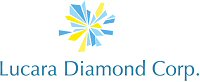 VANCOUVER, BRITISH COLUMBIA -- (Marketwired) -- 08/09/13 -- Lucara Diamond Corp. (TSX: LUC)(BOTSWANA: LUC)(NASDAQ OMX First North: LUC) ("Lucara" or the "Company") today reports its first quarter 2013 results.

William Lamb, President and Chief Executive Officer commented, "Lucara had an exceptional first six months of the year with sales proceeds in excess of $80 million and over 230 thousand carats sold. Following the first large and exceptional stone sale, the Karowe mine has continued to produce a high proportion of large stones and a second exceptional stone sale will be held in September featuring 16 diamonds, including a pink stone and five stones which are over 100 carats each. The proceeds from this sale are expected to further strengthen the Company's overall cash position."

SUMMARY FINANCIAL RESULTS FOR THE QUARTER (1):


                                Three months ended         Six months ended                                           June 30                  June 30In millions of U.S. dollars unless otherwise noted           2013        2012         2013        2012----------------------------------------------------------------------------Revenues (2)               $      47.2 $         -  $      79.7 $         -Proceeds from quarterly sales tenders (2)                49.3           -         81.8           -Cash operating earnings           33.3           -         50.1           -EBITDA                            29.0        (6.2)        43.7       (10.9)Net income (loss) for the period                           22.7        (7.6)        28.8       (11.8)Basic earnings (loss) per share                            0.06       (0.02)        0.08       (0.03)Cash flow from operations (before working capital adjustments)                     29.4        (4.3)        44.3        (8.8)Cash on hand                      28.5         7.7         28.5         7.7
Karowe Mine - Botswana
--  During the second quarter the Company completed its first large and    exceptional stone tender along with two regular tenders achieving gross    proceeds of $49.3 million (2). Full year to date proceeds are $81.8    million. The diamond sales completed during the second quarter included:--  Large and exceptional stone tender held in May consisting of 15 single    stone lots. All stones were sold for gross proceeds of $24.6 million    ($30,184 per carat with a combined weight of 815 carats).--  The Company's two regular tenders during the second quarter totalled    101,637 carats of diamond, achieving winning bids of $24.7 million or    $243 per carat.--  The average value of run-of-mine diamonds recovered and sold during the    quarter was $485 per carat.--  During the period the Company continued to recover a number of    significant gem quality diamonds from its run of mine production. The    Company is planning its second exceptional stone tender in September    2013, which will feature 16 single diamond lots, including five diamonds    larger than 100 carats and one small pink diamond.    Operating costs per carat sold was $102 during the quarter compared to    $86 per carat sold in the previous period. The increase is in line with    budget and the Company's mine plan and reflects lower grades processed    (15.6cpht) as the mine transitioned from the north lobe to the upper    benches in the centre lobe as well as the planned increase in ore and    waste mined.--  Cash operating earnings during the second quarter of 2013 (excluding    depreciation, amortization and depletion) were $33.3 million or 71% of    gross revenue.