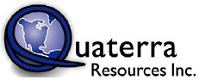 VANCOUVER, BRITISH COLUMBIA -- (Marketwired) -- 08/06/13 -- Quaterra Resources Inc. (TSX VENTURE: QTA)(NYSE MKT: QMM) is pleased to announce several important undertakings in an effort to ensure the long-term sustainability of the Company. These initiatives include changes at the management and director level, core focus on advancing its 100% owned Yerington Copper Projects and the continued evaluation of monetizing non-core assets.

Management and Director Changes:

Effective immediately, the Company has made the following corporate changes:


--  Dr. Thomas Patton will move from his position as President and CEO to    become the Chairman of the Board, and he will continue to focus on    shareholder relations, provide continued advice on strategic matters and    use his geological expertise to support the Company's exploration    efforts.--  Steven Dischler, previously VP and General Manager of Yerington, has    been appointed President and CEO of the Company and a Director. Steve    will continue to be responsible for Yerington and will assume leadership    responsibility for corporate strategy, operations and administrative    functions. (Please see bio below).--  Dr. Michael Berry has joined the Board as an independent Director. Mike    brings an impressive track record of project finance in the junior    mining sector. (Please see bio below).--  Lawrence Page Q.C. has resigned as a director to accommodate the    appointment of Dr. Berry.
"Due to the ongoing volatility in financial markets, we believe it is important to implement these changes at this time," says Quaterra Chairman of the Board, Tom Patton. "We have taken these steps to improve our efficiency and to streamline our operations. This will allow us to focus on Yerington and optimizing the value of our other assets. We have been working closely with Mr. Dischler over the past 2 years, and are highly confident in his abilities to lead Quaterra's business activities going forward. We are pleased to welcome Dr. Berry to the Board. He has been a long term supporter and shareholder and has tremendous experience in capital markets and particularly in mining. The Board would also like to thank Mr. Page for his untiring commitment and counsel to the Company in fulfilling his role as a Director of Quaterra."
"We are going to stay laser-focused on delivering shareholder value" says newly appointed President and CEO Steve Dischler. "The continued exploration and development of our Yerington copper projects, which we believe are world-class assets, will be our primary focus. The changes announced today position us to concentrate on advancing these projects toward a full-scale production decision which we believe will provide significant value to our shareholders."
In addition, the Company is continuing its implementation of significant cost-saving initiatives, including the elimination of non-essential positions, selective salary reductions, and reduction in corporate office and G&A expenses.
Board Bio's
Steven Dischler - Mr. Dischler has 32 years of experience in the mining and natural resources sector, the last 2 years of which he has been VP and General Manager of Quaterra's Yerington project. He has held a variety of leadership positions in consulting and industry with expertise in major project development including permitting, feasibility studies, engineering, construction and start-up. He is a registered professional engineer in eight states and holds B.S. and M.S degrees in mining engineering.