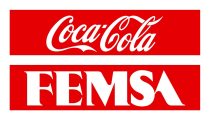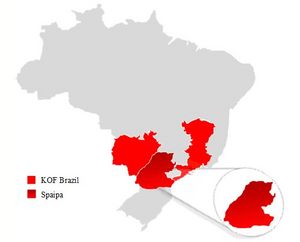 Our combined territories will allow Coca-Cola FEMSA to serve more than 66 million consumers -- a third of the population in Brazil


MEXICO CITY, MEXICO -- (Marketwired) -- 08/31/13 -- Coca-Cola FEMSA, S.A.B. de C.V. (BMV: KOFL) (NYSE: KOF) ("Coca-Cola FEMSA" or the "Company"), the largest public bottler of Coca-Cola products in the world, announces that it has reached an agreement to acquire 100% of Spaipa S.A. Industria Brasileira de Bebidas ("Spaipa"), the second largest privately owned bottler in the Brazilian Coca-Cola system, in an all-cash transaction. During the last twelve months ended June 30, 2013, Spaipa sold 233.3 million unit cases of beverages, including beer, generating approximately US$905 million in net revenues.

Spaipa's strategic footprint is a perfect geographic fit which links Coca-Cola FEMSA's operations in the state of Mato Grosso do Sul and the state of São Paulo. This transaction will increase our volume in Brazil by 40%, allowing us to reach 39% of the Coca-Cola system's volume in the country.

This franchise operates in more than half of the state of São Paulo and the state of Paraná with 4 bottling facilities and 7 distribution centers and has more than 6,000 employees serving close to 17 million consumers.

The aggregate enterprise value of this transaction is US$1,855 million. During 2012, Spaipa sold 236.0 million unit cases of beverages, generating net revenues of approximately US$929 million and a pro forma consolidated EBITDA of US$152 million.

In recent quarters, changes to certain regulations, including the transportation law, as well as a generally weak consumer environment, negatively impacted both Coca-Cola FEMSA's and Spaipa's operations in Brazil. As a result, Spaipa's estimated pro forma consolidated EBITDA of the last twelve months ended June 30, 2013 was US$134 million. The short term effects of these changes have largely been assimilated by Spaipa and our operations, and we will continue working to enhance the profitability of our combined operations going forward.

The preliminary estimated amount of synergies to be captured from this transaction in the next 18 to 24 months is approximately US$33 million at the EBITDA level. These synergies will result from the reconfiguration of the logistic network, efficiencies in general and administrative expenses and the implementation of Coca-Cola FEMSA's commercial practices. In addition, as is customary with this type of transaction in Brazil, there are certain other benefits below the EBITDA line that would have to be deducted from the above stated enterprise value of this transaction for comparison purposes.

The agreement has been approved by the Board of Directors of Coca-Cola FEMSA and is subject to the approval of the Conselho Administrativo de Defesa Econòmica, the Brazilian antitrust authority. Coca-Cola FEMSA will also seek the approval of The Coca-Cola Company for this transaction.