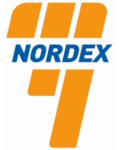 KIRKLAND LAKE, ONTARIO -- (Marketwired) -- 08/30/13 -- NORDEX EXPLOSIVES LTD. (TSX VENTURE: NXX) ("Nordex") has released its unaudited financial statements for the second quarter of 2013 and is pleased to announce its highest Q2 sales revenues in the 42 year history of the Company. Record sales revenues are attributed to ongoing diversification and the securing of new business in the construction and quarry markets while maintaining and increasing business with existing customers.

Total revenues for the period were $4,427,802, an increase of $786,706 or 22%, over same period revenues in 2012 of $3,641,096.

The revenues for the first 6 months of 2013 were $7,954,606; an increase of $1,046,908 over same period revenues in 2012 of $6,907,698.

Total revenues for the first 6 months of 2013 have increased by $2,432,627 over same period revenues in 2011; a comparative growth rate of over 44%.

Total assets of $15,880,886 (both current & non-current) increased by $6,165,347 from June 30th 2011 to June 30th 2013 an increase of over 63% in the past 24 months.

Jim Taylor, President & CEO, stated, "We are extremely happy with our revenue growth as we continue to focus on increasing our market share. It is anticipated this ongoing strategy will help us negotiate reductions in raw material costs and allow us to strengthen our position as we continue to grow. We have added new locations, increased our manufacturing capabilities, hired and are training new staff, developed new products and equipment and have successfully entered into the non-mining segment of the explosive industry. The plan in 2013 is to position ourselves as an industry leader so we can continue to grow; and subsequently reduce costs and strengthen our bottom line in 2014."

Nordex implemented a strategy to increase its manufacturing capabilities. The strategy included the introduction of a proprietary line of emulsion explosive products and the manufacture and sale of new specialty products.

The new "Buttbuster" and "Econotrim" manufacturing line is about 80% completed. The loading carousel is built and has been installed in the renovated production facility and the required infrastructure has been completed. Final construction of the plant is expected by mid-September with commissioning and start-up in October. The line will produce several patent protected "perimeter control" products considered to be highly effective and extremely safe. Over the last year Nordex has committed considerable resources to obtain exclusive rights to these products and has developed a fully automated production facility. This is the only manufacturing facility for these products in North America. The demand for these well known products is expected to be high. The staff and plant operators were hired and are being trained in advance of initial production. The products have been market tested in Canada and the initial costs are expected to be offset by new revenues and profits as operations and sales ramp up over the next year.

The Corporation has expanded its business beyond its traditional geographic region by opening up new satellite sites. The first two of these satellite sites (located in the Muskoka and Manitoulin Island areas) started operations in the second quarter of 2013. Considerable capital investment was required in setting up the sites as well as to purchase equipment to support and service potential new business opportunities. The initial capital outlay was required due to the specialized nature of the explosive business and required the Company to commit resources to support such upfront costs. Staff was hired to provide the specialized services to allow for soliciting new clients in these geographic regions. Strict regulatory restrictions exist in the explosives industry and Nordex is now positioned to solicit new clients in new markets areas. Nordex has been successful obtaining initial new business as a result of these commitments to growth but it will take time to ramp up operations fully to offset the initial costs. Further satellite sites may be planned as new strategic areas are identified and business potential warrants.