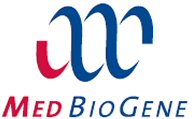 VANCOUVER, BRITISH COLUMBIA -- (Marketwired) -- 08/30/13 -- Med BioGene Inc. (TSX VENTURE: MBI) today announced that the petition (the "Petition") filed by certain shareholders of MBI against the company in the British Columbia Supreme Court, which was scheduled be heard by the court today, is being discontinued by the petitioners.

The Petition was filed by Iain Weir-Jones, Elizabeth Anne Weir-Jones, Graeme May and Tracy May and made claims against MBI relating to, among other things: the adoption of the Advance Notice Policy by the board of directors of MBI in advance of the annual and special meeting of MBI shareholders held on May 17, 2013 (the "Meeting"); MBI's subsequent rejection, for failure to comply with the requirements of the Advance Notice Policy, of a notice of intention submitted to MBI by Mr. Weir-Jones to nominate himself and another person at the Meeting for election as directors of MBI; and decisions made at the Meeting by the chairman.

The dissident shareholders were seeking from the Court, among other things, an order convening a new annual general meeting of MBI and allowing the dissident shareholders to nominate persons for election as directors of the company.

Erinn B. Broshko, Executive Chairman of MBI commented: "The board of directors of MBI takes its corporate governance responsibilities very seriously and adopted the Advance Notice Policy as a matter of good corporate governance to provide shareholders, directors and management of MBI with a clear framework for nominating directors of MBI at a shareholders' meeting. We are pleased to have put this matter behind MBI so that we can focus on the expected launch of GeneFx Lung and highlight the clinical and commercial potential of our test."

About Med BioGene

MBI is a life science company based in Vancouver, British Columbia that is currently focused on managing the license and rights to GeneFx® Lung. MBI's common shares are listed for trading on the TSX Venture Exchange.

For more information on MBI, please visit www.medbiogene.com.

About GeneFx® Lung

GeneFx Lung is a proprietary gene expression-based test to improve upon staging for identifying those patients with early-stage non-small-cell lung cancer (NSCLC) who, following surgical removal of their tumor, are at higher and lower risks of mortality. In an initial study of patient specimens from the National Cancer Institute of Canada Clinical Trials Group JBR.10 trial, published in the Journal of Clinical Oncology, patients classified by GeneFx Lung as higher risk benefited from adjuvant chemotherapy, and those classified as lower risk did not benefit and may have experienced a detrimental effect from adjuvant chemotherapy. GeneFx Lung was subsequently validated in predicting patient mortality in four independent studies involving data from tumor specimens totaling 676 untreated early-stage NSCLC patients. GeneFx Lung is expected to provide better-informed and personalized treatment decisions to assist in the selection of patients for adjuvant chemotherapy.

On April 15, 2011, MBI and Precision Therapeutics, Inc. closed their commercialization, license and research reimbursement agreement. The agreement provides to Precision exclusive global rights to develop and commercialize GeneFx Lung.