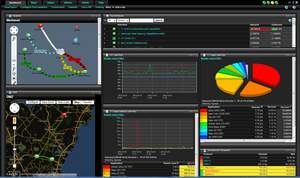 Plixer's NetFlow monitoring solution dashboard identifies cyber threats with refined reporting tools.


KENNEBUNK, ME -- (Marketwired) -- 08/29/13 -- Plixer International, Inc., a leading provider of NetFlow-based network traffic monitoring and threat detection technology, announced today that TMC has named its Scrutinizer™ V10 solution as a recipient of the 2013 INTERNET TELEPHONY Excellence Award presented by INTERNET TELEPHONY magazine. The Scrutinizer improves the ability to identify cyber threats, offers refined reporting tools and introduces flexible licensing, cost and distribution options for organizations of all sizes.

"Our judges were very impressed with the innovation displayed by Scrutinizer V10," said Rich Tehrani, CEO, TMC. "We look forward to seeing continued excellence from Plixer in the future."

Plixer's Scrutinizer is a one hundred percent web-based tool that provides detailed network utilization reports showing the applications and users generating network traffic. Leveraging the software's domain utilization report, even sites with secured connections that use encrypted traffic can't hide from the insight provided by NetFlow and IPFIX collection and reporting. Scrutinizer is designed to peer deep into bandwidth traffic and enable the network administrator to easily see who is consuming bandwidth, what they are using it for and immediately restore precious bandwidth for work-related needs.

"Organizations large and small are challenged on daily basis with identifying network security threats," said Michael Patterson, CEO, Founder, Plixer International, Inc. "Scrutinizer V11 addresses this issue by simplifying threat identification while also placing hosts in a threat heat map for at-a-glance views.

We are honored that TMC has recognized Scrutinizer's value within their distinguished award."

Download a free trial of Plixer's Scrutinizer for NetFlow traffic analysis, or schedule a live demo by calling: (207) 324-8805 or via email at sales@plixer.com. For more NetFlow insight, follow Plixer International on their Blog, Twitter, Facebook or join the NetFlow Developments Group on LinkedIn. Learn about these new features by taking one of their Advanced NetFlow Training™ classes being offered around the country.