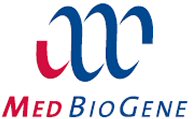 VANCOUVER, BRITISH COLUMBIA -- (Marketwired) -- 08/29/13 -- Med BioGene Inc. (TSX VENTURE: MBI) today reported its financial results for the six months ended June 30, 2013 (all amounts are in United States dollars).

Erinn B. Broshko, MBI's Executive Chairman, commented: "The first half of 2013 has seen Med BioGene hit some very important milestones. In respect of our commercialization efforts, our partner, Precision Therapeutics, successfully completed their final clinical studies and are moving rapidly to the launch of GeneFx® Lung in the United States under CLIA expected in the fall of 2013. In respect of our litigation with Signal Genetics LLC and Respira Health LLC, MBI and Precision executed a settlement agreement with Signal and Respira for the dismissal of all remaining claims, with Precision being solely responsible for all financial obligations under the settlement. In respect of the petition launched by certain dissident shareholders of MBI, we are confidently looking forward to the court hearing on August 30, 2013 and continue to believe that the claims made by the petitioners are entirely without merit. Lastly, our cash position was strengthened by the recent exercise of warrants and agents' warrants. We are very pleased with our progress and are looking forward to the commercial launch of GeneFx Lung."

Recent Business Highlights

Update on Commercialization of GeneFx Lung

Precision plans to commercialize GeneFx Lung under CLIA (Clinical Laboratory Improvement Amendments of 1988), the United States federal regulations applicable to clinical laboratory testing. Commercial launch is expected in the fall of 2013.

In order to receive a CLIA-certificate relating to GeneFx Lung to allow for the commencement of commercial testing, Precision is in the process of completing certain "wet laboratory work" and associated data analysis demonstrating the analytical validity of the assay in Precision's laboratory. Precision expects this laboratory work and data analysis to be completed in October 2013 and anticipates receipt of their CLIA-certification and product launch thereafter.

The foregoing timelines relating to the expected completion of laboratory work and data analysis, receipt of CLIA-certification and product launch are Precision's current best estimates; however, given the short timelines noted, unforeseeable events, however minor, may result in delays.

In anticipation of commercialization, Precision is integrating GeneFx Lung into its sales, marketing and reimbursement teams and will continue with its successful strategy of having their teams interact directly with surgeons, oncologists, pathologists and patient advocacy groups to convey the clinical and health economic benefits of their tests.

The long-term commercial success of GeneFx Lung will depend largely upon the extent to which third-party payers reimburse the test. In the United States, government insurers, such as Medicare and Medicaid, and third party insurers generally require evidence of both clinical validity (i.e. reliability of test results associated with the target disease) and clinical utility (i.e. whether the test results affect actual clinical decision-making) before reimbursing for a molecular diagnostic test.