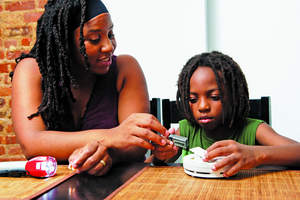 Photo courtesy of Energizer


MISSION, KS -- (Marketwired) -- 08/29/13 -- (Family Features) The cooler temperatures of fall may be on their way, but cooler weather also brings an increase in home fires. According to the National Fire Protection Association, more than half (54 percent) of home structure fire deaths occur in the cooler months of November through March.

The International Association of Fire Chiefs (IAFC) recommends that every household have an escape plan in place, yet, in a recent survey by Omnibus, 44 percent of people reported that they did not have an escape plan for their home.

On average, families have less than three minutes from the time the first smoke alarm sounds to escape a fire.

"Every second counts when it comes to escaping a home fire," said Chief Metcalf, president and chairman of the IAFC. "That's why families need to have an escape plan in place, and ensure they have working smoke alarms to provide those critical early warning signals in the event of a home fire.

The "Change Your Clock Change Your Battery" program aims to help keep families safe by sharing the reminder to replace the batteries in your home's smoke alarms and carbon monoxide detectors each year when you change your clocks for daylight saving time. It's part of the Energizer philosophy -- that's positivenergy -- which represents the company's commitment to making a positive impact on the world. Here are some additional tips from the IAFC and Energizer to help protect your family room by room.

Make a Plan
Draw a floor plan of your home and find two ways out of every room. Sketch the exit routes clearly on the floor plan. A downloadable escape plan grid can be found on the Energizer Bunny Facebook page. If an upstairs window is one of the escape options, make sure you have a fire escape ladder long enough to reach the ground. Make sure every adult knows how to use it. Adults should be responsible for helping younger children. Assign an outside meeting place so if the family escapes from different routes, you can quickly locate each other.

Use the following checklist to eliminate as many fire hazards in your home as possible:

Bedrooms
In a recent study, almost half (44 percent) of families did not know the peak time for home fire fatalities is when most people are asleep (between 11 p.m. and 7 a.m.). So, in addition to making sure you have smoke and carbon monoxide detectors within hearing distance of your bedrooms, take the below steps to fire-proof the bedrooms themselves:
--Do not trap electrical cords against walls. Heat can build up, posing a fire hazard.
--Use only lab-approved electric blankets and warmers. Make sure cords are not worn or coming apart. Do not leave electric blankets switched on all night unless they are marked "suitable for all night use."
--Keep bedding, curtains and other combustible items at least three feet away from space heaters.
--Never smoke in bed.
--Replace mattresses made before the 2007 Federal Mattress Flammability Standard. By law, mattresses made since then are required to be safer.
--Have a working smoke alarm in every bedroom and outside each sleeping area.