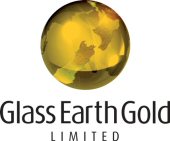 WELLINGTON, NEW ZEALAND -- (Marketwired) -- 08/29/13 -- Glass Earth Gold Limited (TSX VENTURE: GEL) (NZAX: GEL) ("Glass Earth" or the "Company") announced today that it has filed its June 30, 2013 second quarter Financial Statements and associated Management's Discussion and Analysis ("MD&A") report, pertaining to that period, with regulatory authorities.

The Company faced another highly challenging quarter marked by continuing losses from placer mining operations, decline in cash resources and distressed market conditions for gold and junior mining companies.

Considering the prevailing conditions, the Board of Directors has determined that a major strategic refocus was warranted in order to safeguard the Company's exploration assets and set the Company on the right foot for its next phase of development. It has therefore been decided to dispose of placer gold mining operations, refocus exploration activities on projects in the Hauraki region, carry out significant cost-cuttings and consider new financing opportunities.

Disposal of Placer Mining Operations

In spite of the team's continued efforts to increase productivity levels, the placer mining operations have not generated the expected profitability levels. While market sentiment for gold has modestly improved, it was felt that the market conditions would not be conducive to significant enhancement of profitability. As a result, the Company is selling its placer mining operations (all mining machinery and permits) in central Otago for approximately C$1.4M pursuant to two Sale & Purchase agreements dated 29th August 2013. The placer sale and purchase agreements are with Skevington Contractors Ltd (an arm's length party) and are subject to TSX-V approval. No finder's fee is payable.

The Directors' decision to withdraw from mining and all exploration activities in the South Island will conclude the Company's involvement in placer activities.

That sale, together with two smaller sales of placer mineral permits, will generate approximately C$1.5m, payable in cash. Of these funds, up to $910,000 will be used to retire debt associated with the purchase of placer assets in March 2012. The balance will be used to settle placer trade payables and other placer related costs.

Sole Focus on WKP and Neavesville in the Hauraki Region

The Board of Directors has determined that, given the current economic climate, the Company would review its strategic objectives and focus solely on exploration and development projects in the Hauraki Region of the North Island of New Zealand. This area is where its key hard-rock projects of WKP and Neavesville lie, as well as its Waihi West prospect, which is adjacent to the Newmont owned and operated Martha gold mine at Waihi.

Simon Henderson, President and CEO of Glass Earth Gold, commented that

"The fundamental strategy of a lean and resilient team focusing on two projects, Wharekirauponga (WKP) and Neavesville will allow the maximum opportunity to progress these advanced projects within a 2-3 year timeframe."

Staffing

With a two project focus, Management has completed a comprehensive review of the Company's cost structure and operational needs. This will result in significant reductions in operational costs to build resilience and address the depressed market conditions. Glass Earth Gold will continue to apply strong austerity measures having reduced to core staff, whilst retaining key technical and management ability to oversee the Company's assets.