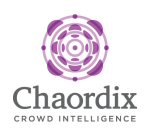 CALGARY, ALBERTA and LONDON, UNITED KINGDOM -- (Marketwired) -- 08/29/13 -- Shelley Kuipers, Chaordix® Founder and Chief Executive Officer (CEO) today announced a multi-faceted expansion of the Chaordix Alliance Network, establishing relationships with 20 new organizations representing market insights, innovation consulting, and crowdsourcing expertise. Chaordix provides a unique managed services offering - combining responsive technologies and crowdsourcing processes with social sciences research methods - for predictive brand and product innovation programs and communities.

The new alliances broaden Chaordix's connections with key insights and innovation leaders while expanding the firm's abilities to serve its global client base. The enhanced advisory and consulting services of the Alliance Network firms aid for preparing client organizations to adopt new methodologies and technologies for insights and innovation, as well as fully capitalizing upon the significant outputs of Chaordix innovation programs.

"As Chaordix continues its rapid growth, the expansion of our Alliance Network will be a critical enabler for our clients," said Shelley. "It directly enhances Chaordix's ability to translate their desires to more effectively innovate into tangible, actionable results for their businesses."

In partnering with the newly inaugurated GoodCrowds, headed by former Chaordix VP & Senior Principal Crowdsourcing Services, Randy Corke, Chaordix also deepens its channel into the social innovation sector, long a key area of focus for the company.

"Social innovation has always been one of the core pillars of what we do at Chaordix and Randy was one of the key drivers of our work with organizations such as USAID and Orange," said Shelley. "We're excited to work with him on future projects that make substantial impacts to social good around the world."

The announcement also formalizes the company's longstanding connections with crowdsourcing thought leaders including Crowdsourcing.org publisher Massolution, Crowdsourcing Week, and Wikibrands.

The Chaordix Alliance Network now includes the following firms:


-- 100%Open-- Appetite Consultancy Ltd.-- Communication Service-- Creative Intelligence Lab-- Crowdsourcing Week-- DAI-- EKOS International-- Emonalytics, Inc.-- Fresh Squeezed Ideas-- FutureBrand-- GoodCrowds-- Innovation is Social, LLC-- KPMG LLP-- Massolution-- Strophe, Ltd.-- TCGen, Inc.-- The Catalyx-- Totem, Inc.-- Vireo Research-- Wikibrands
About Chaordix
Chaordix® is the global standard in crowdsourced market intelligence. Chaordix uses the power of crowdsourcing to help the world's leading companies and organizations gain actionable insight and competitive advantage. Our Crowd Intelligence™ community solutions are helping a global clientele including P&G, IBM, FutureBrand, KPMG, American Airlines, Virgin and Reckitt Benckiser leverage our unique crowdsourcing technology and techniques to drive market insights for brand and product innovation. Visit
www.chaordix.com
to find out more.


Contacts:
Chaordix Inc.
Ryan DeGama
Senior Brand Communications Strategist & Writer
+1 (403) 836-3046
press@chaordix.com
www.chaordix.com