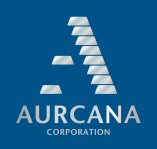 VANCOUVER, BRITISH COLUMBIA -- (Marketwired) -- 08/29/13 -- Aurcana Corporation (TSX VENTURE: AUN)(OTCQX: AUNFD) ("Aurcana" or the "Company") today is pleased to report its unaudited financial results for the second quarter ended June 30, 2013.

The Q2 2013 Earnings Webcast and Conference Call has been scheduled for 10:00 am PST (1:00 pm EST) on Friday, August 30, 2013. See the bottom of this press release for details.

Mr. Lenic Rodriguez, Aurcana's President & CEO, said: "We are pleased to report that Aurcana increased its second quarter silver equivalent production from La Negra by 38% over the first quarter of 2013, and the mill at La Negra exceeded its new capacity of 3,000 tonnes per day ("tpd"). With technical improvements at Shafter now underway and increased efficiencies at La Negra, the company remains strategically positioned for continued growth."

A video message from Mr. Lenic Rodriguez, talking about Aurcana's Q2 2013 results, can be watched at the following link:

http://www.ceoclips.com/qcc/Video-Interview-With-Lenic-Rodriquez-President-and-CEO-of-Aurcana-Q2-2013.html

Highlights of La Negra's Second Quarter ended June 30, 2013:


--  a 38% increase in silver equivalent ounces produced to 818,060 ounces    during Q2 2013 over the first quarter of 2013 and a 19% increase over    the same period in 2012;--  a 73% increase in ore mined for a total of 249,036 mined tonnes during    Q2 2013 compared to 143,718 tonnes in Q2 2012;--  a 33% increase in ore milled for a total of 235,388 milled tonnes during    Q2 2013 compared to 176,591 tonnes in Q2 2012;--  a 41% increase in the mill processing rate over the previous quarter, to    3,057 tpd in Q2 2013 compared to 2,169 tpd in Q1 2013;--  the total cash cost per silver ounce net of by-products for Q2 2013 was    $7.79, up $0.85 from $6.94 in Q2 2012;--  the cash cost per milled tonne for Q2 2013 was down 6% to $30.84, from    $32.97 in Q2 2012;--  total revenues for Q2 2013 were $11.3 million, down $2.4 million from    $13.7 million in Q2 2012 mainly due to lower silver and base metals    prices, lower silver grades and higher inventories at quarter's end; and--  net income in Q2 2013 was $0.3 million, down from $1.4 million in Q2    2012.
The summary of the selected financial information should be read in conjunction with the unaudited financial statements and the related management's discussion and analysis for the three and six month periods ended June 30, 2013, together referred to as the "Financial Statements" filed on
www.sedar.com
and available on
www.aurcana.com
. All figures are in US dollars unless otherwise noted.
Update on Red Kite Financing
The Company announces that it is working with Red Kite Mine Finance on the settlement of definitive loan documentation for a three year loan facility of $50 million and an Off-take Agreement for the silver produced at the Shafter mine. The transaction is now expected to be completed in September 2013.