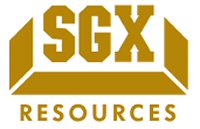 WINNIPEG, MANITOBA -- (Marketwired) -- 08/28/13 -- Dale Ginn, President and Chief Executive Officer of SGX Resources Inc. (TSX VENTURE: SXR) is pleased to report that step-out drilling has successfully extended the Tully deposit eastward by more than 100 metres and to depth by more than 250 metres from the limits of previous drilling.

Strike extensions of the zone continue to be realized at the easternmost known extent of the deposit with drill hole #13-20 cutting 6.7 metres of 9.0 g/tonne more than 200 metres below surface. Wide, high-grade vein sets have also been identified more than 600 metres below surface as evidenced by drill hole #13-22 which encountered 6.5 metres of 8.0 g/tonne. Drilling continues to focus on gaps of information and on extending the zone along strike and to depth. A number of broad, high-grade intersections near surface and to depths of more than 600 metres have been encountered so far this year in a series of thickly stacked gold bearing lenses or veins making up the Tully deposit, which is jointly owned (50/50) by SGX and San Gold Corporation (TSX: SGR).

"Results from our step-out drilling program this summer have been very rewarding and continue to highlight the Tully deposit as one of the few undeveloped, near-surface, high-grade gold deposits that exist in North America. Our interpretation of Tully as a repeating set of stacked veins analogous to a 'Venetian blind' concept is paying off as we are now able to confidently connect with mineralization away from the main deposit both along strike and to depth. The deposit's host tuff unit is now readily identifiable along strike for a few kilometres in either direction and we have now confirmed grade and width to depth. This, coupled with the deposit's proximity to existing mills and roads as well as nearby deposits, gives us a great deal of confidence in Tully's potential," said Mr. Ginn.

Assay results received to date on the step out program are summarized below:


                              From        To    Length      GoldHole #                         (m)       (m)       (m) (g/tonne)  Zone/Lens----------------------------------------------------------------------------Eastern Extension Holes:SGX-13-19                    199.0     204.0       5.0      5.40  Newwithin                       193.0     226.0      33.0      2.43and                          345.0     354.5       9.5      1.94  NewSGX-13-20                    241.0     247.7       6.7      9.01  NewDeep Extension Holes:SGX-13-22                    634.0     640.5       6.5      8.00  NewSGX-13-22B                   644.0     647.2       3.2      5.50  New
The following results are all that have been received to date from the 2013 drill program.
                              From        To    Length      GoldHole #                         (m)       (m)       (m) (g/tonne)  Zone/Lens----------------------------------------------------------------------------SGX-13-06                     62.9      79.0      16.1      2.01  T1and                          102.6     116.5      13.9      6.53  T2SGX-13-07                     76.3      82.5       6.2     12.18  T1and                           93.9      96.0       2.1      4.49  T2and                          103.9     113.0       9.1      5.27  T2SGX-13-09                    117.0     132.0      15.0      7.19  T2SGX-13-10                    213.0     214.0       1.0      9.81  T2SGX-13-11                    120.7     123.4       2.7      5.57  T1and                          168.0     185.0      17.0      5.29  T2SGX-13-12                     56.5      65.0       8.5      1.97  Newand                          157.8     160.8       3.0      7.14  T1and                          175.1     177.0       1.9      7.46  T2and                          189.4     192.0       2.6      5.45  T3and                          229.8     270.0      40.2      1.09  NewSGX-13-13                    194.1     195.6       1.5      5.32  T2SGX-13-14                    130.3     134.3       4.0      6.47  T1and                          159.5     163.0       3.5      3.50  T2SGX-13-15                    181.0     194.0      13.0      5.89  T2and                          247.3     261.4      14.1     20.10  T3including                    247.3     254.3       7.0     39.00  T3including                    247.3     247.8       0.5     452.0  T3and                          346.3     348.0       1.7      4.70  Newand                          372.0     381.0       9.0      1.15  NewSGX-13-17                    149.0     151.2       2.2      8.87  T1and                          155.8     166.1      10.3      1.12  Newand                          171.0     176.0       5.0      5.45  T2and                          224.0     273.3      49.3      1.10  NewSGX-13-18                    134.9     136.0       1.1      6.50  T1and                          143.0     149.0       6.0      2.78  Newand                          171.2     178.9       7.7      6.14  T2and                          218.0     235.6      17.6     11.08  Newand                          254.5     266.5      12.0      1.47  Newand                          295.0     307.7      12.7      2.13  Newand                          319.0     330.6      11.6      1.60  New