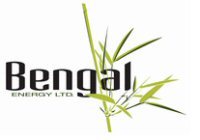 CALGARY, ALBERTA -- (Marketwired) -- 08/28/13 -- Bengal Energy Ltd. (TSX: BNG) ("Bengal" or the "Company") today announces record production volumes along with an operational update from its activities in the Cooper Basin, Queensland, Australia.

Production Volumes:

Bengal is pleased to announce that during July 2013, 11 of the 14 wells in its Cuisinier area (PL 303) of the Cooper Basin were producing, and achieved average monthly gross production of 1,936 barrels of oil per day (b/d). Based on the Company's 25% working interest in Cuisinier, net production to Bengal would be 484 b/d, an increase of 55% over the oil volumes reported in the most recent quarter.

Applying the Company's increased working interest in the field of 30.357% (the acquisition of which is expected to close in September 2013, effective March 15, 2013), Bengal's average volumes from Cuisinier in July would be 587 b/d net, a 68% increase over the oil volumes reported in the last quarter. Additional volumes are expected as the remaining 3 wells are brought on-stream through September, 2013.

The Company's growing production base coupled with strong operating netbacks of $79.82 per barrel in the most recent quarter support Bengal's strong cash flow generating trend.

Operational Update

Cuisinier 12, the final well of 6 in the 2013 Cuisinier drilling campaign, has been cased as a future oil producer, and continues Bengal's 100% drilling success rate in this exciting, potential resource play asset. The well encountered 3.8 meters of net oil pay in the Murta DC70 sands, directly offsetting the producing Cuisinier 6 and 7 wells. Completion of the Cuisinier 12 well is expected to commence in early September 2013 with production anticipated shortly thereafter.

Progress continues in Bengal's other key Cooper Basin asset, the Tookoonooka permit (ATP 732), where the Company recently announced a farm-in and joint venture agreement with a very experienced Cooper Basin operator. This farmout consists of a commitment by the partner to drill two wells and acquire 300 square km of 3D seismic, spending up to AUD$11.5 million. Planning for commencement of the drilling and seismic activity on this 654,000 acre permit is under way, and the first drilling location will be positioned to appraise Bengal's existing Caracal light oil discovery as well as deeper targets. It is anticipated the first well and the 3D seismic will be completed before the end of calendar 2013, with the second well to be situated within the boundaries of the new 3D seismic.

"Bengal is very pleased to report further increases to our production and continued progress in the appraisal and development of our Australian assets," said Chayan Chakrabarty, President & CEO of Bengal. "With a growing production base that is light oil weighted, and which generates very strong operating netbacks, Bengal is well positioned to continue growing cash flow and reserves. We look forward to keeping shareholders updated on our progress and success."

About Bengal

Bengal Energy Ltd. is an international junior oil and gas exploration and production company with assets in India and Australia. The company is committed to growing shareholder value through international exploration, production and acquisitions. Bengal trades on the TSX under the symbol BNG.