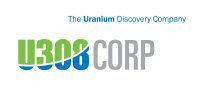 TORONTO, ONTARIO -- (Marketwired) -- 08/27/13 -- U3O8 Corp. (TSX: UWE)(OTCQX: UWEFF), a Canadian-based company focused on exploration and resource expansion of uranium and associated commodities in South America, is in advanced discussions to enter into a joint venture with Petrominera Chubut S.E. ("Petrominera"), the provincial mining company of Chubut Province, Argentina. The proposed partnership would bring together U3O8 Corp's Laguna Salada Project and adjoining Petrominera concessions for further exploration, resource growth and establish a framework for potential development of the Laguna Salada Deposit in compliance with the stringent requirements of the current provincial mining law.

"This proposed joint venture with Chubut's provincial mining company represents a key milestone on the path to positioning the Laguna Salada Deposit as a potentially low-cost, near-term uranium producer in a country that has a comprehensive and growing nuclear energy program," said Dr. Richard Spencer, U3O8 Corp's President and CEO. "The principal points of our negotiations cover exploration of Petrominera's mineral concessions onto which we believe our Laguna Salada Deposit extends, as well as laying down a framework under which the deposit could be developed on reasonable terms for both parties. With a preliminary economic assessment ("PEA") expected later this year, Laguna Salada is well placed as one of the most advanced uranium projects in Argentina at a time when the country imports 100% of its nuclear fuel and is seeking domestic uranium supply."

Laguna Salada Deposit

U3O8 Corp's Laguna Salada Project is a near-surface, free-digging deposit on which an initial uranium-vanadium resource has been defined in accordance with National Instrument 43-101 ("NI 43-101"). Laguna Salada could be moved into production within a relatively short time-frame using low-cost mining and processing methods. Mineralization lies within three metres from surface in soft, pebbly gravel that requires no blasting or crushing. The plan is that a continuous surface miner would lift gravel onto screens to separate the pebbles and coarse material from the fine, mineralized material. The fine-grained material would be alkaline leached to extract the uranium and vanadium, while the gravel would be continuously returned to the mined area to be recontoured to its original topography and revegetated. This mining method ensures that no open pit is left behind and would comply with current Chubut mining law. Alkaline leach tests on the metal-rich fines extracted 90-94% of the uranium and up to 50% of the vanadium in a short leach time of four hours with a low reagent consumption.

Argentina - A Growing Nuclear Country

Argentina offers a ready market for locally produced uranium as well as regional and international opportunities for U3O8 Corp. The country's leadership across the nuclear fuel cycle and expansion plans are reflected in:


--  9% of Argentina's electricity is expected to come from nuclear when a    third reactor comes online this year. A fourth reactor is out for tender    and a fifth reactor is in the planning stages;--  A US$240 million loan from the Development Bank of Latin America will be    used to extend the life of its Embalse Reactor for 25 years and increase    its output by 7%. Westinghouse Electric Company recently won a contract    related to this upgrade;--  Co-operation agreements with fast-growing nuclear countries, United Arab    Emirates, China, South Korea, Russia and Brazil;--  Imported uranium is reported to be needed for Brazil's third reactor now    under construction - Brazil and Argentina are members of Mercosur, a    regional free trade agreement; and--  Argentina has its own uranium enrichment facility, produces medical    isotopes, has built research reactors for domestic use as well as    Australia, Peru, Egypt, and its small reactor design is being considered    to power massive desalination plants in Saudi Arabia.