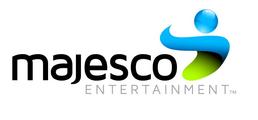 EDISON, NJ -- (Marketwired) -- 08/26/13 -- Majesco Entertainment Company (NASDAQ: COOL), today announced the multi-cultural hit list of music in Zumba® Fitness World Party, the newest game in the best-selling video game franchise that will hit stores this November. Zumba® Fitness World Party invites players to escape on a fitness adventure around the world where you'll burn up to 1,000 calories per hour with an exhilarating at-home work out. The diverse, energizing soundtrack features 40+ international songs that bring the rhythms of the world home to your living room. Specific tracks from headline artists include:

•Lady Gaga - "Born This Way" •Pitbull featuring Papayo - "Echa Pa'lla (Manos Pa'rriba)" •Daddy Yankee - "Limbo" and "Perros Salvajes" •Marc Anthony - "Aguanile" •Zedd featuring Foxes - "Clarity" •Claudia Leitte - "Ruas Encantadas" •Ziggy Marley - "True To Myself" •Cazzette - "Beam Me Up" •Priyanka featuring Pitbull - "Exotic" •Emeli Sandé - "Next To Me" •ZZ Ward - "Put The Gun Down" •Joan Osborne - "Shake Your Hips" •Mohombi featuring Baby, KMC & Casey - "Do You Feel Like Moving?" •Queen Ifrica featuring Shaggy - "Vibes" •The High Kings - "The Beggarman Jig" •Honorebel - "Caribbean Dream" •Herb Alpert and Lani Hall - "Puttin' On The Ritz"

These tracks complement a range of fresh Zumba original music and authentic regional songs from around the world including Hawaiian, Brazilian and Bhangra rhythms. Move your body to high-energy routines, the new World Tour mode and a brand new visual presentation that makes it feel like you're actually on location around the world with Zumba's celebrity instructors. To preview the entire soundtrack, please visit the official site at zumbafitnessgame.com.

To download new in-game screenshots and other media assets, please visit this link.

Developed by Zoë Mode, Zumba® Fitness World Party is expected to launch this November on Kinect™ for Xbox 360®, Wii™ U and Wii™, and later this year on Xbox One®, the all-in-one games and entertainment system from Microsoft.

ABOUT MAJESCO ENTERTAINMENT COMPANY
Majesco Entertainment Company is a provider of video games for the mass market. Building on more than 20 years of operating history, the company is focused on developing and publishing a wide range of casual and family oriented video games on all leading console and handheld platforms as well as mobile devices. Product highlights include Zumba® Fitness and Cooking Mama™. Majesco is headquartered in Edison, NJ, and the company's shares are traded on the Nasdaq Stock Market under the symbol: COOL. More info can be found online at majescoent.com or on Twitter at twitter.com/majesco.