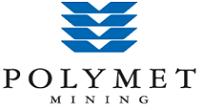 ST. PAUL, MINNESOTA -- (Marketwired) -- 08/26/13 -- PolyMet Mining Corp. (TSX: POM)(NYSE MKT: PLM) ("PolyMet" or the "Company") is pleased to report significant progress in the environmental review process for its NorthMet Project located in the established Mesabi Iron Range mining district in northeastern Minnesota.

On August 23, 2013 PolyMet reported that the Minnesota Department of Natural Resources ("DNR") had announced that the 1,800-page NorthMet supplemental draft Environmental Impact Statement ("EIS") will be available for public review on November 22, 2013 when it will be published in the Federal Register. It will then be published in the Minnesota Environmental Quality Board Monitor on November 25, 2013.

The supplemental draft EIS is being prepared by the DNR, the US Army Corps of Engineers ("USACE") and the US Forest Service (the "USFS" and together the "co-lead Agencies"). In July 2011, the US Environmental Protection Agency ("EPA") became a cooperating Agency alongside the three Minnesota Chippewa bands (Bois Forte, Fond du Lac, and Grand Portage). The Minnesota Pollution Control Agency is also actively involved in the process, leading into its role in permitting and environmental compliance.

The schedule for publication of the supplemental draft EIS follows a recent letter from the EPA to the co-lead Agencies reviewing the preliminary supplemental draft EIS ("PSDEIS"), which was circulated to the cooperating agencies and others in May 2013. The EPA letter states:

"The PSDEIS, along with additional information provided to the EPA during its review, reflects significant progress in designing and clearly documenting the project. The EPA appreciates the collaborative and constructive discussions we have had with the co-lead agencies since receiving the PSDEIS. In these discussions, we have covered all the areas where the EPA had questions or comment. You (the co-lead agencies) have asked that we provide written comments and recommendations confirming our previous discussions to bring any remaining issues to closure. Enclosed are a number of recommendations to assist the co-lead agencies in preparing the SDEIS for public review and comment that will clearly and adequately describe the project." The full text is available at: http://www.polymetmining.com/news/media-coverage/epa-update/

Jon Cherry, President and CEO of PolyMet said, "PolyMet has worked diligently over the past three-and-a-half years to improve the project design, and to complete the analysis and technical studies for the NorthMet Project as requested by the government agencies. We can demonstrate that we can protect the environment and produce essential metals while creating hundreds of new jobs in the community.

"The government Agencies and ERM, the independent contractor tasked with preparing the EIS, have also worked hard to complete their technical analysis of NorthMet in order to prepare and thoroughly review the supplemental draft EIS. Incorporating extensive but constructive recommendations from the cooperating agencies including the EPA, the supplemental draft EIS will be a rigorous analysis of the environmental impact and mitigation of the NorthMet Project," Mr. Cherry added.