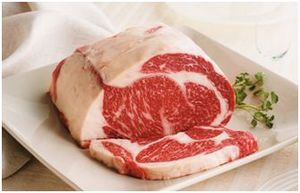 Snake River Farms American Wagyu Beef Ribeye Roast



BOISE, ID -- (Marketwired) -- 08/26/13 -- Just in time for back-to-school, Snake River Farms has devised a special "lesson" for beef-loving foodies. Today's class? Beef 101: American Wagyu beef. Snake River Farms, the quality producer of American Wagyu beef, whose products grace the menus of some of the nation's finest Michelin-starred restaurants, provides a breakdown of the history and ABC's behind the increasingly popular American Wagyu beef.

"Although American Wagyu beef has appeared on restaurant menus for several years, some confusion remains about the origins of this style of beef and what makes it different from both Japanese Wagyu and other American cattle," said Snake River Farms' executive director of marketing, Jay Theiler. "With American Wagyu beef, ranchers offer a quality eating experience that exceeds the USDA's highest standards."

According to the USDA, American Wagyu beef comes from cattle with 50 percent or higher Wagyu genetics. While the American Wagyu can be pure bred, it is most often crossbred with high quality American Angus. In the rearing of these cattle, they must be fed for a minimum of 350 days, with no growth promoting hormones or animal byproducts used.

Kobe, Wagyu, American-style: What's in a name?
Wagyu is the breed that was made famous in the Kobe region of Japan, although Kobe is certainly not the only area in Japan where Wagyu cattle are raised. When it comes to describing the beef in the US, these two terms have become essentially interchangeable. In the case of American-style Kobe or American Wagyu, which both refer to the same product, a pure bred Wagyu bull is crossed with another breed, like Angus, with at least 50% of the genetics coming from the Wagyu side.

While purebred Wagyu beef originated in the Kobe region, it is not unlikely for the Japanese to cross-breed Wagyu. Most often, the Wagyu bull is cross-bred with Holstein -- a fairly prevalent breed in Japan due to its use in dairy -- to produce a variety of marbling levels.

American Wagyu: Where did it come from?
Wagyu cattle first came to the U.S. in 1976, when two Tottori Black Wagyu and two Kumamoto Red Wagyu bulls were imported. Between 1976 and 1994, only another 40 Wagyu cattle were imported to the U.S., creating the base of the Wagyu breed and highlighting the exclusivity of this line of beef. In 1999, Snake River Farms acquired a small herd of Wagyu cattle, which became the basis for its current herd.

Why cross breed Wagyu and Angus?
Wagyu is traditionally served in Japan very thinly-sliced in small portions, given the richness of the marbling and the high fat content. The Angus cross allows for a more traditional American steak-sized serving, while still capturing the rich, buttery flavor of Wagyu beef. Cross-breeding also helps with genetic diversity, reducing potential issues that can occur in purebreds.