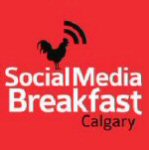 CALGARY, ALBERTA -- (Marketwired) -- 08/19/13 -- The Calgary Social Media Breakfast (SMBYYC) is pleased to announce the August Topic:

The Devastating Alberta Flood of 2013: What WAS, IS and YET to Come!

The Alberta Flood of 2013 saw devastation the likes we've never seen before. Neighbourhoods laid by the rushing river, the entire downtown flooded and evacuated, even the Stampede grounds were damaged just weeks before celebrating year 101.

The Social Media Breakfast Calgary Chapter will break from usual social media traditional topics to invite a special panel to gather for Flood Discussion this August 23, 2013.

The Flood Panel will discuss the actions taken during the flood, what is still expected following the flood and what preventative measure will be taken in future.

Speakers from @CalgaryPolice, @UnitedWayCanada, @CalgFoundation and @RedCrossAB will gather at @SAITPolytechnic Friday morning to discuss their organization's role during the chaos of the flood, now as recovery efforts continue, and in the future as the rebuild happens.

Seating is limited. Please RSVP at http://www.amiando.com/smbyyc43

About the Event

When: Friday, August 23rd, 8:30 a.m. - 10:30 a.m. (ii)presentation will begin at 9:00 am

Where: SAIT Polytechnic

1301 - 16th Avenue N.W. Google Map to SAIT

Macdonald Hall on 1st floor of Heritage Hall (MA) #smbyyc in Heritage HALL (MA)

Registration: To register, visit (http://www.amiando.com/smbyyc43 )

Cost: There is no fee to attend a Social Media Breakfast.

Parking: Parking info for SAIT. Link to SAIT parking info online

Parking (P2, P6)

Express payment may be made by inserting a credit card at the entry and exit terminals. Cash payments are accepted only at one of the four Pay Stations (located in Campus Centre, the P6 Parkade (levels 1, 3), Stan Grad Centre).

Daily Rates (to 4:30 p.m.)


-- P2 - $5 first hour or less. Each additional 1/2 hour $1.75 per 30 minutes to a daily maximum of $25-- SAIT Parking Garage (P6) - $5 first hour or less. Each additional 1/2 hour $1.75 per 30 minutes to a daily maximum of $16
Transit
Take the C-Train (Route 201) to the SAIT/ACAD/Jubilee stop and walk through the Campus Centre to Heritage Hall.
Moderator: Kenny Lima-Coehla
YMCA Calgary,
VP Communications and Financial Development
@KennyVLimaC
Calgary Police: Sean Stephenson
Digital Communications Unit Team Lead
Sean Stephenson is the Team Lead of the Calgary Police Service's Digital Communications Unit. With over 10 years of experience as a Writer/Producer for various commercials, videos and nationally broadcast television shows, Sean brings a "Content is King" approach to social media. Joining the Calgary Police Service in 2012, Sean now leads a team of content creators who carry CPS into the digital age.
@CalgaryPolice
@creative_sean
http://www.facebook.com/calgarypolice
http://www.flickr.com/calgarypolice
http://www.youtube.com/calgarypolice
United Way: Jeremy Klaszus
Communications Advisor for Calgary and Area
Jeremy Klaszus is a communications advisor at United Way of Calgary and Area. United Way invests in more than 100 agencies and 200 local programs, sustaining the Calgary area's social safety net. At United Way, Klaszus handles media relations and public affairs. Klaszus is also an award-winning journalist who has contributed to publications including Metro, the Globe and Mail and Swerve magazine.
@UnitedWayCgy
@klaszus
http://www.calgaryunitedway.org
http://www.facebook.com/calgaryunitedway
Email:
jeremy.klaszus@calgaryunitedway.org
Red Cross: Ange Sawh
Director, Alberta Floods Operations
Ange has been with the Red Cross since 1984 and has dedicated the last sixteen years to developing, framing and establishing a recovery program for the Canadian Red Cross based on multiple experiences in response starting with the 1997 floods in Manitoba, BC Fires in 2001 and 2003, Manitoba floods in 2002, 2009, 2010, Vaughn Tornados in 2009, the Severe Weather events of 2011 in Western Canada, and Slave Lake Fires in AB 2011. The Canadian Red Cross is a neutral, impartial, humanitarian organization that works to improve the lives of vulnerable people by mobilizing the power of humanity in Canada and around the world.
@RedCrossAB
www.facebook.com/canadianredcross
http://redcrosstalks.wordpress.com/
www.redcross.ca
Canadian Red Cross Recovery Line - (866) 696-6484
Calgary Foundation: Jason Bates
Community Grants Associate
Jason Bates is the Community Grants Associate at The Calgary Foundation. Established in 1955, The Calgary Foundation facilitates collaborative philanthropy by making powerful connections between donors and community organizations for the long term benefit of Calgary and surrounding area. In 2012-2013 The Calgary Foundation saw $205 million in new contributions, had an asset base of $632 million and granted $34.6 million to 761 charitable organizations
@CalgFoundation
www.facebook.com/TheCalgaryFoundation
www.thecalgaryfoundation.org
(403) 802-7700
Email:
info@thecalgaryfoundation.org
Note: Donation of $10 to the Flood Rebuilding Fund can be made by texting ABFLOOD to 20222.
P.S. Prior to our panel discussion...
It's our pleasure to highlight "ROOM IN A BOX - REBUILDING HIGH RIVER ONE ROOM AT A TIME". Tamara Carmell, the creative mind behind this initiative, will share with you how the program began and how you can help.
https://www.facebook.com/RoomInABoxHowYouCanHelpHighRiver/info
Please Support Our Generous Sponsor...
Venue & Breakfast Sponsor: SAIT Polytechinc
@ saitpolytechnic
http://www.sait.ca/
https://www.facebook.com/SAITPolytechnic
http://www.youtube.com/saitpolytechnic
http://instagram.com/saitpolytechnic
(i)For questions about social media at SAIT Polytechnic email Sophy Gray or Nicole Shepherd at
social.media@sait.ca
.
Special THANKS to our ongoing event sponsors for their continued support of Social Media Breakfast...
Communications Sponsor: Marketwired
@Marketwired
http://www.marketwire.com
(403) 266-2443
Equipment Sponsor: Matrix Video Communications
@MatrixVideo_
http://www.matrixvideocom.com
(403) 640-4490
Video Sponsor: Calgary Video Creator
@cvcTravis
Travis Cross -
travis@calgaryvideocreator.com
(403) 796-9200
We Invite You To Become A SMBYYC Sponsor
For about $350, your organization can get some fantastic exposure at the events and online. It is an inexpensive way to get quality back links to your website.
About SMBYYC
The SMBYYC houses an open environment to share today's best and worst examples of social media, as practiced by individuals, industries and organizations in Calgary and around the world. Guest speakers share their experience and expertise of social media use, followed by an opportunity to network with a community of like-minded individuals.
Follow @SMBYYC
Please follow
@SMBYYC
and the SMBYYC Twitter list. This will allow you to connect with all Calgary Social Media Breakfast followers.
Committee Members:
Donna McTaggart: @donnamct
Mike Spear: @mikesgene
Catherine Saykaly-Stevens: @CatherineNetWeb
Heather Ilsley: @HeatherIlsley
Des Nwaerondu: @AdvisorDes
Crystal DeCnodder: @Pistol_Crystal
Kaela Caron: @Kaela_Jo
To add your name to mailing list:
Email your email address to:
smbyyc@kaos-consulting.com
(You will receive email with a link to the #SMBYYC Press Release to sign up)
Add to Digg
Bookmark with del.icio.us
Add to Newsvine


Contacts:
Calgary Social Media Breakfast
Donna McTaggart
@SMBYYC
donnamc@kaos-consulting.com