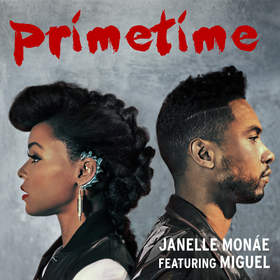 Janelle Monae 'Primetime ft. Miguel' Cover Art


NEW YORK, NY -- (Marketwired) -- 08/19/13 -- Bad Boy/Wondaland/Atlantic recording artist Janelle Monáe has announced plans for her upcoming North American headline tour. The dates -- which celebrate the acclaimed artist's eagerly anticipated new album, "THE ELECTRIC LADY" -- get underway October 13th at Philadelphia's Electric Factory and then continue through late November (see below itinerary). Additional dates extending into 2014 will be announced soon. Ticket sales begin at most venues on Friday, August 23rd -- please check local listings.

"THE ELECTRIC LADY" is set to arrive on September 10th. Today, Ms. Monáe revealed her new single "Primetime (Feat. Miguel)" on www.jmonae.com. "Primetime" follows hot on the heels of the already available hit singles, "Q.U.E.E.N. (Feat. Erykah Badu)" and "Dance Apocalyptic," both of which are on sale now at all leading DSPs. Listen to "Primetime" here: http://youtu.be/d5ewB-o5N9A.

"THE ELECTRIC LADY" is currently available for pre-order in a variety of formats, including a two-disc "Only At Target" Edition featuring four bonus tracks, exclusively via Target (www.target.com/p/janelle-monae-the-electric-lady-only-at-target/-/A-14652334). In addition, "THE ELECTRIC LADY" pre-orders are on offer on the iTunes Store, as well as via Monáe's own www.jmonae.com. The latter outlet features an array of bundles including such extras as an extremely limited edition black-and-white vinyl 7" single, pre-sale ticket access for the upcoming tour, a 20% discount on purchase of the album's 2-LP vinyl edition (due later this year), and instant MP3 downloads of both "Q.U.E.E.N. (Feat. Erykah Badu)" and "Dance Apocalyptic," which is featured in Monáe's new CoverGirl commercial. To pre-order the album, please visit http://smarturl.it/theelectriclady.shop.

With "THE ELECTRIC LADY," Janelle Monáe more than affirms the rapturous acclaim that greeted her now-legendary 2010 debut, "THE ARCHANDROID." The album sees the inimitable singer/songwriter/producer/performer/CoverGirl creating an epic new "emotion picture" inspired by her raw personal dreams and experiences and the stories of such courageous, powerful women as groundbreaking icons Dorothy Dandridge, Sally Ride and Cindi Mayweather. The musical language is equally innovative, an urgent, inventive future-pop fraught with mind-melting funk, rebel raps, punk energy, soaring guitars, day-glo synthesizers, psychedelic soul string arrangements, and Monaé's own astonishing, utterly idiosyncratic artistry.