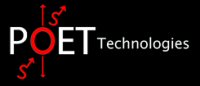 TORONTO, ONTARIO and STORRS, CONNECTICUT -- (Marketwired) -- 08/16/13 -- POET Technologies Inc. (TSX VENTURE: PTK)(OTCQX: POETF) ("the Company") - developer of the proprietary planar-optoelectronic technology ("POET") platform for monolithic fabrication of integrated electronic and optical devices on a single semiconductor wafer - announced today that its Board of Directors have endorsed the next phases of the Company's commercialization plan put forward by the Special Strategic Committee (SSC) chaired by Executive Director Peter Copetti.

The multi-pronged approach is based on discussions with potential industry partners and advisers regarding the Company's two key markets consisting of the military and commercial sector that have been identified as potential early adopters of the POET platform. Currently, while POET's incorporation in military projects is proceeding well, and should provide value in several key verticals, significant value exists in adapting POET for mass production within a commercial semiconductor fab environment. The Company must rapidly move to the next phase of its commercialization plan, which includes addressing feature size and scalability requirements for commercial fabs.

The Board has therefore endorsed, and authorized the SSC to proceed on, these recommendations, including:


--  Establishing a POET Development Alliance (PDA) - The Company will be    establishing relationships with one or more industrial partners looking    towards jointly adapting POET to commercial scale III-V implementation.    Alliance partners will provide key input including intellectual assets,    technical staff, manufacturing capability, and foundry resources. In    addition to optimizing device parameters and yields, a near-term goal    will be to establish comprehensive design rules and a device parameter    library for POET, which will proliferate licensed designs in a POET    device ecosystem.--  Drive for Reduction of Feature Size to 100-nm Range (100NM) - The    Company will re-prioritize its technical roadmap by introducing specific    milestones associated with reducing feature size from the sub-micron to    the 100-nm range in scale, targeting 4Q2013 for that milestone.    Consequently, the milestone for full optoelectronic integration on a    single die will be re-scheduled to 2Q2014. Even without this full    integration milestone, the 100-nm goal anticipates the cadence of    commercial III-V foundry capabilities. This roadmap will focus the    Company's ODIS subsidiary on developmental work that will allow for    scalable production within existing commercial fabs.--  Adoption of a Shareholder Rights Plan (SRP) - The Company will be    structuring a special SRP to protect the potential value of the company,    for all shareholders, during the period where discussions with potential    partners may be taking place regarding PDA-related agreements, and as    progress on the 100NM project continues.
"This move crystallizes the Company's strategy for unlocking the value of our intellectual property," said Mr. Copetti. "A development alliance with the right partners will definitely shorten time-to-market, and help evolve a design ecosystem for POET in the marketplace."